Bloomberg Campaign Accuses Sanders Supporters of Vandalizing Offices, Says 'End the Trump-Like Rhetoric'
Former New York Mayor Mike Bloomberg's campaign called for Bernie Sanders to "end the Trump-like rhetoric" on Friday, claiming it's instigated some of the Vermont senator's supporters to deface Bloomberg offices around the country.
"We don't know who is responsible for this vandalism, but we do know it echoes language from the Sanders campaign and its supporters," Bloomberg campaign manager Kevin Sheekey said in a statement.
"We call on Bernie Sanders to immediately condemn these attacks and for his campaign to end the Trump-like rhetoric that is clearly encouraging his supporters to engage in behavior that has no place in our politics," he added.
The email with Sheekey's statement also claimed that the vandalism, which includes words spray-painted onto Bloomberg office windows, "mirrors language from Sen. Sanders and his campaign staff."
The Sanders campaign did not respond to Newsweek's request for comment.
The Bloomberg campaign said it's had offices vandalized in recent weeks in Toledo and Youngstown, Ohio, as well as Ann Arbor and Flint, Michigan. The latest defacement came Thursday night at the campaign's Knoxville, Tennessee, location. Some of the language included terms such as "eat the rich," "oligarch" and "stop and frisk."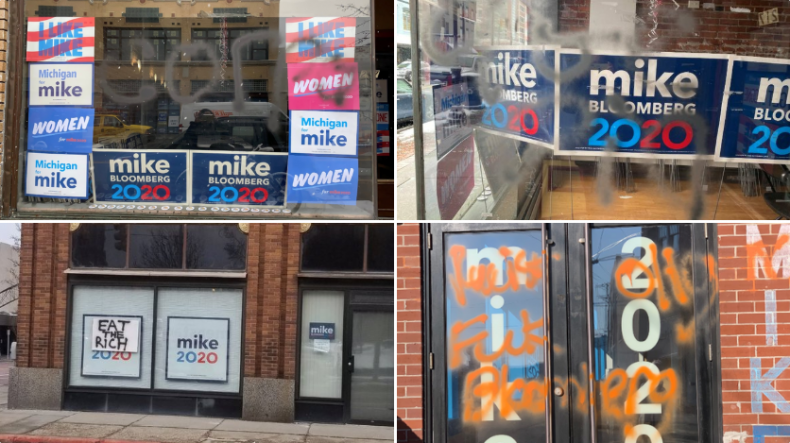 The Bloomberg campaign's accusation follows online attacks from Sanders supporters after a large Nevada union, the Culinary Workers Union, urged its members not to support the senator because of his push for Medicare for All.
Sanders has disavowed the attacks, which reportedly have included threatening phone calls and emails to Culinary Union officials. There have also been reports about tweets that contain personal information of some of the officials.
At a contentious Democratic debate in Las Vegas, Nevada, Wednesday night, Sanders made a new suggestion that perhaps Russian trolls, posing as some of his supporters, were behind the online abuse to once again sow discord in an American election.
"All of us remember 2016, and what we remember is efforts by Russians and others to try to interfere in our election and divide us up. I'm not saying that's happening, but it would not shock me," he said. "If there are a few people who make ugly remarks, who attack trade union leaders, I disown those people. They are not part of our movement."
Sanders confirmed a Washington Post story to reporters Friday afternoon that his campaign was briefed by U.S. intelligence officials about a month ago that Russia was trying to help his campaign. He was unsure exactly what sort of interference that may entail.
"Unlike Donald Trump, I do not consider Vladimir Putin a good friend," Sanders said in a statement, adding that the Russian president is an "autocratic thug." He also told reporters that the foreign adversary is trying "to divide us up. They're trying to cause chaos. They're trying to cause hatred in this election."
The news of Sanders' briefing came in the wake of the revelation that the House Intelligence Committee was also told about Russian efforts to aid President Donald Trump's re-election. It reportedly angered Trump that it was a bipartisan briefing that included Democrats.
Several of the presidential candidates, including former Vice President Joe Biden and Senator Elizabeth Warren of Massachusetts, have urged Sanders to more strongly condemn the online attacks from some of his backers. At Wednesday's debate, former South Bend, Indiana, Mayor Pete Buttigieg pressed Sanders on this point the most.
"Leadership is about what you draw out of people. It's what it's about how you inspire people to act," Buttigieg said. "I think you have to accept some responsibility and ask yourself what it is about your campaign in particular that seems to be motivating this behavior more than others."
This story was updated to include that the Sanders campaign was briefed about Russian efforts to help his election.