Donald Trump Jr. Says Mike Bloomberg Has 'spent Half a Billion Dollars to Look like a Jerk' after Debate Disaster
The son of President Donald Trump has given short shrift to the performance of Michael Bloomberg during his first Democratic debate appearance, suggesting that despite his wealth, the former New York mayor lacks the personality to appeal to voters.
Bloomberg was on the defensive during the debate in Las Vegas on Wednesday night in which fellow Democratic challengers criticized his stop-and-frisk policing policies as mayor.
However the role his wealth played in his candidacy was also a key topic in the debate which included Elizabeth Warren, Bernie Sanders, Joe Biden, Amy Klobuchar and Pete Buttigieg.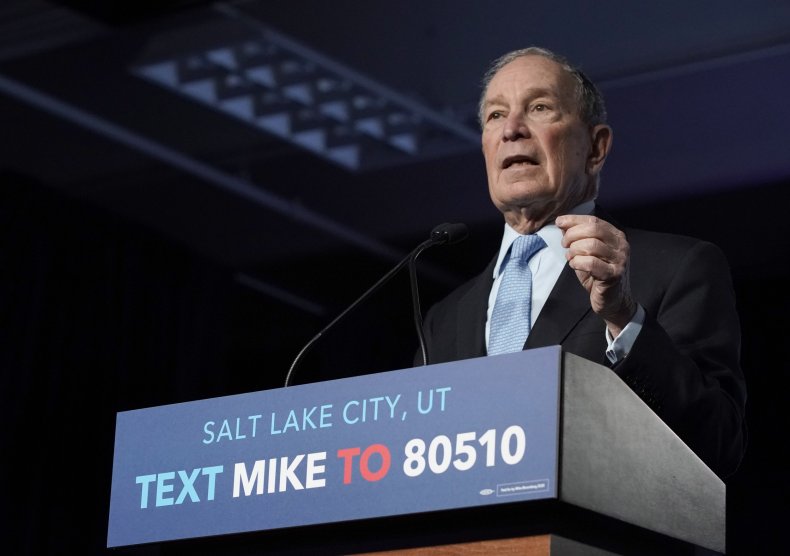 Donald Trump Jr referred to this theme, telling Fox News' anchor Sean Hannity that Bloomberg lacked the ability to think on his feet.
"Mike Bloomberg can buy a lot, but you can't buy personality, you can't buy wit. It's not that he didn't know these questions were coming, it is just that he still doesn't know how to answer them."
Comparing him with his father, he said: "Trump has a natural talent to do that...when they threw stuff at him, he came up with stuff on his feet, and that's the difference. Mike Bloomberg doesn't have that personality. It's why he can't relate to anyone."
Trump Jr continued, saying that Bloomberg had already spent more money to get to where he is "than we did to win the presidency, and he has to spend a lot more to remain relevant in this.
"He has spent half a billion dollars to look like a jerk," he said. Newsweek has contacted the Bloomberg campaign for comment.
On Thursday night during his rally in Colorado, the president appeared to relish Bloomberg's performance, saying that "mini-Mike didn't do well last night. I was going to send him a note, saying, 'It's not easy doing what I do, is it?'"
"Bloomberg made a fool out of himself. He choked!" Trump said, as he took hold of his necktie. "I can't breathe! I can't breathe!"
While Democratic frontrunner Sanders took a swipe at Bloomberg's wealth during the debate on Wednesday, a day later, Bloomberg hit back at the Vermont senator.
Bloomberg tweeted that Sanders was elected to Congress in 1990 thanks to the National Rifle Association's backing.
"The NRA put Bernie Sanders in Congress, And Other Inconvenient Facts," Bloomberg tweeted, following it up with, "NRA President Wayne LaPierre told Vermonters to vote for Bernie. When Sanders ran in 1990, the NRA ran ads against his opponent."
While the NRA backed Sanders 30 years ago, he has fallen out of favor with them and a plank of his 2020 is tougher gun law.
The next Democratic debate takes place in South Carolina on Tuesday.