Bloomberg Spent $18.4M on Ads in Virginia and North Carolina, Biden Spent $449K and Won Both States on Super Tuesday
Former New York Mayor Michael Bloomberg spent roughly forty times more on advertising in Virginia and North Carolina than Joe Biden, but the former vice president is still projected to win both states on Super Tuesday.
According to an advertising spend analysis, Bloomberg dropped $5.6 million in Virginia and $12.8 million in North Carolina, a total of $18.4 million across both states. By comparison, Biden spent only $173,000 in Virginia and $276,000 in North Carolina, a total of $449,000 across both states.
Despite Biden's much smaller ad spending figure, he is projected to be the winner of both states tonight.
Newsweek reached out to Bloomberg's campaign for comment.
As results continue to roll in on Tuesday evening, Biden is off to a strong start. The Associated Press has predicted the vice president will take Alabama, Oklahoma, as well as the battleground states of Virginia and North Carolina.
Bloomberg and Senator Bernie Sanders heavily contested Virginia over the past week, which proves the significance of a Biden win in the state. As polls start to close in the West, AP projected that Sanders would take Vermont, his home state, and Colorado.
With Senator Amy Klobuchar, former South Bend, Indiana Mayor Buttigieg and former Texas congressman Beto O'Rourke's endorsement, Biden is experiencing his biggest burst of momentum to date. The three younger former candidates have been appealing to their supporters to go out to vote for the former vice president, who's emerged as the figure that most moderates will coalesce around.
Today's battle is shaping up to be between one progressive and one moderate: Sanders vs. Biden. With just over one-third—1,357 delegates—on the line over 14 states from Maine to California, the winner of Super Tuesday has a significant chance to go on to become the Democratic party's nominee.
Bloomberg is just starting his run on Super Tuesday after having skipped the first four early state contests. The wildcard candidate has spent well over $500 million of his own money on heavy advertisements throughout the Super Tuesday states and tonight Americans will find out if it's all been worth it.
Despite the losses he's faced tonight, Bloomberg received good news in the form of winning American Samoa, a U.S. territory. In that contest he secured at least four of the six delegates.
"We have the resources to beat Trump in swing states that Democrats lost in 2016," he said Tuesday night during a Florida campaign event.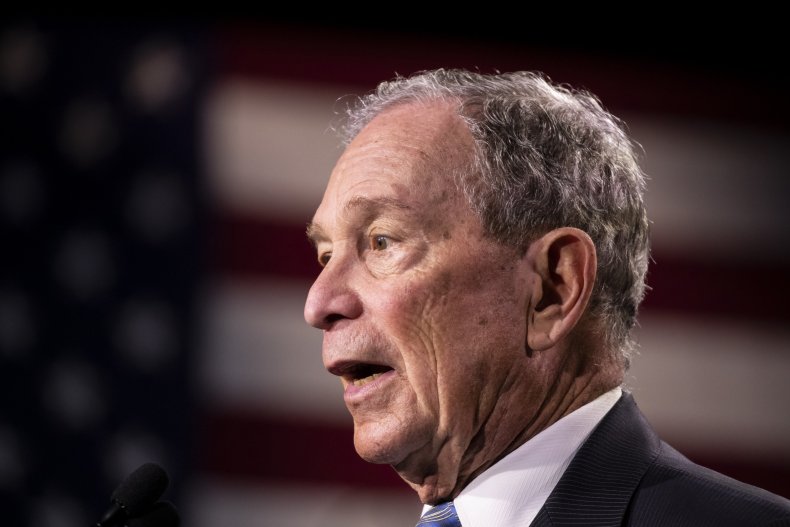 Bloomberg Spent $18.4M on Ads in Virginia and North Carolina, Biden Spent $449K and Won Both States on Super Tuesday | U.S.