Bloomberg Surges to Lead in Michigan, Out-Polling Democrats Against Trump in Head-to-Head Matchups
Mike Bloomberg, a billionaire and former mayor of New York City, has surged to the lead among other Democrats in Michigan when the candidates were compared directly to U.S. President Donald Trump, according to a new poll by research company EPIC-MRA.
When respondents were asked to choose between the former mayor and Trump, 49 percent chose Bloomberg, and only 42 percent chose Trump. The seven-percentage-point difference was the biggest won by any Democratic candidate in the survey.
The new numbers suggest that Bloomberg's nontraditional strategy could be working. The candidate has said he's not trying to qualify for the debates, which require that campaigns meet a donor and polling threshold. Bloomberg is financing his race without contributions, leaning instead on his multibillion-dollar fortune, and isn't focusing on early primary states Iowa and New Hampshire.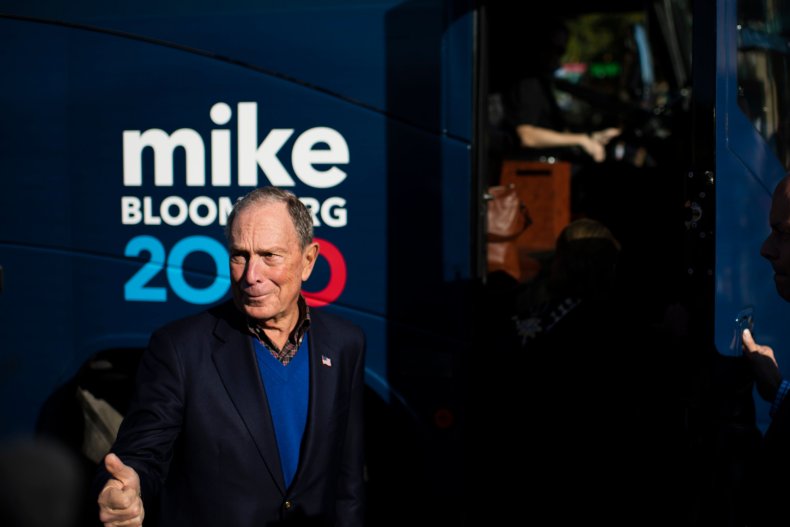 In the survey conducted last week among 600 Michigan residents, former Vice President Joe Biden trailed Bloomberg within the margin of error. He beat Trump by 6 percentage points when respondents were asked to choose between them "if the election was being held today."
Senator Bernie Sanders of Vermont also edged out the president by 5 percentage points, followed by former Indiana mayor Pete Buttigieg and Senator Elizabeth Warren of Massachusetts, who obtained 4 percent and 3 percent more support over Trump, respectively.
While Bloomberg's gap on Trump was the widest, he also elicited the second-most indecision among respondents after Buttigieg. In the Bloomberg-Trump matchup, 9 percent were undecided, and equal numbers "leaned" towards Bloomberg and Trump. Sanders drew the least amount of indecision (5 percent), drawing more leaners (3 percent) over the president (1 percent).
Notably, Bloomberg's recognizability in the state is higher than Buttigieg's and similar to Warren's, the poll showed, suggesting his more than $200 million advertising strategy is making its way into people's homes there. Still, only 26 percent viewed the candidate as "favorable." Sanders and Biden, each at 44 percent favorable, were the most well-liked among Democrats and Trump.
Most respondents viewed Trump unfavorably (54 percent) and think he's done a "totally negative" job as president (55 percent), according to the report. More said they would vote to replace Trump (44 percent) than those who said they would vote for his reelection (34 percent) or consider voting for someone else (19 percent).
A critical swing state in the 2020 election, Michigan offers 16 electoral votes and went red during the 2016 presidential election for the first time since 1988. According to polling analysis by FiveThirtyEight, Bloomberg has been polling in the single digits nationally and on average, recently drawing doubt that his millions spent on advertising blitzes were well spent.
Bloomberg has not yet responded to Newsweek's emailed request for comment.