On Bloomberg TV, Warren Accuses Michael Bloomberg of Trying to Buy 2020 Election During Interview and Commercial
Senator Elizabeth Warren this week appeared on Bloomberg TV to call out fellow Democratic presidential candidate Michael Bloomberg for allegedly attempting to buy the 2020 election. Ahead of her televised interview, Warren also ran an advertisement on the network attacking the billionaire for trying to buy the presidency.
"I'm so concerned about Michael Bloomberg jumping into this race," Warren said on Bloomberg TV Wednesday night. "Dropping $37 million in one week on ad buys? I don't believe that elections ought to be for sale."
She added: "And I don't think as a Democratic Party that we should say that the only way you're going to get elected, the only way you're going to be our nominee, is either if you are a billionaire, or if you're sucking up to billionaires."
Bloomberg TV is owned by Bloomberg LP, a financial, software, data and media company headquartered in New York City. Bloomberg, a former New York mayor, founded the organization and has served as its CEO since 2014.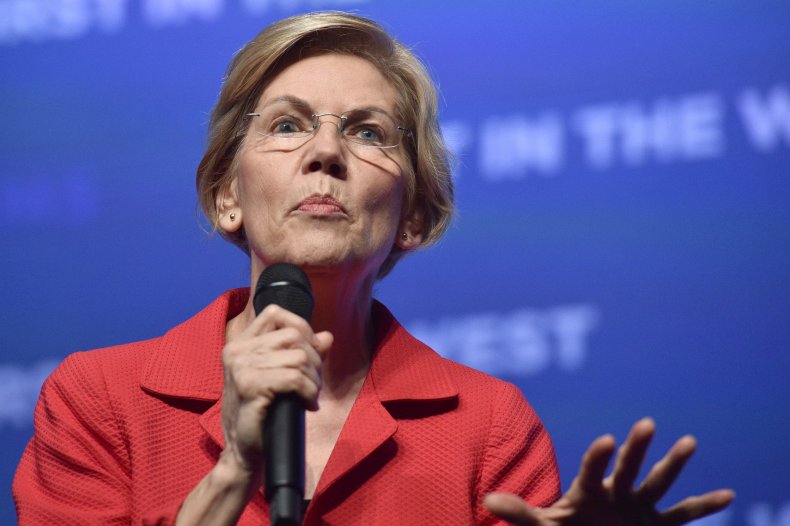 Prior to her appearance, Warren also purchased an advertisement spot on the network, where she echoed similar allegations against Bloomberg, according to Bloomberg. In the clip, Warren can be seen in Iowa criticizing the former New York mayor in a speech to her supporters. "It's a lot cheaper to spend a few hundred mil just buying the presidency instead of paying the two-cent wealth tax," the senator said.
Since Bloomberg formally announced his 2020 presidential campaign last month, Warren and her fellow progressive candidate Senator Bernie Sanders have repeatedly criticized the billionaire for entering the race. Both Warren and Sanders have vowed to implement tougher tax policies for the extremely wealthy if elected.
"We do not believe that billionaires have the right to buy elections," Sanders said at a rally in New Hampshire, hours after Bloomberg entered the crowded Democratic primary field. "That is why multibillionaires like Michael Bloomberg are not going to get very far in this election."
In a recent campaign event in Iowa, Warren accused Bloomberg of using his wealth to influence politics and called his $37 million ad campaign "fundamentally wrong."
"Michael Bloomberg is making a bet about democracy in 2020," she said. "He doesn't need people. He only needs bags and bags of money. I think Michael Bloomberg is wrong, and that's what we need to prove in this election."
Bloomberg defended himself during his first campaign stop late last month where he asserted that he had been using his resources "for the things that matter." "I am going to make my case and let the voters who are plenty smart make their choice," he said.
Watch Warren's interview on Bloomberg TV below: