Bill Gates and Warren Buffet's Wealth Doubles in a Decade Despite Pledge to Give Their Money Away
Bill Gates and Warren Buffett may have pledged to give most of their wealth away to charity but the billionaire philanthropists appear to be engaged in a losing battle with that as latest figures show their wealth over the last decade has in fact doubled.
In August 2010, Gates and Buffett spearheaded a movement of the U.S.' richest people to promise to give away most of their wealth to address problems in society. Known as the Giving Pledge, it now includes 200 people around the world with the aim of setting a "new standard of generosity among the ultra-wealthy."
But The Bloomberg Billionaires Index released on Friday shows that the Microsoft co-founder can't outrun the growth of his fortune, which is worth $22.7 billion more than it was last year, putting his total net worth at $113 billion.
Back in 2010, he was listed by a different media outlet—Forbes magazine—as having a net worth of $53 billion.
Meanwhile, Buffett, the chairman and CEO of Berkshire Hathaway, according to the latest Bloomberg list, is worth $89 billion, which also slightly less than double Forbes' estimation of his 2010 wealth of $47 billion.
That the billionaires have been generous is indisputable. According to one estimate by Vox, published in April 2019, the founder of Microsoft had given away more than $45 billion through The Bill and Melinda Gates Foundation, mostly to causes working to combat global poverty.
Buffett had made charitable contributions of $27.54 billion in the 10 years to 2017, according to USA Today.
The figures for their wealth are only estimates and the comparison over the last decade use data from two different media outlets, which give different figures.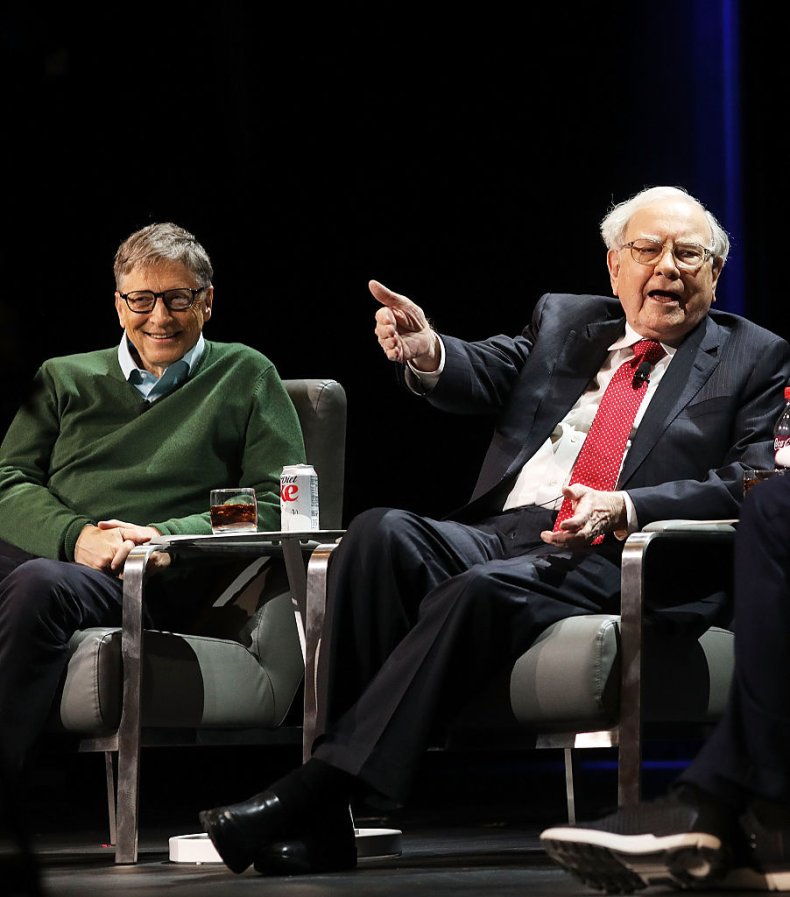 The Bloomberg Billionaires Index, which started in 2012, "is a dynamic measure of personal wealth based on changes in markets, the economy and Bloomberg reporting," according to the site's methodology.
Meanwhile, Forbes says its list draws on research on public holdings, private companies, real estate, yachts, art and cash.
Newsweek has contacted the Bill and Melinda Gates Foundation for comment.
The Bloomberg list, published on Friday, showed that the collective net worth of the world's richest 500 people jumped by 25 percent, or $1.2 trillion in the last year.
The worth of America's billionaires increased by $500 billion in the last year, with the biggest gain being enjoyed by Mark Zuckerberg, who added $22.7 billion to his fortune.
At $116 billion, Amazon founder Jeff Bezos is still the world's richest person but was one of only 52 people whose wealth declined, with his value dropping by $9 billion, mostly due to his divorce settlement, according to Bloomberg.
A report earlier this year by showed that income inequality in the U.S. is at its highest since records began 50 years ago, The Hill reported.
How to tax the ultra-rich has been a key issue on the Democrat campaign trail, with 2020 primary candidates arguing over the proposal by Sen. Elizabeth Warren to impose a two percent tax on those who have more than $50 million in assets.
Those with more than $3 billion, would be taxed at three percent. The call to tax the rich has also been taken up by Rep. Alexandria Ocasio-Cortez.
Bloomberg Billionaires Index

(December 28, 2019)

Rank

Rank

Total net worth

1
Jeff Bezos
$116B
2
Bill Gates
$113B
3
Bernard Arnault
$106B
4
Warren Buffett
$89.1B
5
Mark Zuckerberg
$79.4B
6
Amancio Ortega
$76.6B
7
Larry Page
$65.2B
8
Sergey Brin
$63.3B
9
Charles Koch
$62.1B
10
Julia Flesher Koch
$62.1B
11
Carlos Slim
$61.5B
12
Mukesh Ambani
$59.5B
13
Francoise Bettencourt Meyers
$59.3B
14
Larry Ellison
$59.3B
15
Steve Ballmer
$58.5B
16
Rob Walton
$54.5B
17
Jim Walton
$54.4B
18
Alice Walton
$53.3B
19
Jack Ma
$47.1B
20
Jacqueline Mars
$42.9B