'Blown Away' Netflix Show Contestants Risked Heat Stroke in World's Biggest Glassblowing Workshop
The largest glassblowing shop in North America was purpose-built for the new reality competition show Blown Away, now streaming on Netflix.
Similar to other competition shows like The Great British Baking Show and Forged in Fire, Blown Away pits 10 contestants against each other in episodic challenges, until only one glassblower is left standing—the "Best in Blow."
The new series has the imprimatur of the prestigious Corning Museum of Glass, which was highly involved in the show from its conception. Eric Meek, manager of the Hot Glass programs at the museum, joins Blown Away as a guest judge in the finale, with Corning artists assisting in one of the episode challenges. The Blown Away winner will also take on a guest artist residency at the Corning Museum in New York, as part of the grand prize, which also includes a cash component.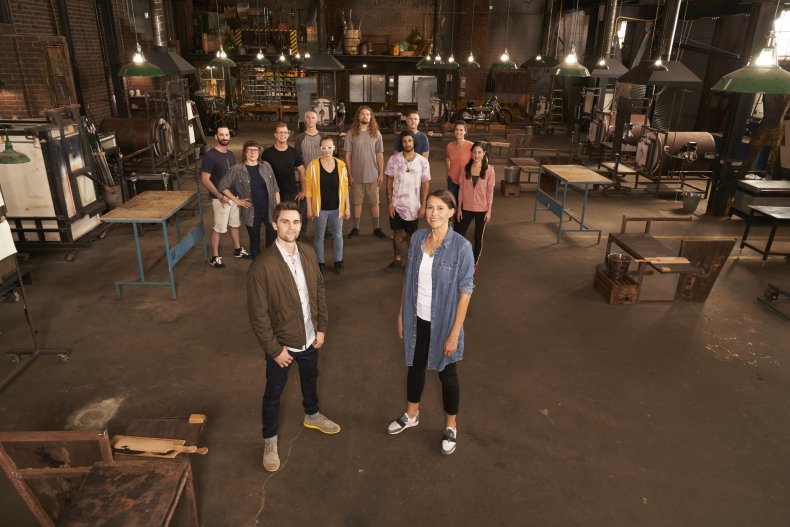 "Our mission, really, is to inspire people to see glass in a new light," Meek told WENY News. "It's wonderful to have this global platform to do that on. We really think Blown Away on Netflix will bring glass to a whole lot of people who may not have seen it before, and we're really excited about that."
Created by Toronto's Blue Ant Media, Blown Away required more preparation than the typical reality competition, since glassblowing requires so much specialized equipment, particularly with multiple contestants working simultaneously. Ten separate furnaces—called a hot box or glory hole by blowers—were constructed for Blown Away in a warehouse in Hamilton, Ontario, with help from The Craft and Design Glass Studio at Toronto's Sheridan College. The heat from the furnaces, combined with a summer shooting schedule, made for sweaty conditions.
"There were a couple of close calls for heat stroke," executive producer Matt Hornburg told the Edmonton Journal. "With 10 hot boxes, the air conditioning couldn't keep up."
Contestants include Edgar Valentine, 22 and Leah Kudel, a glassblowing artist with plans to open her own studio in Edmonton, Alberta. Challenges include creating glass food for a chef and recreating everyday objects in glass, in tribute to the pop art of Andy Warhol.
"It's a very kinaesthetic art form," Kudel told the Edmonton Journal. "There's lots of movement and you're working with people and in teams. It's exciting and immediate."
Blown Away is hosted by Nick Uhas and glass master Katherine Gray. All 10 episodes of the first season of Blown Away are now available to stream on Netflix.