Mexican Superhero Blue Beetle Gets Solo Film From Gareth Dunnet-Alcocer
A Blue Beetle movie is a go at Warner Bros. The Wrap first reported the film is in development.
Jaime Reyes is a Mexican-American teenager from El Paso, Texas, but he's also Blue Beetle, a superhero known for his high-tech alien armor that expels weapons, space-readied wings and shields. DC is sticking to the character's roots when it comes to the script. Queretaro, Mexico-born writer Gareth Dunnet-Alcocer, known for Miss Bala and the upcoming Scarface remake, will pen the screenplay. Zev Foreman (Colossal) will executive produce.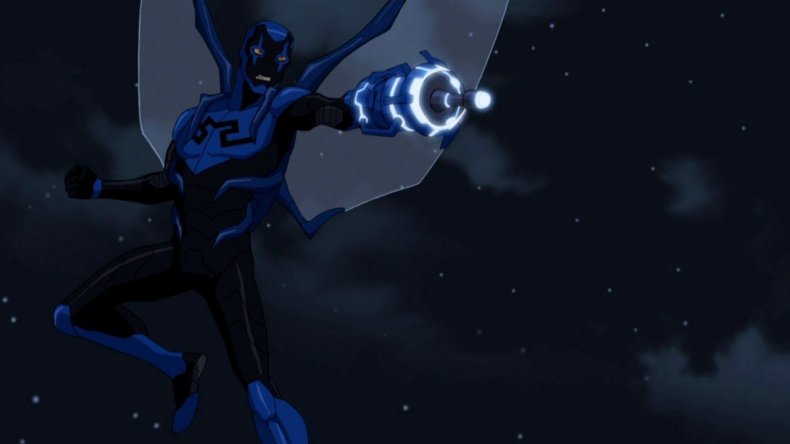 Blue Beetle isn't the first Latino character to appear in DC films. There's El Diablo from Suicide Squad, and Renee Montoya will soon make her debut on the big screen for Margot Robbie's Birds of Prey. But Blue Beetle will be the first standalone with a Latin-American headlining character.
Blue Beetle will also be one of the many upcoming DC films geared toward a teenage and young adult audience. There's Shazam!, which follows Billy Batson, a boy whose superpower is transforming into a full-grown man. There's also Ezra Miller's (delayed and delayed) Flash movie, where fans will get to know the youngest member of the Justice League.
Jaime Reyes is not the first incarnation of Blue Beetle. There were two before him. The first was Dan Garrett, who originally debuted in Charlton Comics in 1939, and got powers from a "sacred scarab" (not unlike Reyes). DC bought the rights to the character in 1983. Garrett's successor was Ted Kord, and his story was continued by DC after Crisis on Infinite Earths. This version of Blue Beetle didn't have any powers, but was still a member of the Justice League. He died in 2006's Infinite Crisis crossover.
DC debuted Reyes shortly after Kord's death, and his origins expanded on the Blue Beetle mythos using the original scarab. It merges to his spine and manifests powers when Reyes is in danger, and it can even take over his conscience. Reyes becomes a member of the Teen Titans, and even takes over bromance duties with Kord's longtime bestie, Booster Gold. The Reyes version of the character has appeared in Young Justice and Smallville.
The Reyes version was created by Keith Giffen, John Rogers, and Cully Hamner, and the initial version by Charles Nicholas Wojtkoski. What do you think about a Blue Beetle movie? Sound off find the comments.