'Blue Bloods' Spoilers: Will Estes Says Jamie Will Be 'Butting Heads' With Frank Over Riding With Fiancée Eddie
Jamie and Eddie may have finally gotten together—and engaged!—in the Blue Bloods Season 8 finale, but they don't want that to affect their professional lives, which will result in conflict between father and son in Season 9, Will Estes previewed.
"We're definitely butting heads over that issue, as Reagans do," Estes told Newsweek.
When the couple announced their engagement at the weekly family dinner in the finale, Frank (Tom Selleck) told his future daughter-in-law she could move to whichever precinct she wanted. Jamie (Estes) and Eddie (Vanessa Ray) argued it isn't written anywhere two partners who are romantically involved can't ride together, news which was a surprise to the current police commissioner and his father, Henry (Len Cariou) Jamie's grandfather and a former police commissioner himself.
"As history has it, no commanding officer would ever allow it," Estes explained. "The CO has the ability to separate partners, so it would never be allowed on the job. We're fighting for that because the reason we didn't enter into a relationship earlier is we didn't want to give up our partnership on the streets."
Jamie isn't approaching discussing this issue with his father any differently than he would any other. "I think Jamie believed he earned some trust, from the department, from his dad, in terms of how well they've been able to perform their duties the whole time on the job," the actor explained. The couple addressed that with vows when Frank expressed his concerns at the family dinner in the season finale.
Frank isn't just Jamie's father, but also the top boss of the New York Police Department, which has to be considered. "Your father's opinion about something in terms of your work, when you're a cop and he's the P.C., is not just an opinion. What he says goes, and so that dynamic is always fun to play, in that he's my boss and my father," Estes told Newsweek.
"Frank is someone Jamie respects and trusts beyond that of just a normal father but also in terms of his confidence on the job, so it's something Jamie takes into account. It weighs extremely heavy, his father's opinions, what he desires for his son on and off the job," he continued.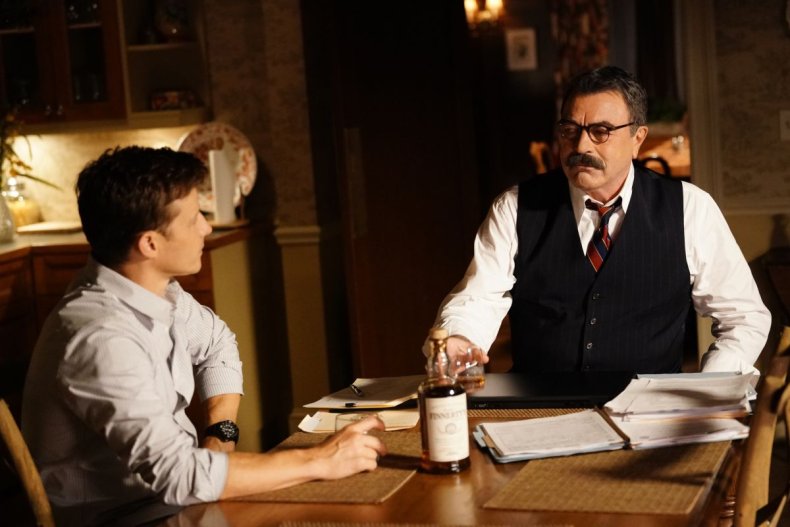 Since the two hadn't been dating, Jamie and Eddie's engagement came as a surprise to the entire family, some fans and Estes. "We knew it was a long time coming," he said. "In some ways, it felt like we'd been playing a romance the whole time, so when we read the episode, we thought, 'Oh, cool, this is how it's going to work.' We've been sort of doing it backward, like a lot of things in television."
While his and Ray's off-camera friendship makes playing their characters in a romantic relationship a "new hurdle"—"it's a little bit like kissing your sister"—Estes said Jamie and Eddie's dynamic won't change that much.
"A lot of times, we're going to find both of them at work, where it's literally our job to put any sort of relationship aside," he explained. "Police work is oftentimes emergency work. It has to be something that's completely set aside for the purposes of carrying out our duty, so it's something we won't always touch on."
What is different is Eddie is now attending weekly family dinners—and she's the first addition to the table in the history of Blue Bloods. "Vanessa now at family dinners is really exciting for all of us," he said.
"It's a tough room for anybody to walk into as an actor, so I think Vanessa was perhaps nervous," he continued. "I'm projecting, maybe, how I would feel if I was in her position. But I think she's handled it beautifully and stepped in and ingratiated herself to the characters at the table without giving up any moxie or any of her own strength as well."
Blue Bloods Season 9 premieres Friday, September 28, at 10 p.m. ET on CBS.