Blue MAGA Hats Rejected by Biden-Harris Supporters: 'We Don't Need Another Cult'
Blue MAGA hats appealing to supporters of President-elect Joe Biden and Vice President-elect Kamala Harris are being rejected by Democrats, with a tweet promoting the hats getting ratioed.
The hats are a version of President Donald Trump's red Make America Great Again hat, which have become synonymous with his most dedicated supporters.
Now, blue MAGA hats that read "Made America Great Already" and have nothing to do with the Biden-Harris administration have emerged, but Democrats are not happy.
Twitter account @BidenHarrisHats shared photos of the hats, adding: "You 'Made America Great Already' simply by firing and evicting Trump from our White House.
"Get your BIDEN 'BLUE' MAGA HAT now. Biden 'Made America Great Already' because he is sending Trump to prison. Hats are on Amazon."
The blue MAGA hats are selling on Amazon for $14.99, and are the only product listed in its Amazon store. They are not officially affiliated with the Biden-Harris team or any other known organization.
In fact, reviews on the listing suggest that the blue MAGA hats were being sold in 2019 for numerous reasons unrelated to Biden and Harris.
The hats were used to show support for veterans and the military, to express that the U.S. was great before Trump, and to suggest that the wearer had made America great through their actions.
Now, the marketing has been adjusted to appeal to Biden and Harris supporters, with the hat's description reading: "Joe Biden and Kamala Harris, MADE AMERICA GREAT ALREADY because they embrace LOVE over hate."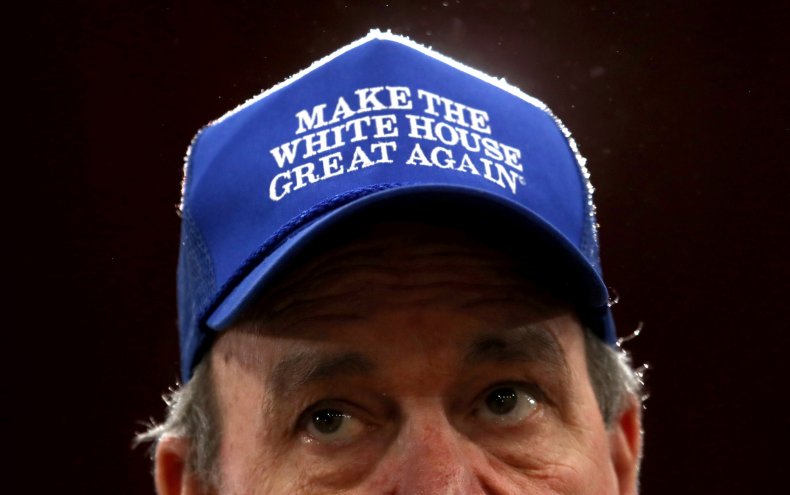 The @BidenHarrisHats Twitter profile—which has just over 300 followers—began posting in August 2020, with the first tweet on the page being: "Get the official hat #BidenHarris2020 hat...#joebiden 'Made America Greater Already' by choosing #KamalaHarrisForVP."
Since the election, the brand is now leaning on Biden's win over Trump to sell the hats.
However, Biden-Harris supporters are not on board with the idea, as some claim it perpetuates the cult-like behavior linked to the red MAGA hats. Others believe that the hats would just reinforce the division between Trump supporters and Biden supporters.
In response to the above tweet, which has 4,500 responses and 4,900 quote tweets compared to only around 700 likes at the time of writing, Biden and Harris's supporters are completely rejecting the concept of blue MAGA hats.
Majid M Padellan said: "We just got done with one cult. We don't need another. Take all of those damn hats and create a bonfire large enough to be seen from outer space. This is a RIDICULOUS idea. Don't do this."
Yvette Nicole Brown said: "We don't need another cult. America just survived one. Enough with this. Not hats. Not chants. No crimes. No lies.
"Just good people working together to fix what's wrong. That's what America needs. That's all we need. Not this. Not these."
Twitter user Robert Lindsay said: "I voted for Biden but I'd never walk around with a hat on saying I voted for Biden. That's a Trumper thing. I don't want to be like Trumpers in any way."
Twitter user Vonte said: "How do none of y'all feel embarrassed," while Twitter user @notsophiacoppola said: "I don't have the energy to explain why this sucks."
BidenHarrisHats told Newsweek: "We understand that the acronym has a negative connotation but that is the blessing and the curse.
"Once Biden and Harris supporters and just every day great Americans understand that the hats simply represent the best of us, then the lightbulb comes on."
They added: "Our Mission is simple: 'To empower people to share their own stories of greatness, inspiring humanity.'
"Changing the narrative is tough and it will take time but our key demographic, get it. 'Made America Great Already' is past tense because we have a history of greatness in our nation, not forgetting that we still have never-ending work to do."
The official Joe Biden store is selling inauguration gear featuring two navy blue caps, with one saying "Joe" and the other "Biden Harris," both selling for $30 each.