Blue Moon 2021 Photos Show Stunning August Full Moon Around the World
Photos of Sunday's blue moon have appeared on social media, showing the phenomenon from around the world.
Many people will have realized that last night's moon was blue by name only. In terms of appearance, it looked like a normal full moon in a silvery or golden color.
Gianluca Masi, founder of the Virtual Telescope Project in Italy, was able to capture the photo below of the blue moon as it rose above the city of Rome.
Far from being blue, the moon appears a deep red colour like it normally does when it is near the horizon.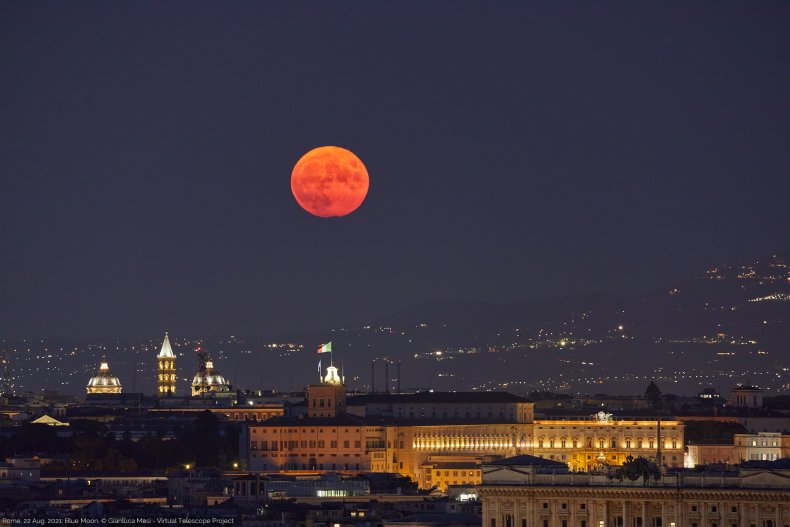 Meanwhile, various Twitter users have posted their own lunar snapshots, seen below.
The term blue moon does not refer to the moon's color. Instead, it's the name given to the third full moon of a season that has four, or to the second full moon of the month.
Both events are relatively rare. The next blue moon is not due until August 2023, according to NASA skywatching blogger Lance D. Davis.
Usually, seasons only have three full moons since each season tends to last around three months and each month tends to have just one full moon.
The modern 'blue moon' expression goes back hundreds of years, and appearances of the event were calculated and published in the Maine Farmer's Almanac since the 19th century, according to the U.S. Library of Congress.
Retired NASA executive Gordon Johnston, who writes regular skywatching tips for the space agency, states that the term is speculated to have come from an old English phrase meaning "betrayer moon."
Alternatively, the name may originally have been a reference to a rare event that really did cause the moon to appear blue.
This can happen when there are water droplets in the air or when natural disasters cause volcanic ash or smoke to rise into the sky, giving the moon a blue hue.
After the huge Krakatoa volcanic eruption in Indonesia in 1883, blue-colored moons appeared for years, according to Davis.
But regarding this weekend's blue moon, any photos that show the moon appearing to glow blue have probably been edited using computer software or made to look blue using a camera filter.
Meanwhile, last night's full moon was also called the Sturgeon Moon according to The Old Farmer's Almanac, which lists monthly full moon names from a number of places including Native American sources.
The almanac states that August's full moon was called the Sturgeon Moon because giant sturgeon fish in the Great Lakes were most easily fished during this part of the year.