Blue Wave? Ahead of 2018 Midterms, California Turnout Reaches 20-Year High as Democrats Aim to Flip 7 House Seats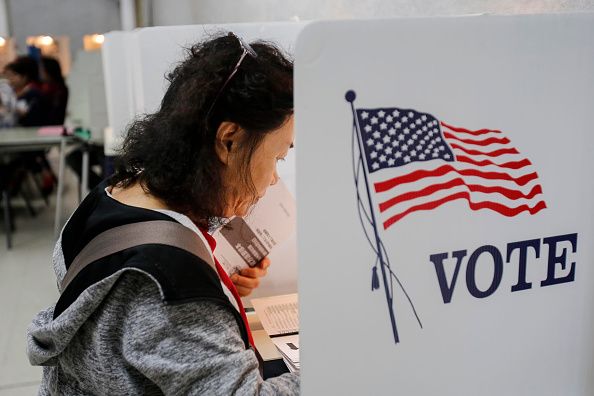 During June's highly contested primary races, California saw its highest voter turnout since 1998 with about 37 percent of the state's registered voters casting ballots.
The sunshine state usually ranks in the nation's bottom five when it comes to voter participation, according to a report by The Associated Press. But as the 2018 midterm elections near, all eyes have been on Congressional seats that have the potential to flip as Republicans try to hold on to their vulnerable majorities in the House and Senate.
"While these numbers show great progress, we know that we still have more work to do," Alex Padilla, California's secretary of state, told the Associated Press on Friday when certifying the primary results. The number of voters was up around 12 percent from the last primary election in 2014 but were similar to the 33 percent of voters showing up in midterm primaries in 2010 and 2006.
Democrats plan to flip as many as seven House seats in California in November's general election after identifying districts currently held by Republicans but that voted for Hillary Clinton during the 2016 presidential race. Many party strategists consider the state to be the key to Democrats regaining control in Washington.
California's "top-two" voting system, though, ran the risk of having only one political party on the ballot. The system allows the two primary candidates with the highest amount of votes to move onto the general election regardless of party affiliation, making it possible for two Republicans or two Democrats to end up on the final ballot.
Yet voters in the June 5 primary kept Democrats on the ballots in several key House races, avoiding disaster for the party. California is one of the bluest states in the country with nearly 45 percent of the state's registered voters identifying as Democrat. Plus, even independent voters now outnumber registered Republicans. And, while it's no guarantee, independents are more likely to vote Democrat than Republican.
Representative Ted Lieu, an outspoken critic of President Donald Trump, tweeted about the Democratic Party's success during the primaries and hinted at a potential blue wave in November.
Higher voter turnout can be linked to the state's new voting method in counties like Sacramento, Nevada, San Mateo, Madera and Napa. Every single registered voter in these areas was mailed a ballot, making it simple for them to fill it out at home and send their vote easily through the mail. In the five counties using this new method, voter turnout had increased, according to the AP.
President Donald Trump has dismissed these results, insisting that there was no evidence of a blue wave in California's primary races. He tweeted about the elections the next day, praising Republican candidate John Cox and suggesting there might be a "red wave" in the state.