What Blue Wave? 5 Democrats Would Lose Senate Seats If 2018 Election Held Today, Poll Shows
That "blue wave" or surge of Democrats taking back Congress in this year's midterm elections does not appear to include Democratic senators trying to preserve their seats in states carried by Trump in 2016.
Related: Trump Approval Ratings Show These States Still Love the President
Indeed, five of the 10 Democrats facing that scenario this fall would lose to a Republican candidate if their races were held today, according to Axios/Survey Monkey polls from the 10 states released Thursday morning.
Many of the seats were previously considered the toughest for Democrats to keep hold of, something viewed as a prerequisite if the party is to have a shot at winning back the Senate. Senator Jon Tester, of Montana, was the most vulnerable, according to the poll, with a 42 percent to 55 percent projected loss to any generic Republican candidate.
Moderate West Virginia Senator Joe Manchin would suffer a projected nine-point loss, while Senator Claire McCaskill, of Missouri, would be knocked out by an eight-point margin by Missouri Attorney General Josh Hawley—one of the few confirmed Republican opponents. The losses would not end there for the Democrats. Single-term Senator Joe Donnelly, of Indiana, and North Dakota's Heidi Heitkamp would also find themselves without a job come next year, according to the poll.
The polls were conducted between February 12 and March 5 and drew results from 17,289 registered voters from Florida, Indiana, Michigan, Missouri, Montana, North Dakota, Ohio, Pennsylvania, West Virginia and Wisconsin.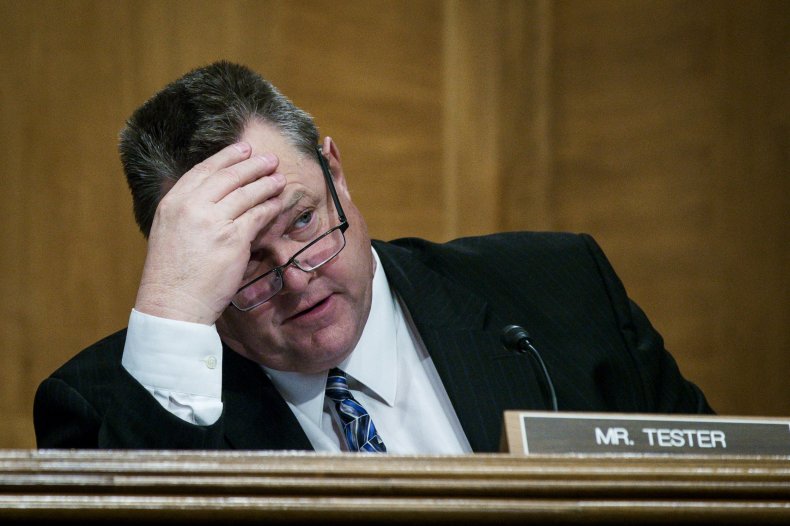 The survey found that President Donald Trump's approval rating was higher than the incumbent Democratic senator in six of the 10 states polled, suggesting more than a note of caution for Democratic plans to storm to victory across the country in November off the back of the president's historic unpopularity and difficult first-year in office.
Trump has appeared to lose support across the country but, in many of the contested Senate seats, his support remains strong. The Republican had a positive net approval rating in 38 states when he entered office almost 14 months ago, according to Morning Consult, although that total has since slipped to 26.
Still, Trump has maintained a positive net approval in Montana, North and South Dakota, Indiana and West Virginia. Potentially taking five more Senate seats would greatly tip the chamber in the GOP's favor. Republicans currently have a 51-49 advantage, including two independents who caucus with the Democrats.
Talk of a major Democratic tidal wave overtaking the polls in 2018 has flourished since encouraging victories in Alabama and Virginia late last year. However, Texas's primaries earlier this week showed Republicans still greatly outnumbered Democrats at the polls. Roughly 1.5 million GOP supporters turned out compared to one million Democrats, results that largely reflected elections past.