'Blue's Clues' Has Made Some Major Changes, and Its Grown-Up Fans Aren't Thrilled
Twitter recently discovered the major changes that were made to Blue's Clues, and grown-up fans who probably enjoyed the show as kids are not thrilled.
Twitter user MissLady_Leah posted on June 10 an update about the beloved kids program that many may not have been aware of. "I want y'all people with no kids to know.… Blues Clues gets emails instead of letters now," she wrote.
This was brand-new information to many. "'We just got an email' don't even slide off the tongue like 'we just got a letter' I can't sing that," someone argued.
"I feel ......disrespected? Is there no honor left? Is nothing SACRED?" another Twitter user chimed in.
"Does he still draw clues?! Or is he just posting them to his feed?" a third chimed in.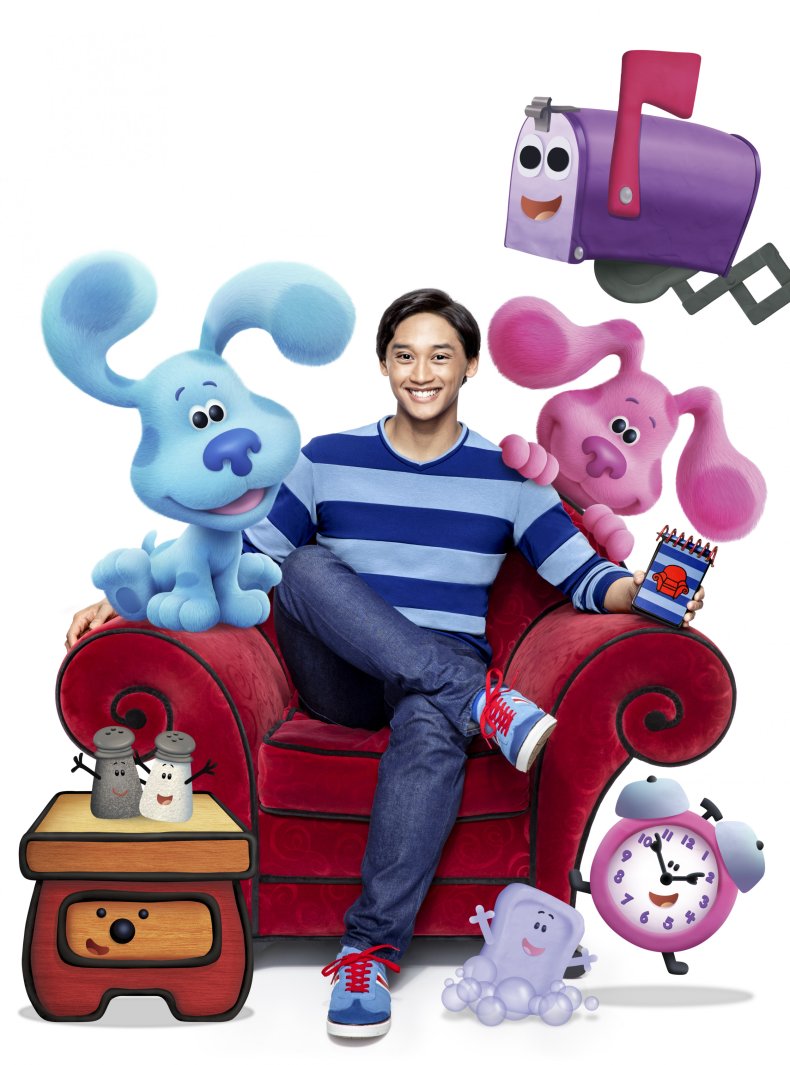 The updated version of Blue's Clues, called Blue's Clues & You! premiered in November 2019. In the older version of the show, Steve (Steve Burns) and Joe (Donovan Patton) hosted the interactive kids series. This time around, Josh (Joshua Dela Cruz) follows Blue's clues to figure out what she wants to do. However, Steve and Joe did make cameos in the first episode of Blue's Clues & You!, a special nugget for older viewers who may be watching with their kids this time around.
The premise of the show remains the same, as Josh looks for Blue's paw prints to decipher what's on her mind and what she wants to do.
Some other changes have been made to the rebooted version of Blue's Clues. Josh receives emails as well as physical letters this time around (who doesn't love snail mail?). Additionally, the handy-dandy notebook is now an iPhone/notebook hybrid. On one side of the device, he has an iPhone. The other side includes a spiral notebook, which he draws on with crayons, just like in the '90s.
"Hearing that Blues Clues now uses email for mail time and a smartphone instead of a handy dandy notebook almost broke me," one Twitter user lamented. "Since Blues Clues uses email and tablets instead of a notebook and mailbox has Dora replaced The Map with Google Earth yet," another posited.
Mr. Salt and Mrs. Pepper also had more children, which never seemed to make sense in the first place.
Despite these major changes made to the cartoon, some users still thought Blue's Clues & You captured the spirit of the '90s program. "Alright, Blues Clues is trending because the new guy (Josh) is using a phone instead of a notebook and E-MAIL instead of the regular mail. I was pretty upset when I heard about that at first," one user wrote. "However, I started watching the show one morning out of curiosity and I think that the same show from my childhood is still there and Josh is doing a good job."
Blue's Clues aired on Nickelodeon Jr. from 1996 to 2006. Burns hosted the show until 2002, when it was handed off to Patton until 2006. Blue's Clues & You! premiered on November 11, 2019. The reboot was renewed for a second season days later, according to Deadline.
Update: This story has been updated to include more specific information about changes to Blue's Clues & You that was subsequently provided by Nickelodeon.