Blue's Clues host Steve Burns has left fans in tears after appearing in a touching video to mark the show's 25th anniversary.
Burns hosted the educational preschool children's show from its 1996 launch until he left in 2002, when Donovan Patton took over, playing Steve's younger brother Joe. And fans of the Nickelodeon favorite were taken on a heartwarming trip down memory lane on Tuesday, thanks to a video of Burns back in character as Steve.
Wearing his signature striped green shirt and speaking in gentle tones, Burns addressed his departure from the show, assuring fans that he hadn't forgotten them.
In the clip, shared on the Nick Jr. Twitter account, he said: "You remember how when we were younger we used to run around and hang out with Blue and find clues and talk to Mr. Salt and freak out about the mail and so all the fun stuff.
"And then one day I was like, 'Oh hey, guess what? Big news… I'm leaving. This is my brother Joe, he's your new best friend,' and then I got on a bus and I left. And we didn't see each other for like a really long time. Can we just talk about that? Great. Because I realize that was kind of abrupt.
"I just kinda got up and went to college. And that was really challenging, by the way, but great because I got to use my mind and take a step at a time and now I literally am doing many of the things that I wanted to do."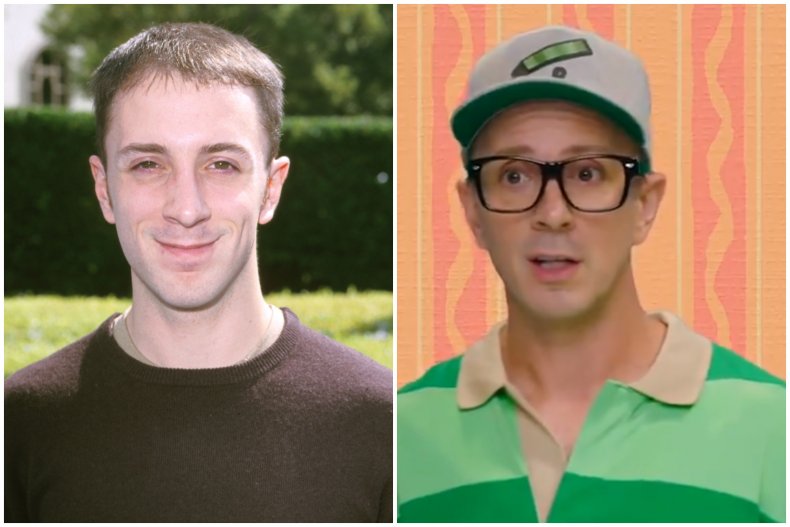 "And then look at you and look at all you have done and all you have accomplished in all that time," he went on. "And it's just so amazing, right? I mean, we started out with clues. And now it's what? Student loans, and jobs, and families.
"And some of it has been kind of hard, you know? I know you know. And I wanted to tell you that I really couldn't have done all of that without your help. And in fact, all the help that you helped me with when we were younger is still helping me today—right now. And that's super-cool."
Tugging at heartstrings, he concluded: "I guess I just wanted to say that after all these years I never forgot you… ever. And I'm super-glad we're still friends. Thanks for listening. You look great, by the way. Whatever it is you're doing, it's working."
The video drew an emotional reaction from Twitter users who had grown up watching Burns and his animated sidekick, Blue the dog.
"This made me really emotional," commented pro gamer Ray Narvaez, Jr. "Blues Clues was such a big part of my childhood so every time I see Steve I kinda breakdown a little bit."
Dakota News Now meteorologist Tyler Roney wrote: "Steve from Blues Clues: I never forgot you," before sharing a meme of a weeping cat with the caption "People that grew up watching the show."
Web developer Brett S. Vergara tweeted: "Not this random #BluesClues25 clip eviscerating me emotionally and ambushing me with existential feels…"
Adrian Colbert, who recently signed to the New York Jets, also got emotional, writing: "Gangsta tears were shed 😭 Thank you, Steve."
Another fan of the show tweeted: "Realizing that my abandonment issues were stemming from Steve of Blue's Clues this whole time was a revelation I was not expecting today, but I'm glad he provided so many of us who grew up with him some form of closure. 🥺"
In a 2016 interview with the Huffington Post, Burns addressed his reasons for leaving the show, after wild rumors and theories had circulated online for years.
"I left the show because it was just simply time to go," he said. "I was pretty much playing a boyish, older-brotherish kind of character on the show.
"I was getting older; I was losing my hair. A lot of the original gangsters on the show, like the people who created it, were all moving on to other careers. It just felt like time. I just had a gut feeling like it was time to go."
A reboot of the show called Blue's Clues & You! began on Nickelodeon in 2019, with both original hosts making cameos in the premiere episode.