Kentucky Blues Run the Game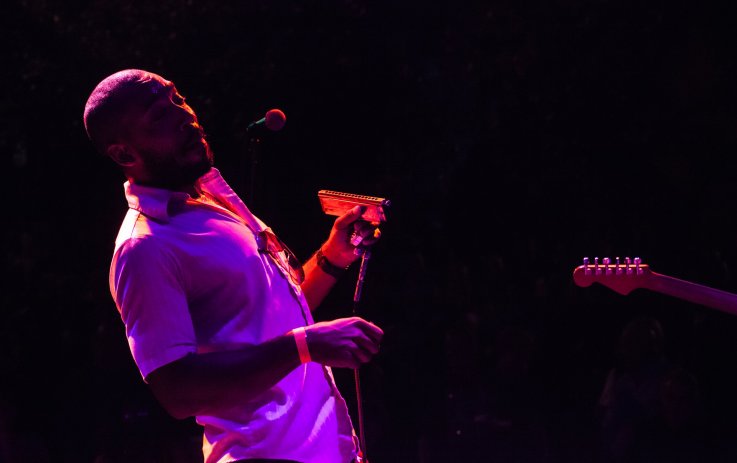 Andrew Alli had never played an instrument, of any kind, before he strolled through a tiny farmer's market in Richmond, Va., on his campus at Virginia Commonwealth University, and spotted a busker wailing on a harmonica. "I thought, 'Maybe it's time to pick up something,'" he says.
Nine years later, Alli has yet to put it back down again. His band, Andrew Alli and the Mainline, performed this weekend at a tiny blues festival in Louisville, Kentucky with the largest of ambitions: "What I'm trying to do with this festival is bring together the young and old," says co-producer and talent buyer Mike Suttles. "Maybe that way we can keep the blues alive."
As a young black man who plays in a blues band, 29-year-old Alli is a rarity, says Suttles. "Young African-Americans don't want to play the blues. There are plenty of white people willing to play because of Stevie Ray. But a lot of young folks say 'That's my grandparents' music. I can't make a million dollars playing the blues.' It's real goddamn hard to find them."
Thankfully, Suttles found Alli, who played the harmonica like a drum Friday, between vocal sets belted out into the Kentucky night sky.
The Garvin Gate Blues Festival began in 1988 as a free event with a lineup of local bands and a modest 500 attendees. What started as a blues jam grew to be one of Louisville's largest events, attracting performers from Chicago and nearly 40,000 people by its 8th year. Notoriety didn't change the festival's signature offering: free admission. But after nine years in its namesake locale at the intersection of Oak Street and Garvin Place in Old Louisville, Garvin Gate moved to Louisville's Theater Square downtown. Barricaded from the masses by a chainlink fence and a newly instituted $5 admission fee, the event lost its heart and went on a seven-year hiatus. In 2007, Suttles and chairperson Howard Rosenberg revived Garvin Gate in Old Louisville, fence and admission-free.
Louisville Mayor Greg Fischer has never missed a Garvin Gate. "People come in from all areas of the city and surround the stage. It's like an urban amphitheater," he said Saturday night. "This is the festival that's most like the faces of Louisville."
Though the festival now draws talent from coast to coast, the music isn't the only thing that keeps thousands of attendees coming. "This is one of the most segregated cities in the country," Louisville native and festival attendee, Kerry Ferrell, says. Adds Rosenberg: "At this festival, you couldn't tell. If you look out there, you'll see somebody your age dancing with a homeless guy."