Blue Lives Matter Rallies in Parts of the Country See Peaceful Counterprotests and Clashes
As demonstrations against systemic violence and racism by law enforcement give rise to an opposing movement to defend police, Black Lives Matter supporters held counterdemonstrations during "Back the Blue" rallies across the U.S. on Saturday.
Black Lives Matter demonstrators gathered in New York and Florida on Saturday while "Back the Blue" protesters held their own rallies nearby. As Blue Lives Matter protesters demonstrated in Florida's Orange Park, near Jacksonville, a group of Black Lives Matter supporters participated in a rally across the street. Despite their disparate goals, interactions between the opposing demonstrations were not openly contentious, local news outlet News4Jax reported.
In New York, tensions were more evident when Black Lives Matter protesters attended a Brooklyn "Back the Blue" demonstration early on Saturday. Videos shared to social media showed at least one dispute between demonstrators became aggressive. According to CBS New York, the rally drew hundreds of pro-police advocates to the borough's Dyker Heights neighborhood, where people organized a march to support the New York City Police Department.
Another "Back the Blue" rally held in Omaha, Nebraska, on Saturday saw roughly 2,000 people in attendance, according to Omaha World-Herald. The demonstration took place in Omaha's Memorial Park, where about 100 Black Lives Matter supporters rallied with signs in a largely silent protest. Sidewalks and staircases located near the park's memorial sites were spray-painted with "Black Lives Matter" and "Defund the Police" messages, the newspaper reported.
In Los Angeles, a group of Black Lives Matter protesters held a counterprotest near the Los Angeles Police Department (LAPD) headquarters, where a group called By the Community for the Community gathered with signs to support the city's law enforcement. FoxLA reporter Bill Melugin shared a video to Twitter that showed the two group "exchanging words" and noted that the action was predominantly peaceful, although "one small skirmish got physical."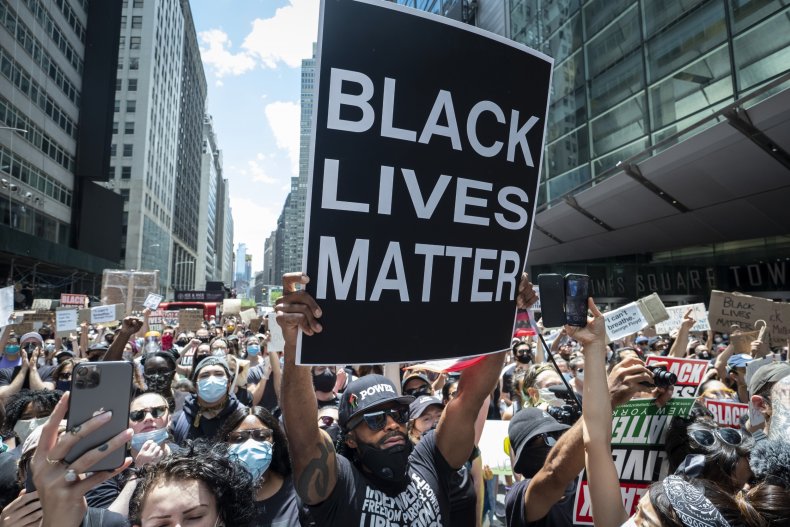 LAPD Commander Ruby Flores thanked protesters who organized the rally in defense of her department. "It is a time in our history that we need this more than ever. We need to always identify and remove bad cops while SIMULTANEOUSLY lifting up and thanking the good cops," Flores wrote on Twitter. "It's not a one or the other."
Rallies and counterrallies come amid a nationwide push for police reform and increased accountability among law enforcement agencies. Black Lives Matter protests have surfaced across the world since Minneapolis resident George Floyd died in police custody on May 25, inciting mass rallies against police violence and systemic racism.
Newsweek reached out to Black Lives Matter and Blue Lives Matter's national press offices for comments, but did not receive replies in time for publication.