Bluetooth Baseball Enables Games and Analytics for Kids and Parents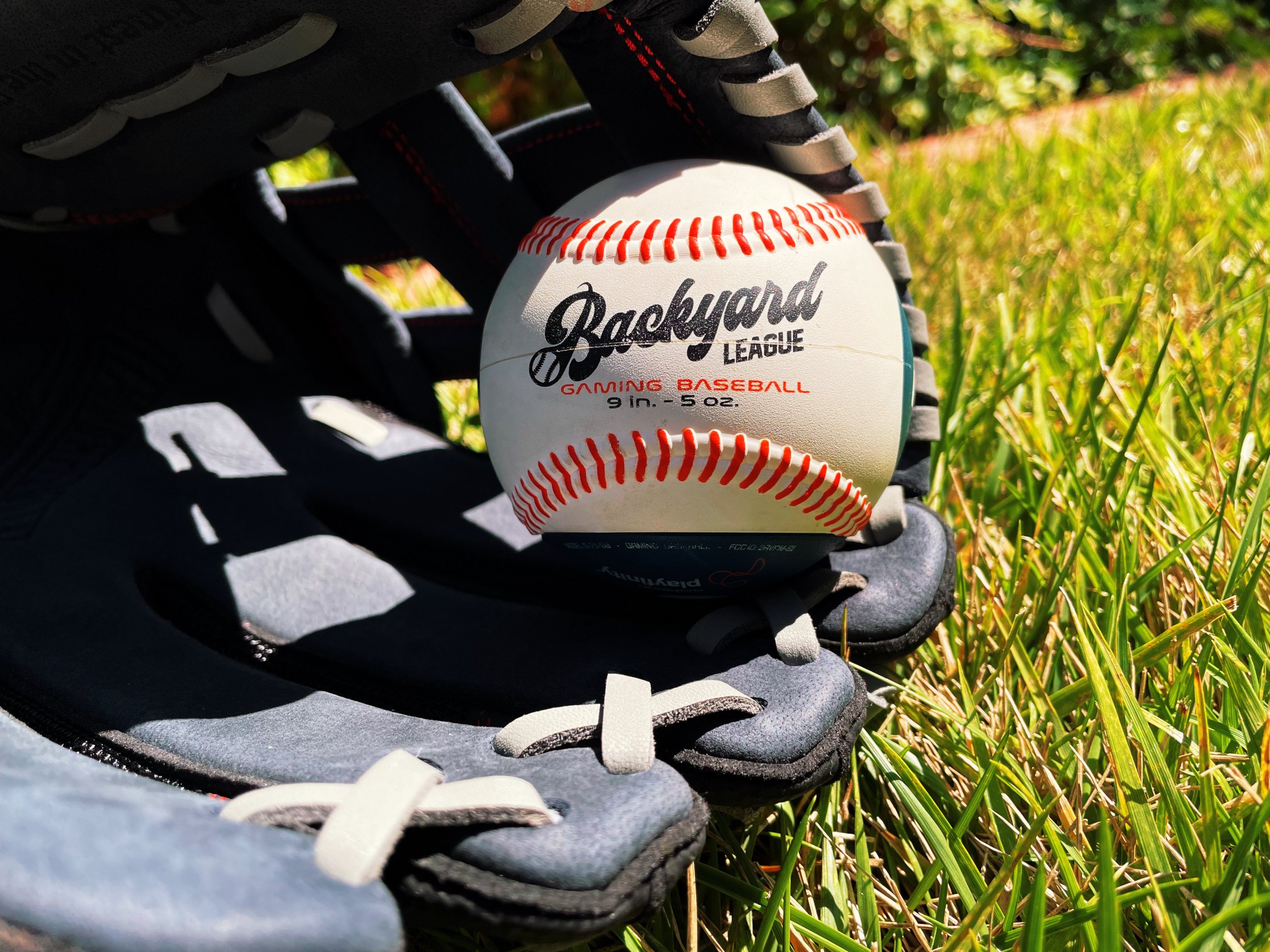 When my son first started playing Little League Baseball, he was convinced he could throw a ball around 70 miles per hour. I was confident in telling him that I had never heard of a 9-year-old being able to throw a baseball that fast. Despite my skepticism, he insisted. Not that I would have taken joy in proving him wrong, but I had no practical way of showing him how fast he was actually throwing—until now.
Playing catch with a baseball in the backyard is getting a makeover, thanks to this new Bluetooth-connected ball. The Backyard League Gaming Baseball looks (and feels) like a traditional ball, mostly, but it has a smart core that allows it to track things like speed, distance, height and more. It takes that information and integrates it into its app to create various games for one or more people. Then, it can compare your stats to other people's around the world for friendly, anonymous competitions.
The prospect of upgrading a game of catch between father and daughter, mother and son or among a group of friends might seem unnecessary. And it might be, but Backyard League is giving it its best shot with a compelling product that might be able to unlock more fun than you thought possible.
Setting Up a Connected Baseball
The first thing you notice about the Gaming Baseball isn't its blue and orange colors, it's the small hole it has. At the end of the hole is a screw that can be removed to get to the baseball's battery. It's one of the few compromising aspects, in making it obviously different from a traditional baseball, even though it doesn't really affect throwing or catching it.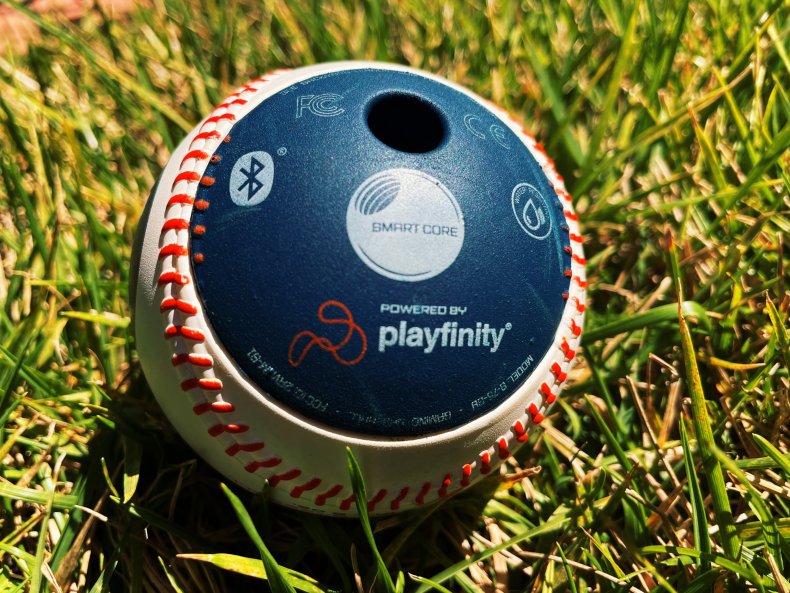 The Gaming Baseball I tested came with the battery installed. I also opened it up to see what it was like, and the battery can be inserted basically as fast as you can work a Phillips-head screwdriver. (The ball is said to get 70 hours of playtime before it needs a new coin cell battery.)
To connect the ball to your phone is merely a press of the ball's single button. The app walks you through the brief setup, but there's not much to it—a key feature for any product like this.
Inside the Backyard League app, it opens to a home screen showing the day's throws along with all-time throws. If the ball is connected to the phone and activated (by pressing its button), the app will show green indicators along the bottom of the screen. The default stats speed, height and transition appear underneath the number of times the ball has been thrown.
Then, in the menu, you can get to all the other app features, including the games. Not only does it have 10 games shown by default—only four of which were available during my testing—but you can create your own game. The Game Builder is a bit like Siri Shortcuts for baseball. It allows you to make if-then statements and assign points for different metrics. Then, you give the game a name and can immediately play it. You can also create challenges and connect with other people who have a Gaming Baseball, too. I could easily imagine a scenario in which a baseball team each gets a ball to monitor progress throughout the week.
The Speed of a Bluetooth Baseball
So, you throw the Gaming Baseball to someone and it tells you a speed. How do you know that was actually the speed it was thrown? I didn't have a good way to measure it, and I bet most people don't, either. How precise is the speed readout? I'm not sure, but I'm OK with that vagueness in this context. First, this ball is more of a toy than a professional training tool. I don't believe it is meant to provide 100 percent accuracy. Second, there are numbers I can verify or assess, like throw count and throwing height. The stats I can verify checked out and were reliable on a daily basis. You won't be disappointed if you go in with expectations for "close enough" measurements.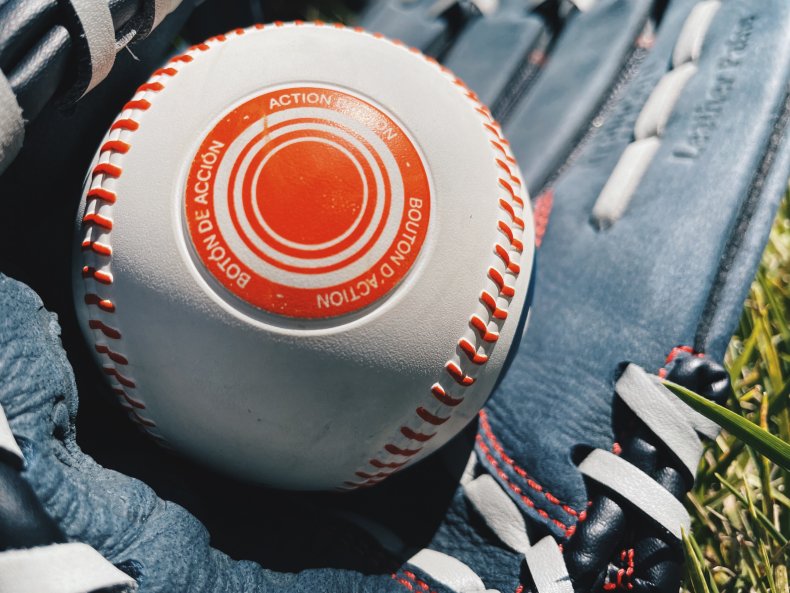 Like anything, however, this ball can certainly be gamed, too, if that's your goal. What counts as a throw? Is speed recorded differently if it hits the pocket of the glove versus the palm? In my testing, if you treat this as a way to spur on outside activity and be motivational, then you're going to get a lot of enjoyment out of it. It's a fun accessory.
Even if you don't have someone to play catch with, there are solo games. In fact, I would say especially if you don't have someone to play with, the solo games are fun. One of those games is called Higher and Higher. Each throw needs to go up just beyond the height of the last throw. You keep throwing progressively higher to see how many times you can do it before the imaginary line is out of reach.
There are games for more than two people, but the real multiplayer sell here is the worldwide connectivity. There are leaderboards showing a screen name and country, but nothing more. There's also no way for players to connect in the app with each other so there shouldn't be any concern for privacy or predatory behavior. Mostly, it's meant to gauge how you compare to other, real people.
The biggest downside I see with the whole experience of Backyard League is how connected the ball is to the app. I understand the limitations of a ball with no screen—I think Backyard League is a solid effort—but the constant need to be tethered to an app and/or device to select games or constantly check stats is a little annoying. Maybe there's room for an Apple Watch app to alleviate some of the distraction?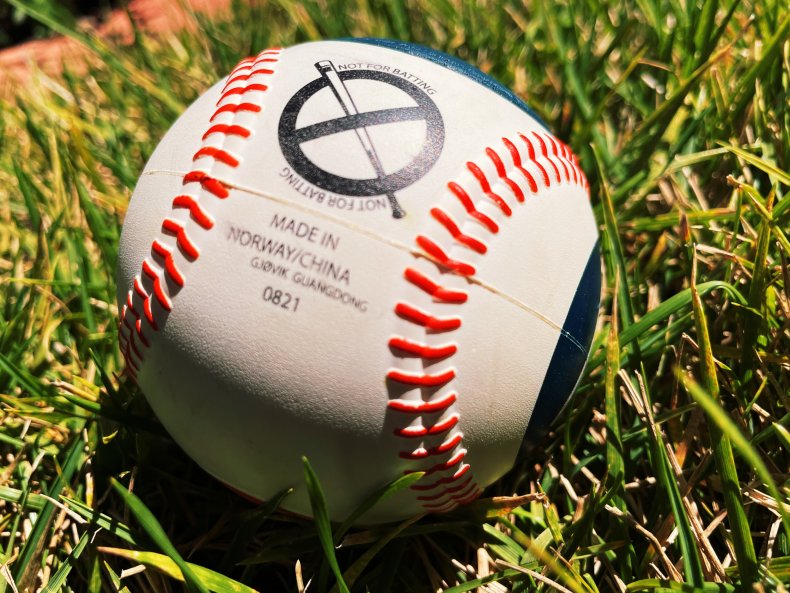 To its credit, Backyard League does a lot of auditory coaching to let people know how much time is left, whether they are falling behind other people or when to start. You don't need a Bluetooth speaker connected to the phone, but having one does help boost the volume coming from the phone.
Should You Buy the Backyard League Gaming Baseball?
The Gaming Baseball goes on sale on August 3, 2021, as part of an Indiegogo crowdfunding campaign. The ball will start at $69 for the first 500 and go up from there, depending on different packages. In October, the connected baseball will retail for $129.95 on Backyard League's website.
My son was initially disappointed to learn he couldn't actually throw as fast as he thought he could. But after that brief moment, he was all in on working to improve his throwing speed. More than that, though, he just wanted to go out and play catch more. He thought the Gaming Ball was cool.
As fun as playing catch is, adding some measurable challenges and parameters to it only increased the amount of time we spent doing it. How do I know we progressively spent more time playing catch? The app showed me our throw count was going up each day.
Buy at Indiegogo or Backyard League.
Newsweek may earn a commission from links on this page, but we only recommend products we back. We participate in various affiliate marketing programs, which means we may get paid commissions on editorially chosen products purchased through our links to retailer sites.