Watch: Senator Learns of Santa Clarita School Shooting While Literally Giving Speech on Gun Violence
Senator Richard Blumenthal was giving a speech on the Senate floor Thursday, telling his colleagues that they were "complicit" in shooting deaths nationwide if they refused to pass gun reform legislation, when he received word that a shooting was taking place at Saugus High School in Santa Clarita, California.
"And we are complicit in these deaths if we fail to act," Blumenthal, a Democrat from Connecticut, said as a staffer handed him a note. His tone changed, and his speech slowed, as he read the message. "As I speak, on the floor right now, there is a school shooting in Santa [Clarita], California," he said.
"How can we turn the other way? How can we refuse to see that shooting in real time, demanding our attention, requiring our action?" the congressman asked his Senate colleagues. "We are complicit if we fail to act."
Meanwhile, in Santa Clarita, two people had been fatally injured and at least three others had been wounded. Authorities said that the suspected shooter was also in custody at a local hospital.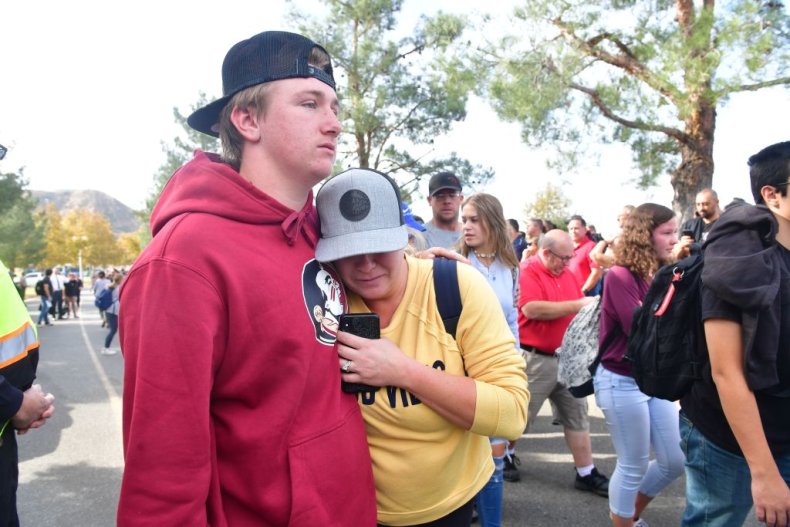 Despite Blumenthal's plea, the gun reform legislation failed to pass the Senate. The bill, which called for universal background checks for gun purchasers, was brought to the floor by Democratic Senator Chris Murphy, who also represents Connecticut, and was backed by many other lawmakers from across the nation.
"I'm about to go to the Senate floor to ask for unanimous consent to pass universal background checks. Some will call me foolish for trying—one Republican objection and this fails," the congressman tweeted. "But when 100 Americans are dying from gun violence every day, inaction is inexcusable."
Other senators were quick to blast their Republicans colleagues, with particular emphasis on Senate Majority Leader Mitch McConnell, who has repeatedly refused to take up gun reform legislation passed by the House of Representatives.
"It is truly outrageous that at the very same time the Santa Clarita school shooting was happening, Senate Republicans—led by Mitch McConnell—refused to pass gun safety legislation," independent Senator Bernie Sanders of Vermont, who is a front-runner for the Democratic party's presidential nomination, tweeted, sharing a clip of Blumenthal's remarks.
"Congress and Trump must finally have the courage to stand up to the NRA [National Rifle Association]," he wrote. "Enough is enough!"
Murphy also shared his frustration with his effort's failure.
"At the very moment I was on the Senate floor making a motion to force a vote on universal background checks, news of the Santa Clarita shooting broke," he tweeted. "Republicans objected, my motion failed, and now, as a consequence, the slaughter of our children will continue."
Democratic presidential candidate Senator Kamala Harris, who represents California, posted on Twitter about the violence in Santa Clarita as well. "Heartbroken and praying for Santa Clarita," she wrote. "Our children and communities are being terrorized. We can't accept this."