At a press conference on Tuesday, Senator Richard Blumenthal urged the passage of the Journalist Protection Act, a piece of legislation he sponsors in the U.S. Senate which would make assaulting a journalist on the job a specific crime recognized by federal law.
"There is a segment of the population that feels antipathy towards the press that they express verbally, in threats, and also, at the extreme, physically in direct attacks on the press," Blumenthal, a member of the Senate Judiciary Committee, said. "What we have to address is the continuing threat of physical violence, whether by guns or by other means, against the press that may intimidate them in their vital newsgathering operations."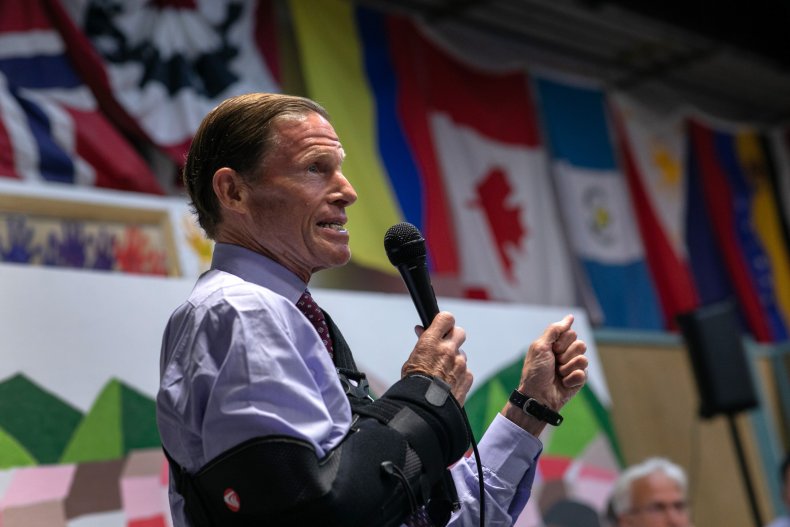 Assault charges at the federal level are generally reserved for when the United States government has special jurisdiction, either due to the status of the victim (as a federal employee, for example) or the location of the attack. Blumenthal's bill, which is sponsored in the House of Representatives by Congressman Eric Swalwell, would make it immensely easier for federal prosecutors to charge criminal assailants who target journalists.
Tuesday's press conference comes in the wake of a widely denounced video which had been shown at President Donald Trump's National Doral Miami property in Florida. The video, featured on the sides of a conference hosted by the pro-Trump group American Priority, depicts a doctored scene from the film Kingsman: The Secret Service in which a digitally inserted Trump slaughters U.S. journalists.
American Priority quickly distanced itself from the video, which it says was submitted by a third party and was not endorsed by the group.
The White House press secretary, Stephanie Grisham, tweeted on Monday that, "based upon everything [Trump] has heard, he strongly condemns this video."
According to the U.S. Press Freedom Tracker, 30 journalists have faced physical attack so far in 2019. Five journalists were killed and 43 faced attack in 2018. Four of these deaths resulted from a mass shooting at the Capital Gazette newsroom in Annapolis, Maryland, when a gunman stormed the building, killing several reporters and a sales employee.
Trump's anti-press rhetoric specifically has been cited as a motivating factor for the much of the current hostility towards members of the news media. In October 2018, Florida resident Cesar Sayoc was arrested on suspicion of mailing pipe bombs to several, prominent Trump critics. Some of the packages were sent to CNN offices in New York and Atlanta.
On Sayoc's van, which was seized by authorities, one sticker read "CNN Sucks." During his eventual prosecution, Sayoc confessed in a letter to the judge that attending one of Trump's rallies "became like a new found drug."
Trump has often disclaimed responsibility for criminals who pursue the same targets the president invokes at his rallies. However, one ABC News analysis from August identified 36 cases in which Trump was somehow invoked around the commission of a violent crime or its associated legal proceedings.
Journalists have not traditionally expressed avid enthusiasm for increasing criminal penalties, especially when they would be redundant upon state law. New York Governor Andrew Cuomo recently endeavored to make assaulting a journalist in the state a Class D felony, an increase from its current status as a misdemeanor.
But strengthening other protections for journalists has often gone overlooked, especially as safety has predominantly defined conversation about the business of newsgathering during the Trump administration. There is no federal press shield law, for example. These laws, often found at the state level, protect journalists who refuse to disclose sources in legal proceedings.
Another area of legal precariousness is in the realm of leaked information. While tradition has largely kept national security journalists from being prosecuted if they report on classified leaks, this equilibrium is far from secure. Journalists are not generally exempt from rules governing the handling of classified information, and the First Amendment does not offer absolute immunity in this regard. In cases like these, it is mainly out of caution in the Executive Branch, and not protection from Congress, that safeguards national security reporting from more aggressive federal prosecution.