'Blurred Lines' Dispute Is Going to Court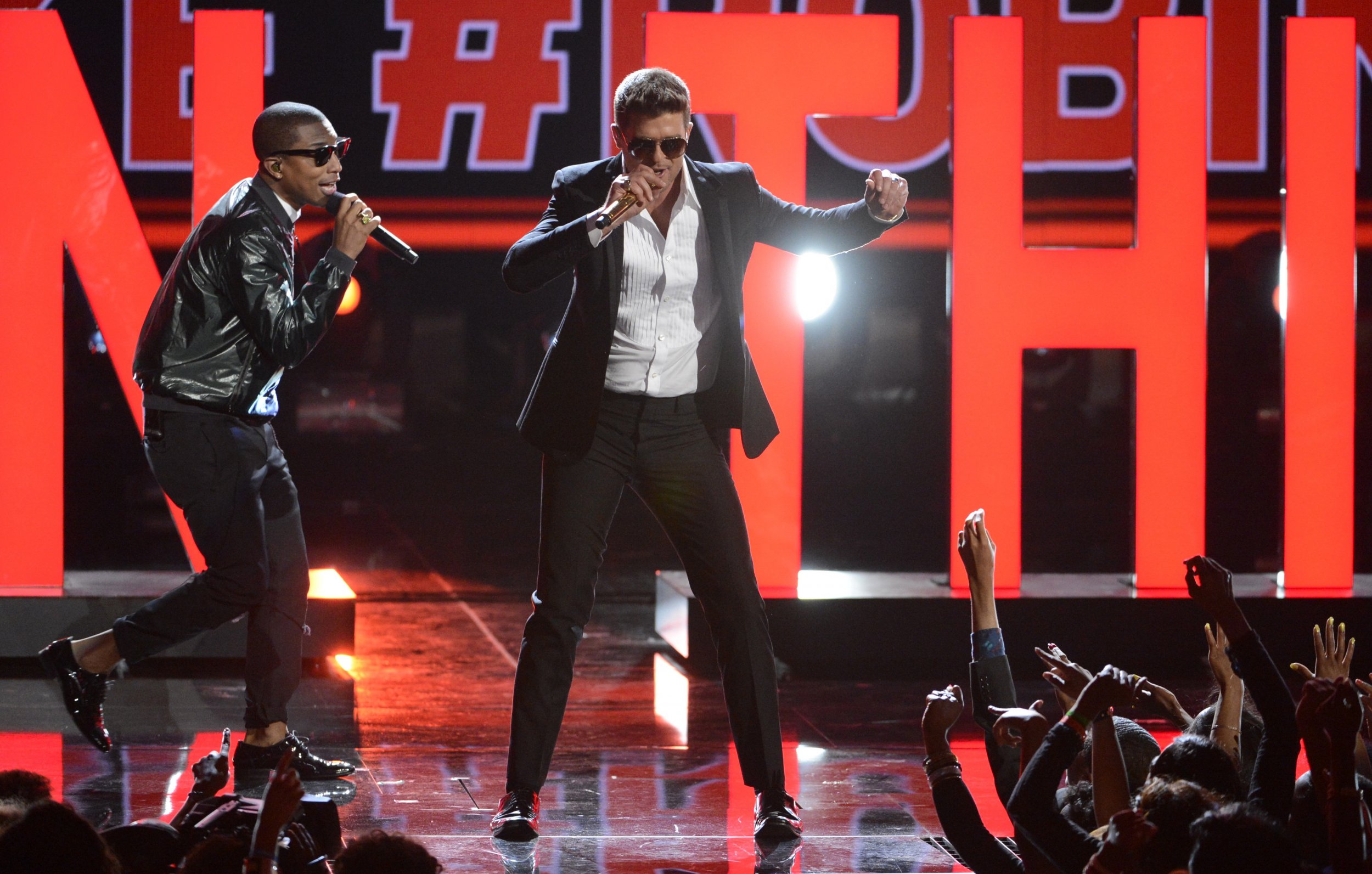 Robin Thicke and Pharrell Williams, the pair behind 2013's monster hit "Blurred Lines," lost round one in a legal dispute with Marvin Gaye's family, who insist that the two cribbed the song from Gaye's 1977 hit "Got to Give It Up."
U.S. District Judge John Kronstadt denied a motion from Williams and Thicke to reject the plagiarism complaints filed last year by Gaye's children, according to the Los Angeles Times. The decision means that the Gaye family may now proceed with a lawsuit against the two musicians.
The judge ruled that a jury is required to assess "the intrinsic similarity of the works," reports the BBC. However, the jury will base its decision not on how the songs sound but by comparing how both compositions are written on sheet music.
A full trial is scheduled to occur on February 10, 2015.
Kronstadt asserted that Gaye's family had sufficient evidence that "elements of 'Blurred Lines' may be substantially similar to protected, original elements of "Got to Give It Up," and he cited similarities between the two songs, including a specific harmonic structure, vocal hooks and keyboard lines that are protectable expressions in Marvin Gaye's song.
The dispute, which has been ongoing since "Blurred Lines" became a hit last year, prompted Thicke and Williams to file a lawsuit in September 2014 following threats from Gaye's family, reports Billboard Biz. In the suit, representatives claimed that "there are no similarities between plaintiffs' composition and those the claimants allege they own, other than commonplace musical elements. Plaintiffs created a hit and did it without copying anyone else's composition."
Gaye's family countersued, arguing that "Blurred Lines" had intentionally stolen parts from "Got to Give It Up." Nona, Frankie and Marvin Gaye III, who are leading the suit against the two musicians, also accused Thicke of plagiarizing Gaye's song "After the Dance" for his R&B megahit "Love After War," but the judge ruled that a separate trial would be necessary to settle that issue.
Howard King, Thicke and Williams's attorney, told The Associated Press that Kronstadt's ruling was not a surprise, but that he was sure the pair would prevail in the trial because "the compositions at issue are totally different." In 1976 George Harrison lost a similar suit, which claimed that he knocked off the Chiffons's 1962 song "He's So Fine" and used it for his own hit single "My Sweet Lord."