BMW Adds Cheaper, Less Powerful Electric Car to US Portfolio
BMW introduced a third all-electric model to its i4 range on Monday. The 2023 BMW i4 eDrive35 will join the more powerful eDrive40 and most powerful i4 M50 as the company's midsize electron-powered sedans, based on the traditional 4 Series model.
Deliveries are expected to start in the first quarter of 2023.
Unlike the i4 M50, the eDrive35 comes with just one electric motor on the rear axle, but uses the same fifth-generation powertrain technologies as the company's other electric sedans and the iX SUV.
The new car's batteries are rated at 70.2 kilowatt-hours (kWh) gross and 66 kWh net. That's good for 281 horsepower (hp) and 295 pound-feet (lb-ft) of torque, making for a zero-to-60 miles per hour (mph) time of just 5.8 seconds.
BMW's newest i4 iteration has 54 and 255 hp less, respectively, than the i4 eDrive40 and i4 M50, and 22 and 291 lb-ft less. It's also cheaper, with the i4 eDrive40 starting at $55,400 and the i4 M50 carrying a base price of $65,900. Prices do not include the $995 destination charge.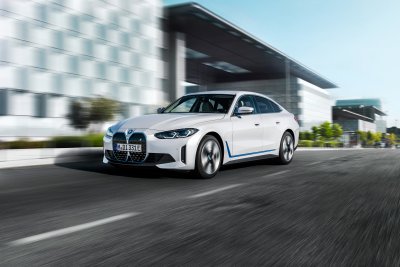 BMW estimates the range of the 2023 i4 eDrive35 (with the standard 18-inch aero wheels) at 260 miles on a single charge. The company noted it used similar tests to the EPA, meaning it should officially land close to that number when figures are officially announced.
The German automaker says with a DC fast charter the i4 eDrive35 will charge from 10 to 80 percent in 32 minutes. That's only one minute more than the more powerful versions, which offer 301 miles and 270 miles of range.
Inside, like the other i4s, the eDrive35 comes with the BMW Curved Display and the company's eighth-generation operating system. That includes a 12.3-inch information display and a 14.9-inch control screen, all underneath a single panel of glass. The glass is anti-reflective, so it doesn't need a visor, allowing it to have a free-standing look.
Sport seats, a multifunction steering wheel, three-zone climate control, sunroof, ambient lighting and a heads-up display are standard on the i4. Wireless Apple CarPlay and Android Auto are also included.
It also comes with updated BMW Intelligent Personal Assistant technology. The company says it has more functionality, like when, after learning, it rolls the window down for the driver when they approach their daily work parking lot.
The 2023 i4 eDrive35 comes with forward collision warning, adaptive cruise control with stop and go, Steering and Lane Control Assistant, lane keeping and parking sensors.
Production of the i4 eDrive35 starts in the fourth quarter of 2022 with ordering beginning next year.