BMW Brings Rolls Royce's Ghost Back From the Dead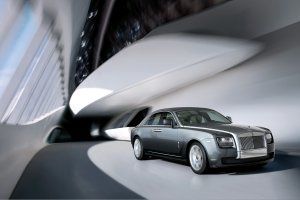 A 1964 film called The Yellow Rolls-Royce followed the European travels of one particularly glitzy car through several owners, played by, among others, Rex Harrison, Ingrid Bergman, and Omar Sharif. At the time, Rolls was the height of automotive fashion, exemplifying the sine qua non of a gold-plated lifestyle. Soon, groovy crooners Tom Jones and Engelbert Humperdinck sat for publicity shots in their glam wheels. Zsa Zsa Gabor had one of her most famous moments in the car, slapping a Beverly Hills cop. All through the flashy disco-loving '70s and especially through the excess-smeared '80s, Rolls-Royce was the must-have marque.
But unbeknownst to most buyers, trouble flared along the way. In the 1970s, Rolls-Royce's beleaguered jet-engine division swallowed all the profits. And that pesky 1973 oil crisis took out a few dolce vita drivers. Rolls-Royce, the car company, was being driven off a cliff. Meanwhile, manufacturers like BMW and Mercedes-Benz—and later, new luxury brands like Lexus—were turning heads with smaller and sleeker models. By the late 1980s, Rolls-Royce was all but DOA.
That's hard to imagine as I drive along a sun-washed stretch of California's Pacific Coast Highway in the 2010 Ghost, Rolls-Royce's new super-luxe sedan. Aptly named, it may not be an apparition, but it is most certainly back from the dead. The Ghost is Rolls's second model since successfully reprising the flagship Phantom model under new ownership in 2003. That's the year German automaker BMW bought the Rolls-Royce name—no factory, workforce, or car included—for a mere $63.3 million; the new model is named after Rolls's Silver Ghost, which debuted more than a century ago in 1907.
So I approach the Ghost with a wary eye, searching for what might be missing. From the start, I'm skeptical because the car is expensive. At $245,000, it's pricier than any model in its parent company's lineup, yet it is considered by BMW to be the entry-level Rolls. I take special care to touch and pull on everything, listening for odd sounds; previous Rolls buyers complained that under the marque's former owners, things rattled and parts came loose in their hands. Would that still be the case? The Ghost is pretty, or, more accurately, handsome. It's strong looking, confident, and commanding. But would it behave like a starved supermodel—gorgeous on the outside but hungry and empty on the inside?
I snuggle into the plush driver's seat, struck by the stitched-leather luxury of it all. I haven't yet pushed the start button; I'm too busy marveling at how this car can be at once trendy and classic, like a Louis Vuitton travel duffel or a simple quilted Dior handbag. The Ghost's climate, audio, and navigation systems are controlled by a sensor bar that responds to the simple touch of a finger. Nine colors of soft leather are available, with contrasting stitching, if that's your thing, and there are five types of wood veneer offered for the trim.
Then I notice the most exquisitely insane luxury feature ever: a $19,600 custom-made picnic hamper. It unfolds like a magician's secret chest, with stainless-steel boxes to keep food warm or cold, and specially designed crystal champagne flutes. Opening this hamper means that something really posh is about to be served. Mere Grey Poupon simply won't cut it.
I head north on the coast highway, the sandstone-colored palisades on my right, the expansive Pacific on my left. I think there's a surfer or two paddling through waves, but I'm not entirely sure. I'm too focused on the beauty under my right foot, in my hands, cradling my body. This is a big, bad boy of a sedan. It's 5.3 meters long, just a 0.3 meter longer than the huge Mercedes-Benz GL Class. And it weighs 2,495 kilograms, about 20 kilograms less than the Mercedes SUV.
Despite its formidable size and mass, a tap on the gas pedal sends this creature into hyperspace. Where Mercedes's GL550 lumbers from zero to 97kph in 6.4 seconds, the Ghost slips right past it in 4.9, about as fast as a two-seat Porsche Cayman. The Ghost's exceptional locomotion comes courtesy of a maniacal 6.6-liter, V12, 563-horsepower engine, with as much heftas Arnold Schwarzenegger tossing aside a five-pound barbell. And what about fuel efficiency? Sorry, Mercedes, the Ghost consumes less—5.5kpl city and 8.5kpl highway, compared with the GL550's 5.1kpl city/7.2kpl highway—and produces the lowest CO2 emissions in its class. "At the end of the day, this is a Rolls-Royce, and it needs to make a statement," says CEO Torsten Muller-Otvos. "The car is bigger than it feels, and people who drive it are stunned at how it behaves, how it makes a direct link to the road. This car is immaculate in quality."
At speed, traveling California's coast-hugging Highway 1, I can easily feel the effort and expense that went into the Ghost's development. BMW's fingerprints are all over it, in its taut handling, robust speed, sharp steering input, and powerful, responsive brakes. But BMW has also inserted its DNA behind the scenes. For instance, the Ghost's electrical backbone is all BMW, as are pieces of its powertrain.
Ian Robertson, a member of BMW's board of trustees and chairman of Rolls-Royce, is pleased with how the Ghost turned out. "What we didn't want to do was have anyone say that this Rolls-Royce was just a rebadged BMW in a different form," he says. "This is one of the greatest brands the world has ever seen, and it deserves to have its own personality and style." Robertson won't say what's next for the company but hints at variations of the Ghost, which could include a convertible or coupe model. "Rolls-Royce has made great saloons, stately limos, coupes, convertibles, and even roadsters," he says. "As a brand, Rolls has such a wide and diverse history that we could come out with anything, and it wouldn't be a stretch." Meanwhile, the company will double production this year, to 2,000 vehicles, because of the addition of the Ghost.
Just one thing: why a name that implies invisibility? For a car that commands such attention, it would make more sense to call it the Boast.