BMW Championship Live Stream, Leaderboard: What Time Does Tiger Woods Tee Off Today? (Third Round TV Channel, Updates)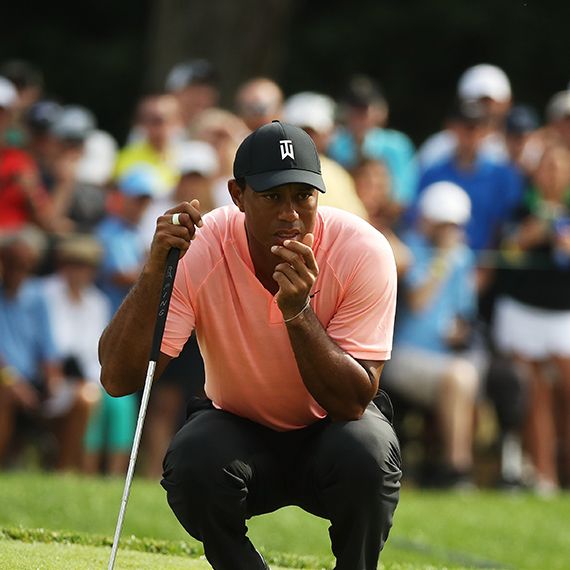 Tiger Woods is in the hunt on Saturday at the BMW Championship, a semifinal round of the FedEx Cup. We have Tiger Woods tee time, BMW Championship 2018 live stream, TV channel, and leaderboard information below for Saturday's third round and we will provide updates during the day.
After blistering the course at Aronimink Golf Club in Newtown Square, Pa. in the first round for 8-under, Woods was even par in the second round – leaving him tied for 12th place five shots behind the leader.
"Very simple. I didn't make any putts," Woods said after the second round. "I hit a lot of beautiful putts that were on the top of the edge, and then obviously hit a couple bad ones on the last hole, but looked like all the putts were going to in. But they didn't go in today."
Woods made three birdies and three bogeys and has a 36-hole score of 8-under 132.
"That round today was easily 6 or 7-under par," Woods said. "It turned into even par which is not what I needed today. Everyone is going low and birdies should be had."
The top 30 players in FedEx Cup points after the BMW Championship advice to the PGA's final big event – the Tour Championship in Atlanta. Woods is currently on pace to make that cut. The BMW leader entering the third round is Xander Schauffele. He shot 64 in the second round, claiming a two-shot lead over Justin Rose and a five-shot lead over Woods.
"I'm sort of in a position where I feel like a win is the only way I'd even be in consideration," Schauffele said.
You can follow the BMW Championship third round leaderboard here.
Tiger Woods Saturday/Third Round BMW Championship tee time:
12:40 p.m. Eastern: Tiger Woods, Ryan Armour
BMW Third Round TV Channels/Live Stream :
NBC (12-3:30 p.m. ET);
Golf Channel (3:30-6 p.m. ET);
PGA Tour Live (8:30 a.m.- 6 p.m. ET)
Leaders tee times:
1:30 p.m.: Rory McIlroy, Justin Thomas
1:40 p.m.: Rickie Fowler, Hideki Matsuyama
1:50 p.m.: Keegan Bradley, Alex Noren
2 p.m.: Xander Schauffele, Justin Rose