BMW Vs Tesla: Elon Musk Beaten to Punch for Killer New Feature
The tedious task of refueling cars with petrol, diesel or even electricity may soon become a chore of the past.
On Monday, BMW launched a wireless charging pad for the 530e iPerformance sedan. The charger requires a factory fitted option for the car which allows it to refuel when parked over the "GroundPad."
The GroundPad is the first wireless charging pad designed by a major car manufacturer. While Tesla owners can modify their vehicles with aftermarket wireless chargers, Tesla itself has not announced any plans to introduce wireless charging on future models.
The wireless charger can be installed in any driveway and charges at 85% efficiency—compared to 90% when plugged in. The gap between the charger and the car is around three inches. It will take the 530e iPerformance three and a half hours to fully charge over the 3.2-kilowatt charging pad.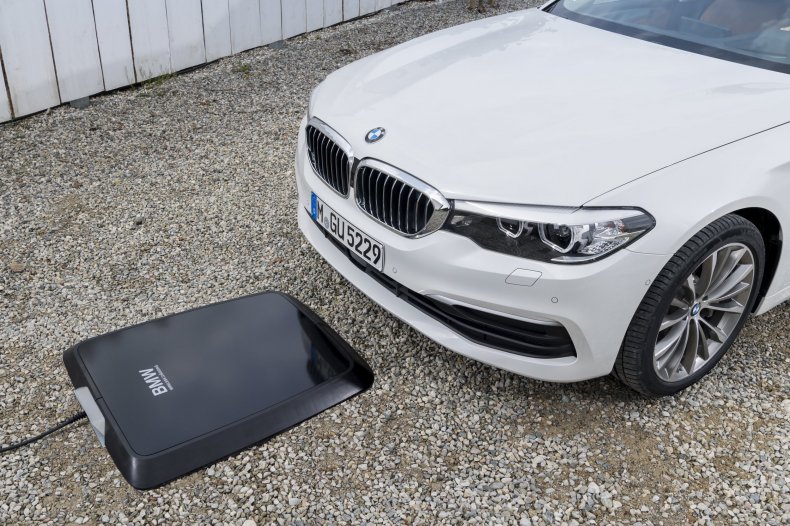 When nearby the charging plate, instructions appear on the car's screen to guide you into the correct position. Once the car switches off, the charging begins. It will continue to charge until the car is full and then turn off automatically.
"BMW Wireless Charging employs the same inductive charging technology already widely used for supplying power to devices such as mobile phones and electric toothbrushes to now also recharge the high-voltage batteries in electrified vehicles," BMW said in a statement.
"The principle benefit here is the unrivalled ease of use, as drivers no longer need to hook up their plug-in hybrid car using a cable in order to replenish its energy reserves."
Although the charging pad is only 5% less efficient than plugging in your electric car, Electrek pointed out that it will still require more power to charge your vehicle—in turn costing you more.
Fitting your car and garage with the tech won't be cheap either. According to electrive.com, it will cost 890 euros ($1,027) to install the conductor in the car and an extra 2,315 euros ($2,672) to install the GroundPad. That's a total of around $3,700 to avoid the quick job of manually connecting the car.
The wireless charging kit has first been released in Germany. The U.K., the U.S., Japan and China will all follow.
Alternatively, Tesla is working on an automated plug-in charger that can "find" your car's input once it has parked.