Boat With $80 million Worth of Cocaine Washes Up in Marshall Islands
A boat full of cocaine with an estimated street value of $80 million has washed ashore on the Marshall Islands.
The drug haul was discovered by locals who say they attempted to move the boat but were unable to because it was so heavy. The packets of drugs were found hidden in a compartment inside the boat. Pictures showed the drugs in stained, yellowing plastic, stamped with a red logo and the letters "KW". It is thought that the boat may have drifted in the Pacific ocean from Latin America.
The attorney general of Marshall Islands, Richard Hickson, said the boat could've been out at sea for more than a year and came most likely from Central or South America. Marshall Island's police say they destroyed the drugs by burning them in an incinerator, leaving only 2kg for the US Drug Enforcement Agency to conduct laboratory tests, authorities said.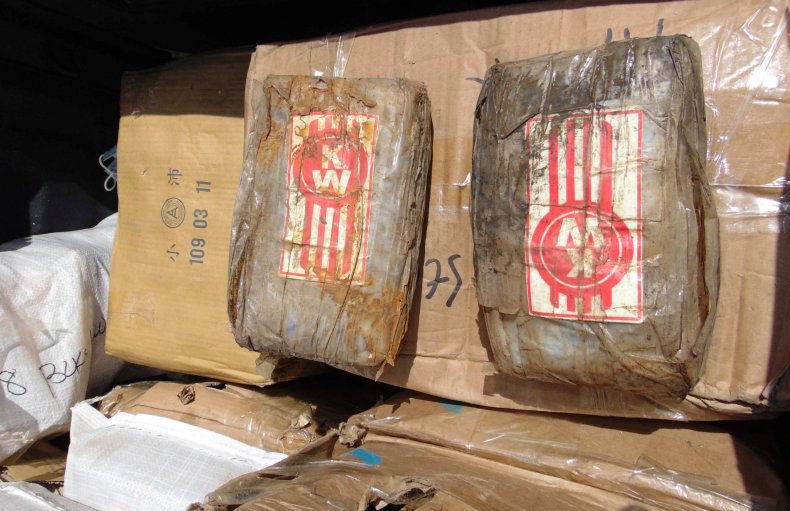 It is not the first time that drugs have washed ashore on the Pacific archipelago and locals have been known to sell small quantities. In 2018, a fisherman hauled in 48kg of cocaine, with a street value of $4 million and in 2016, police say they found 18kg of cocaine wrapped up in bags that washed ashore. On that occasion, the initial discovery of the drugs was made by a local resident who was also arrested by officers for failing to report it.
At the time of the discovery, the editor of the Marshall Islands Journal, Giff Johnson, told Pacific Beat such finds were not uncommon as the country appeared to be on a major drug-trafficking route between South America and China.
He said: "If they had just drifted off the South America west coast and across the Pacific, they would have disintegrated. They probably haven't been in the water too long, and the packages don't appear to have any ocean growth, barnacles, or anything like that. So it's pretty clear that something is happening in the neighborhood of the Marshall Islands for these drugs to wash in."
It comes as lawmakers in Mexico passed a bill that critics say will limit cooperation with the U.S. when it comes to fighting the illicit drug trade. The National Security Law will "regulate and monitor all activities of foreign agents" meaning that any Mexican federal, state or local official will need to get permission from a high-level security panel before meeting with "foreign agents" and to send a report to the Foreign and Public Security ministries on what was discussed.
That is likely to have an effect on the sharing of sensitive information as it will be discussed widely with Mexican authorities. Tensions between Mexico and the U.S. have increased following the arrest of former Mexican Defense Minister General Salvador Cienfuegos in Los Angeles on drug trafficking charges. Following diplomatic pressure, the U.S. government agreed to drop the charges and send Cienfuegos back to Mexico.