Boaters, Dog Flee Terrifying Yacht Fire Off Mississippi Coast
Several boaters had to leap to safety when their luxury cruiser went up in flames off the coast of Mississippi.
U.S. Coast Guard helicopter footage of the dramatic rescue shows seven people in the water in life jackets with a dog as they wait to be picked up.
Smoke can be seen pouring out of the yacht, which caught fire close to the coastal town of Gulfport on May 21.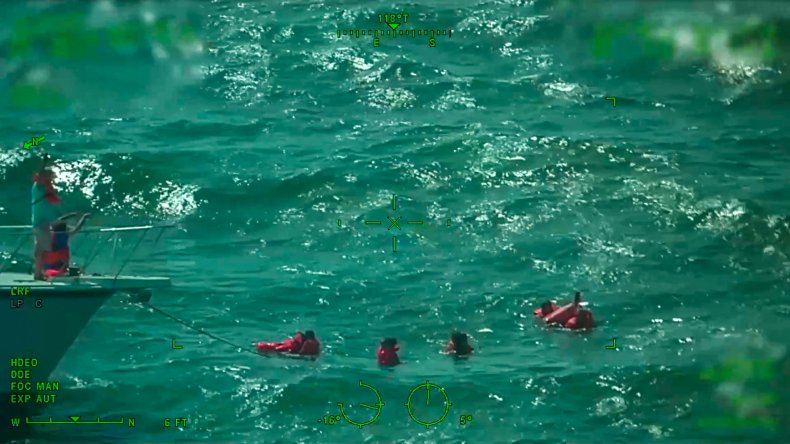 The footage starts with people on the luxury motorboat leaping into the water wearing life jackets as smoke billows from inside.
Some of them hang onto the anchor and others are already in the water.
A Coast Guard plane is seen flying above and its shadow can be even seen flying over briefly as the fire quickly spreads, eventually turning the yacht into an inferno.
Within minutes, the boat is ablaze with huge flames shooting from the engine compartment as the plane then flies over again, dropping emergency rafts for the stranded people to climb into.
They eventually make it into the rafts as what appears to be a pleasure cruiser that likely answered a call for help turns up, and a short while later, a Coast Guard ship comes to the rescue and begins the process of bringing the stranded people and the dog to safety.
The video ends with the rescue boat named the Captain Pete giving its passengers a firsthand view of the dramatic rescue as the wet and cold survivors from the sinking boat are pulled to safety on the Coast Guard boat.
Local media reports all were saved without injury.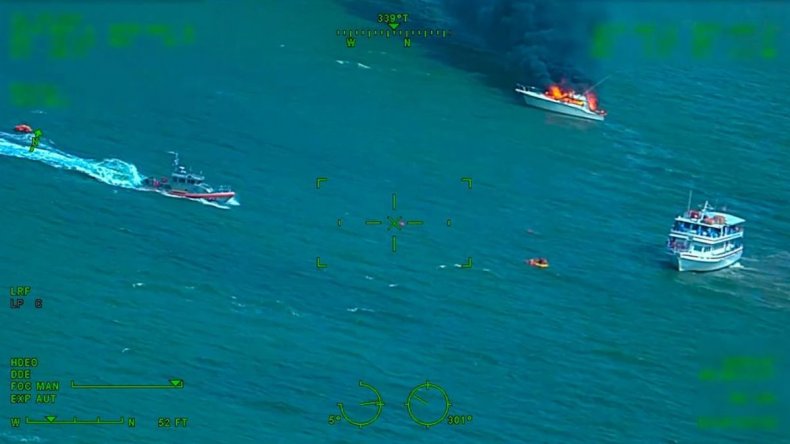 The cause was of the blaze has not been released but it appears to have started in the engine room, authorities say.
The Coast Guard is the maritime security and search and rescue of the United States Armed Forces.
It's one of the country's eight uniformed services that is unique in having jurisdiction in both international waters and domestic waters.
It is also the largest and most powerful Coast Guard in the world with resources larger than most countries and navies.
It also has humanitarian as well as the security service and also protects United States borders and its economic and security interests abroad, include protecting sea lines of communication.
This story was provided to Newsweek by Zenger News.