Legendary thoroughbred trainer Bob Baffert, who won his record seventh Kentucky Derby earlier this month with Medina Spirit, has been banned from the Belmont Stakes by the New York Racing Association (NYRA).
NYRA released a statement Monday afternoon saying Baffert is temporarily suspended from entering any horses or occupying any stall space at Belmont Park, Saratoga Race Course and Aqueduct Racetrack.
"In order to maintain a successful thoroughbred racing industry in New York, NYRA must protect the integrity of the sport for our fans, the betting public and racing participants," said Dave O'Rourke, NYRA president and CEO. "That responsibility demands the action taken today in the best interests of thoroughbred racing."
Medina Spirit won the Kentucky Derby on May 1 at Churchill Downs in Louisville, Kentucky. One week later, Baffert learned that a drug-testing sample of the horse tested positive for elevated levels of an anti-inflammatory steroid called betamethasone.
Baffert denied any doping of the race horse that almost led from wire-to-wire in the first leg of the Triple Crown.
"Yesterday, I got the biggest gut punch in racing for something that I didn't do," Baffert said Sunday. "[It's an] injustice to the horse. I don't feel embarrassed, I feel like I was wronged. But I'm going to fight it."
Baffert later claimed they used an ointment on the horse, and the ointment had the corticosteroid in it.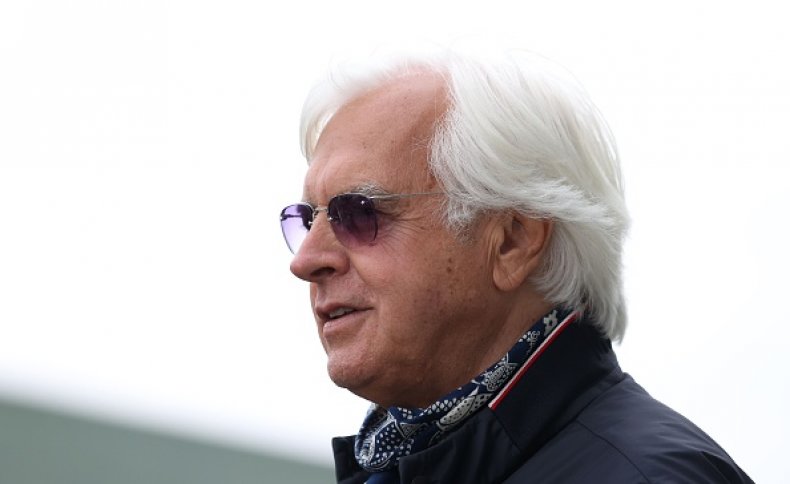 A second sample, or the 'B' sample. from Medina Spirit could take several weeks to determine if the horse had too high of levels of betamethasone. If it returns positive, then Medina Spirit would be stripped of the Derby title, which would then default to runner-up Mandaloun.
Though Churchill Downs said Baffert was banned from entering anymore horses at its track, officials at Pimlico Race Course (Preakness Stakes) reached an agreement with the trainer that included more stringent testing of Medina Spirit during the week of the race.
Maryland Jockey Club attorney Alan Rifkin said it was about keeping "integrity of the sport" ahead of Saturday's race.
"We reached an agreement with Mr. Baffert and his lawyers that allows for additional testing, additional monitoring -- essentially a watchlist to ensure the integrity of the sport leading up to the race," Rifkin said. "We're very pleased to have that, and we appreciate Mr. Baffert's patience and the way in which his lawyers went about it."
Medina Spirit finished third in last Saturday's Preakness Stakes, the second jewel of the Triple Crown that was won by Rombauer.
The Belmont Stakes is scheduled for June 5 at Belmont Park in Elmont, New York.
Uncommon Knowledge
Newsweek is committed to challenging conventional wisdom and finding connections in the search for common ground.
Newsweek is committed to challenging conventional wisdom and finding connections in the search for common ground.
About the writer
Scott McDonald is a Newsweek deputy night editor based in Cape Coral, Florida. His focus is assigning and writing stories across all topics, from news to politics, business, weather, sports and international news. Scott joined Newsweek in 2018 after a lengthy career of print journalism in Texas, including The Dallas Morning News, where he was a sportswriter, and he's a voter for the Heisman Trophy. He has been a newspaper editor-in-chief and also a newspaper publisher. He is a graduate of The University of Texas at Austin. You can get in touch with Scott by emailing s.mcdonald@newsweek.com. Languages: English