Bob Baffert, Trainer of Medina Spirit, Blames 'Cancel Culture' After Horse Tests Positive for Steroids
After Kentucky Derby winner Medina Spirit tested positive for a steroid following the race, the horse's trainer blamed the fallout on "cancel culture."
Churchill Downs, home of the Kentucky Derby, on Sunday suspended Hall of Fame trainer Bob Baffert, based on the "seriousness of the alleged offense." He is now barred from entering any horses at the Louisville, Kentucky, racetrack.
"To be clear, if the findings are upheld, Medina Spirit's results in the Kentucky Derby will be invalidated and [runner-up] Mandaloun will be declared the winner," Churchill Downs said in a statement.
In a Monday interview with Bill Hemmer and Dana Perino on Fox News, Baffert called the investigation a "tragedy" and said he wants to protect his reputation.
"We did not cheat to win the Kentucky Derby," he said. "It did not happen. That's the really seriously troubling part of it."
He also called Churchill's statement "harsh."
"With all the noise going on right now, we live in a different world now," Baffert said. "This America's different, and it was a cancel culture kind of thing."
Baffert said his horse was never treated with the steroid betamethasone, which he said is a legal therapeutic medicine, and that the amount found in the horse would not affect his performance.
Hemmer pointed out that the drug would have to be injected into the horse and that Medina Spirit is Baffert's fifth horse in the past year to test positive for a banned substance.
"They were all resolved. They were all contaminations," Baffert responded. "We have to fight this. For some reason, that's a problem right there. And people in the public don't understand."
He said he and his team are hiring investigators to look into the matter and blamed recent updates to drug testing rules.
"A few years ago, they wouldn't have called this a positive," Baffert said. "These horses don't live in a bubble. People are touching them. After the Derby, everybody is up there touching them. There are so many ways the horses could get contaminated."
And when the horses are tested "at these ridiculous low levels," he added, "it's going to get innocent people in trouble."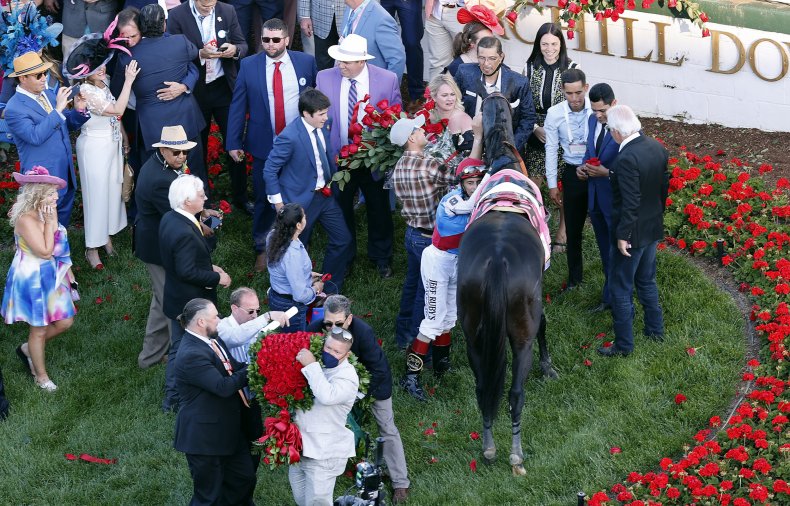 Following his Kentucky Derby victory, Medina Spirit tested positive for an excessive amount of betamethasone, which is sometimes used to treat pain and inflammation in horses. The test found 21 picograms of betamethasone, which is double the amount legally allowed in Kentucky racing.
"During the investigation, both the trainer and owner of the horse will be afforded due process, and opportunity to appeal," Marc Guilfoil, executive director of the Kentucky Horse Racing Commission, said in a statement.
Baffert said he plans on running two horses, including Media Spirit, in the upcoming Preakness Stakes.
In a statement Sunday, the Maryland Jockey Club, which operates Pimlico Race Course and the Preakness Stakes, said it "intends to review the relevant facts and information relating to the reported medication positive as a result of the post-race blood sample testing completed by Churchill Downs."
The statement went on, "We are consulting with the Maryland Racing Commission and any decision regarding the entry of Medina Spirit in the 146th Preakness Stakes will be made after review of the facts. We are committed to achieving the highest level of horse care and safety standards, and we have a proven track record of pushing those standards forward."
The Preakness post position draw was moved from Monday to Tuesday at 4 p.m.
Newsweek reached out to Churchill Downs and the Kentucky Horse Racing Commission for comment on Baffert's remarks but did not hear back before publication.