Bob Dole Calls Biden a 'Great, Fair, Upstanding' Person Who Won Election Fairly
Former Republican Senator Bob Dole said that President Joe Biden won the 2020 election fairly and there is no proof of election fraud.
In an interview published in USA Today on Thursday, the same day as his 98th birthday, Dole called Biden, his once longtime colleague in the Senate, a "great, kind, upstanding, decent person."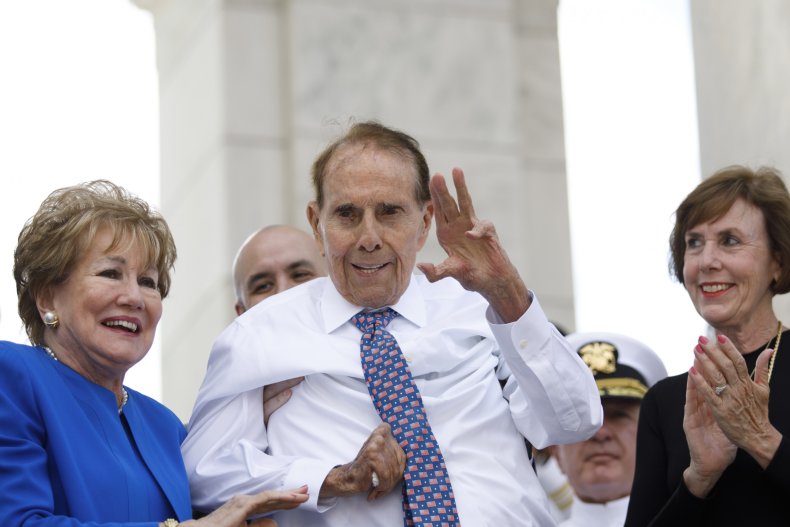 Dole is a lifelong Republican who was the party's candidate for president in an unsuccessful run against then President Bill Clinton in 1996. He was also Gerald Ford's running mate on the GOP ticket that lost to Democrats Jimmy Carter and Walter Mondale in 1976.
In 2016, Dole endorsed Donald Trump for president, breaking away from the Republican establishment with its majority supporting Jeb Bush. Once Trump secured the party nomination, Dole was the only former presidential nominee to attend the GOP convention that formally nominated Trump.
In his intervew with USA Today, Dole said, "I'm a Trumper," before adding later that he's "sort of Trumped out, though."
He also said Trump lost the presidential election in 2020, saying that while it was a close race, Biden won fairly.
"He [Trump] lost the election, and I regret that he did, but they did," Dole said. "He had Rudy Giuliani running all over the country, claiming fraud. He never had one bit of fraud in all those lawsuits he filed and statements he made."
Dole also talked about other political issues, including about the Keystone Pipeline and the Senate filibuster.
"Both sides use it," Dole, the former Senate Majority Leader, said of the filibuster.
He also spoke about the lack of compromise present in the country today, saying there's less willingness from people on every side of the political spectrum to make deals.
"I don't like to second-guess, but I do believe we've lost something," he said. "I can't get my hand on it, but we're just not quite where we should be, as the greatest democracy in the world. And I don't know how you correct it, but I keep hoping that there will be a change in my lifetime."
Dole was diagnosed with stage 4 lung cancer in early 2021. He told USA Today that he switched to immunotherapy at Walter Reed National Military Medical Center from chemotherapy. While it is not as effective at battling the disease, the immunotherapy is easier for him to manage, he said.
Dole said Biden visited him after the cancer diagnosis announcement. The president brought along several of his grandchildren and stayed for an hour and a half.
The former senator will celebrate his birthday with his wife Elizabeth—who he married in 1975—and about a dozen friends. He said he'll wish for "pretty good health" when he blows out the candles on his cake.