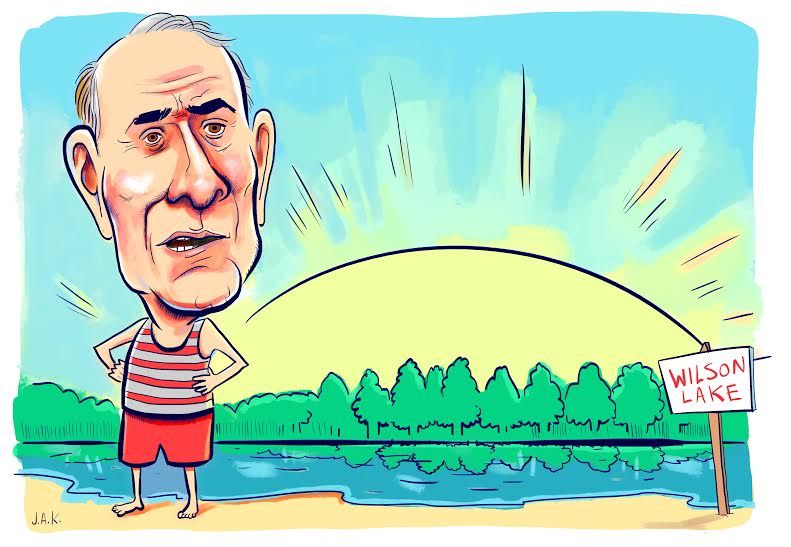 Welcome to "Explain Your Letter," a feature wherein we choose an interesting letter published in Newsweek decades ago and track down its writer to ask for an explanation of what he or she wrote. In this installment, we talk to former Senator Bob Dole of Kansas, the 1996 Republican presidential nominee, about a prickly letter he sent Newsweek in 1990—​and everything else on his mind.
In 1990, Bob Dole wrote us an angry letter.
The Kansas senator and future Republican nominee for president took issue with an article scoffing at his plans to convert a lake outside Wilson, Kansas, into a national recreation area. He was not amused! We published his response in the December 17, 1990, issue of our magazine: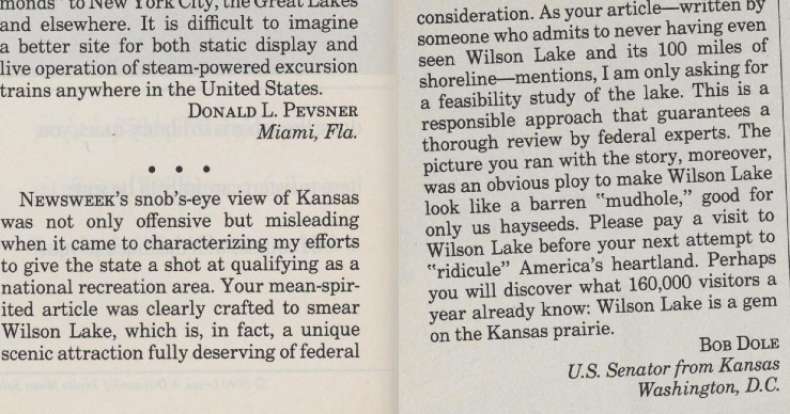 Twenty-five years later, Bob Dole is not president, but he is still a tireless champion of Lake Wilson. He may also be the world's busiest 92-year-old. Last week, Dole took time out of his schedule. which includes work at the international law firm Alston & Bird, various appointments and presidential endorsements, to chat by phone. He discussed the lake (he's a fan), Newsweek (he's a fan), Ted Cruz (he's not a fan), Donald Trump (it's complicated) and a number of other topics on his mind (politics, mainly). Asked whether he's heard about Cruz being the Zodiac killer, Dole was diplomatic: "I'm not a Ted Cruz fan, but I haven't heard that."
This interview has been lightly condensed, but mostly we've left the transcript alone, because Dole had a lot to say.
Is this Senator Dole?
Hey, Zach. How ya doing?
Good! How are you?
Where are you, out at Lake Wilson?
I'm in New York City.
Oh! You ought to go out and visit the lake.
You're referring to that letter you sent us? Do you remember sending it?
Oh yah! I was pretty upset! Somebody called it a mudhole or something.
What prompted you to send us that letter?
Well, all we were asking for was a feasibility study. We weren't asking for millions of dollars in grants. We wanted to find out, first of all, if it was feasible and had any future. Today, it brings people in from all over the area, and it's in a rural area, which rarely gets federal funds for anything. Now we have a recreation place where people can fish, they can hike, they can bike, they can swim. And there are million-dollar homes there. So it's turned out to be a very worthwhile project.
The article in Newsweek must have said something very negative about it.
I think there was a quote in there saying it's a mudhole.... That wasn't the Newsweek reporter. It was some local reporter, who's probably now, if he's still alive, he's probably using the lake.
Do you remember getting a response from Newsweek?
I think I got a response. I have to ask Marion. Did I get a response? [Marion, counsel to Dole, tells him she doesn't have one.] Maybe you didn't write me one!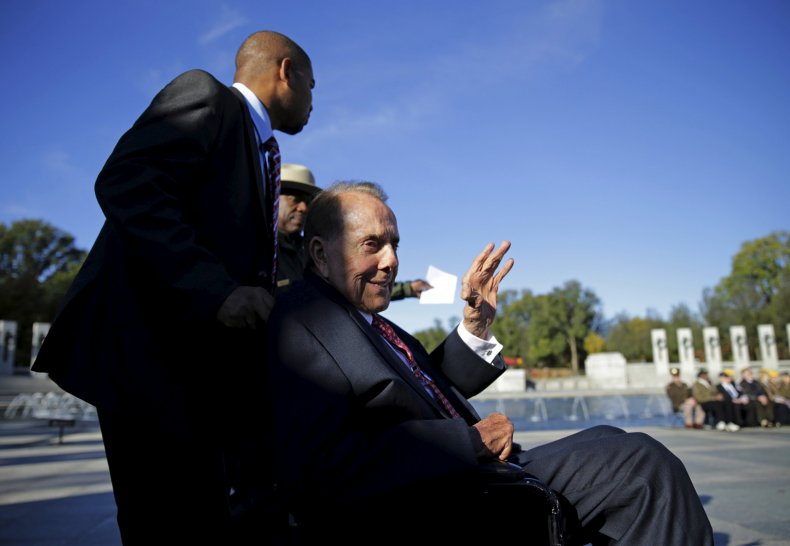 Were you a frequent reader of Newsweek?
Oh yah! I can't see well enough now. But I used to read Newsweek every time it came out.
Are there any media outlets you do keep up with these days?
Well, my eyesight is pretty bad. I can't read. So I can't read the papers or Newsweek. I just woke up one morning and asked for the paper, and I couldn't read it. I couldn't believe it! I'm going to John Hopkins now to keep what little [vision] I have left.
I'm sorry to hear that. Are you able to still watch TV or listen to the radio?
Well, I'm able to hear Donald Trump without any problem. I think everybody can hear Donald.
What's your opinion of him?
I think he needs to change the tone of his public speeches or debates and act more like a presidential candidate.
Do you think he's going to be the Republican nominee?
I'm for Rubio. I was for [Jeb] Bush, but he's not there.
But do you think Trump will be the nominee?
I think it depends on [Super] Tuesday. He probably won't win Texas. But if he sweeps every other state, he's going to be in a very, very strong position.
And will you vote for him in the general election, when he secures that nomination?
Yes.
You will?
Oh, yah. I'm not gonna vote for Hillary [Clinton].
What if it were Trump versus Bernie Sanders?
That would be even easier. The Democrats aren't going to nominate a socialist.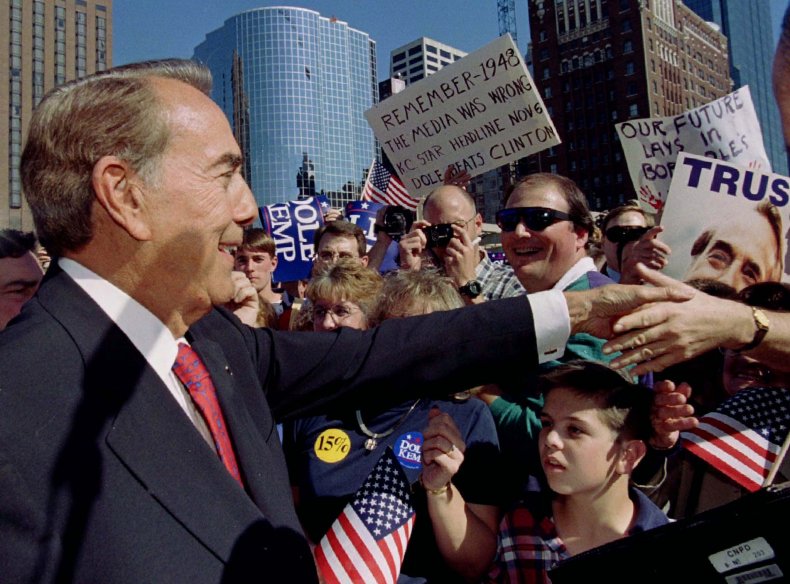 What's your opinion of Sanders?
I like to listen to him. I think he's an honest person. He speaks his mind. He speaks the truth. He's kind of refreshing as an older guy who really believes in what he says.
But you wouldn't vote for him.
No, I'm a Republican. I'm not a big Cruz fan. I think he's too extreme. It's hard to be a conservative, but he's an extremist, and he doesn't have one single Senate Republican supporting him, which speaks volumes about people who work with him every day. Not one of them so far has endorsed Cruz. He's sort of self-absorbed and, I don't know, he attacks Republicans as much as he does Democrats. He called our leader Mitch McConnell a liar on the Senate floor, which I never heard in the 28 years I was in the Senate. It violates Senate rules. If you want to confront somebody, you go to their office. You don't do it on the Senate floor.
There are some people who have been claiming that Cruz is the Zodiac killer. Have you heard about this?
He's the what?
The Zodiac killer. The serial killer.
I haven't heard about that.
There have been some articles. Some people who follow him around who make this claim.
Huh! Well, I'm not a Ted Cruz fan, but I haven't heard that!
Were there any crazy claims that people made about you when you were running for president?
I don't think so. When we were running, when I ran with [President Gerald] Ford in '76, the thing that followed us around was the Nixon pardon. They would hold up signs "Pardon me, Bob" and all this stuff. But they didn't scream and holler like people do today. They just held up their signs, got some attention.
What did you learn from your presidential campaign that you'd like to pass on?
Well, I learned that I'd rather win than lose. You meet a lot of great people, a lot of nice people, and some aren't for you. You just have to work at it 24/7. It's a hard job—running for president or any other state-wide office.
You're keeping pretty busy these days. What sort of work do you do at the firm?
I'm at a law firm. I show up every day, not to say I work hard—that's probably not accurate. But I visit with clients, and I try to bring in clients and consult with other attorneys who are much smarter than me. I'm 92. It keeps you busy. Keeps your mind alert.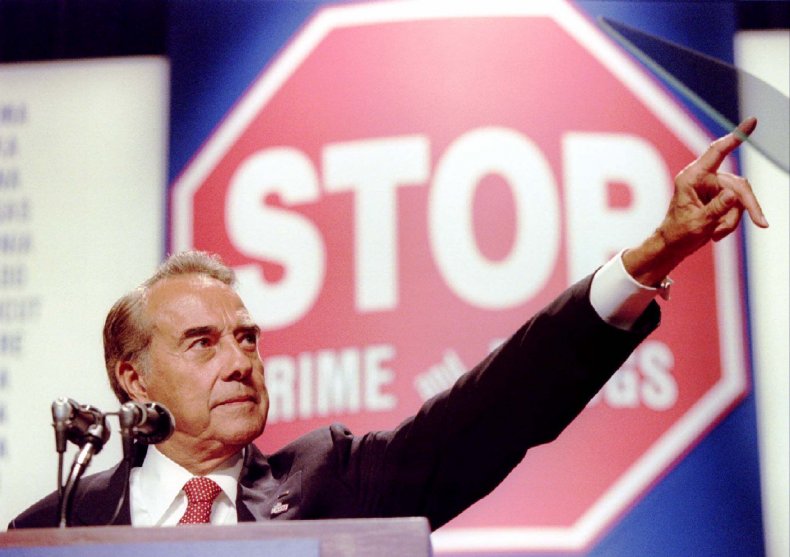 Do you have any plans to retire?
God willing, I'll be around for a while. I think he's going to keep me here a few more years, 20 or 30.
Do you spend any time on the Internet these days?
No, I don't understand all that stuff—Facebook, Twitter. I leave that to Marion, who's been talking with you.
Is there anything else you remember about that letter that you'd like to mention?
Since it was written by somebody who'd never been there, that's not unusual. There are a lot of stories written by people who haven't been on the scene. But it irritated me. We lived out in Kansas. There's a lot of countryside. People never ask for much, and I never asked for much all the years that I was in the Senate. I thought the best way to proceed was a feasibility study. If they said no-go, that would have been the end of it.
Thanks so much for taking the time to speak with us.
Yeah, well, you ought to go out and visit the lake! There are million-dollar homes on it. It's really grown. I don't know how many hundred-thousand visitors we have each year.
I'm going to make my way there, absolutely, whenever I'm in the area. I'm pretty far away right now.
Oh yah, a long way. Well, I hope you do. Because it's really turned out to be a good thing, and it's helped the economy in that area. People come from all over Kansas and other places.