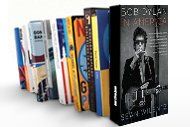 Sean Wilentz
390 pages | Buy This Book
Seasoned Bob Dylan watcher and well-regarded Princeton historian Sean Wilentz examines the singer-songwriter's relationship with, and especially his borrowings from, the American musical and cultural past, assessing Dylan's role as both a continuation of the folk tradition and an innovator who subverts it.
What's the Big Deal?
Although there's been a recent flourishing of Dylan literature, far too many of the book-length studies have been flawed—obsessive, neurotically detailed "Dylanology" that misses the forest for the twigs. Enter Wilentz with a more scholarly approach and reasonable scope.
Buzz Rating: Rumble
Take a recently hot artist—Dylan has in recent years churned out several acclaimed records, been the subject of a psychedelic pseudo biopic, and hosted a satellite radio show—and add an acclaimed author, and you're bound to get some attention. The book has already received several reviews and was excerpted on The New Yorker's Web site.
One-Breath Author Bio
A man with a career anyone can envy, Wilentz holds an endowed history professorship at Princeton, writes for The Daily Beast, and is a contributing editor at The New Republic. He was nominated for a Grammy for his liner notes to Dylan's 2004 The Bootleg Series, Vol. 6, and made headlines and enemies with his 2006 Rolling Stone essay calling George W. Bush the worst president ever. Oh, and he's historian-in-residence on Dylan's Web site.
The Book, in His Words
"Dylan has never limited himself to loving and stealing things from other Americans. But his historical as well as melodic themes have constantly recurred to the American past and the American present, and are built mainly out of American tropes and chords ... The efforts presented here describe him ... as someone who has dug inside America as deeply as any artist ever has" (page 12).
Don't Miss These Bits
1. How do you get from the jazz-loving beats to their folk-singing Greenwich Village heirs? By way of Wilentz's Uncle Ted's apartment, apparently. The author's father and uncle ran a bookstore on Eighth Street in the Village that was a meeting spot for beats, bohemians, and the like. While Allen Ginsberg was crashing at Ted's apartment in December 1963, Ginsberg met Dylan there, starting what would become a lifelong friendship—even though their relationship began with the horndog poet (unsuccessfully) hitting on Dylan (chapter two).
2. Wilentz brilliantly devotes an entire chapter (the book's sixth and strongest) to the Atlanta guitarist Blind Willie McTell. He explains his influence on Dylan—after all, Dylan's 1983 song bearing his name is easily one of the greatest tunes in Dylan's catalog. Though McTell is a lesser-known figure, Wilentz makes a convincing case for him as a template for Dylan: more than capable in the blues, but more important, a master of many American idioms, and brilliant at repurposing and improving on his forebears' material. Along the way, Wilentz explains (as much as anyone can) Dylan's odd born-again Christian phase and situates "Blind Willie McTell" (the song) as the grizzled, world-weary answer to the early-career classic "A Hard Rain's a-Gonna Fall" (page 206).
3. The next chapter is nearly as impressive a tour de force, focusing on "Delia," a canonical murder ballad. Wilentz uses his historian's eye for a detailed and fascinating journey into the sordid tale that begat the song (a 1900 shooting in the black slums of Savannah, Ga.), the ways the song transformed the tale in the ensuing century, and Dylan's rendition on the 1993 record World Gone Wrong, which many critics (and Wilentz) see as the turning point that propelled Dylan into his latest, triumphal stage. "Turning back to the old songs—and, with 'Delia,' reaching to the very taproot of the blues—Dylan began relearning the lessons he had learned when he was just starting out" (page 235).
4. Wilentz has no time for critics who accuse Dylan of lyrical and melodic theft. For one thing, it doesn't meet any legal standard for plagiarism. But that's sort of beside the point: "Dylan's preservation of shards from a bygone world—including the world of his younger self, a world being overtaken by virtual reality—while embedding them in wholly different context recalled [T. S.] Eliot's dictum that 'immature poets imitate; mature poets steal; bad poets deface what they take, and good poets make it into something better' " (page 312). That's a highbrow way of saying that Dylan's a folk musician: deal with it.
Swipe This Critique
The key to writing about Dylan is choking back Dylanology and emphasizing good analysis. Indeed, the book is best when Wilentz flexes his historical chops to illuminate Dylan, and worst when he very occasionally slips in a fanboyism (e.g., "Dylan had transformed those traces completely, as he transformed everything." Barf). While other writers attempt the Sisyphean task of picking apart and explaining each tiny piece of the Dylan puzzle, Wilentz acknowledges that impossibility and wisely chooses to focus on a few key parts (in particular, his decision to devote so much of the book to the last 30 years is a good one). By the end, he's masterfully manipulated them to offer not so much an image of Dylan's place in America as a carefully calibrated lens with which to see it for yourself. If Bob Dylan in America leaves some confusing and tantalizing ambiguities, well, that's sort of the point of Dylan's oeuvre, right?
Blurbotism
Former Dylan sideman Al Kooper; Martin Scorsese; Philip Roth; Princeton colleague Cornel West; and New Republic literary editor Leon Wieseltier all contribute book-jacket praise. That's a dinner party we'd like to attend.
Gradebook

Prose: The book reads quickly, but it could do without the "witty" asides early on.
Jargon: Although the language is generally clear, either having a working knowledge of Dylan or keeping his catalog close by while reading is a prerequisite for Professor Wilentz's class.

Miscellaneous: Be sure to admire the great—if sometimes random—selection of photographs throughout.
With Dan Brillman