A Panel of Dads Reviews Bob Dylan's 'Shadows in the Night'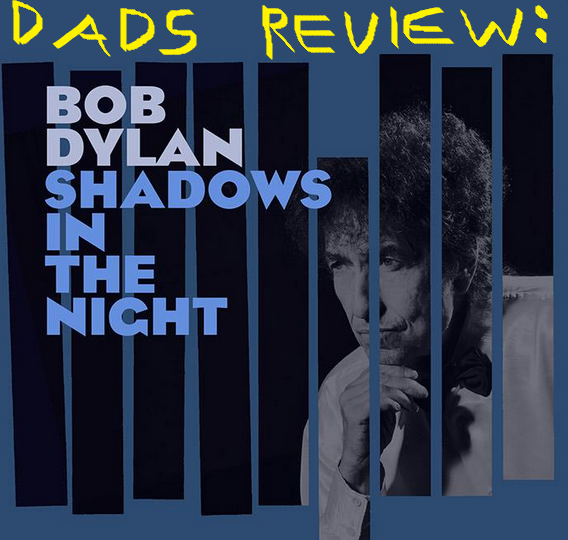 Not for the first time, Newsweek has commissioned a panel of middle-aged dads to review a new album. This time, though, the record in question leans away from "dad-rock" and towards what might reasonably be termed "granddad-rock": namely, Bob Dylan's Shadows in the Night, a collection of songs popularized by Frank Sinatra and sung by the 73-year-old legend. The album's target audience might be summed up by the fact that it was given away to 50,000 random subscribers of a magazine geared to seniors.
Despite Dylan's sandpaper voice, lethargic tempos and unusual source material, Shadows in the Night has garnered some degree of critical acclaim. The Atlantic declared it "an unexpectedly beautiful tribute to Frank Sinatra," while The New York Times praised it as "a feat of technical nostalgia and a reckoning with love and death." These dads, though, were more blunt in their assessment. They listened to the album once. For the most part, they hated it.
To be clear, these panelists have no experience in music criticism or journalism whatsoever. They are in no way on the cutting edge of current music. They are simply dads, hand-selected by my own dad for their interest in Dylan's music and availability on a Sunday morning before the Grammys. The purpose of the exercise isn't to solicit professional opinions on Shadows. It's to test the limits of the stereotypical pejorative "dad-rock," and to see what casual fans and average nobodies think of Dylan's latest work—fans who can remember the day they bought Blood on the Tracks, but have been increasingly disillusioned with Dylan's grizzled recent output.
Here are your dad panelists:
Gary, 62: "I saw Dylan so many times I probably lost count. When I was in college, Dylan and The Band were playing five nights straight in Montreal. I went all five nights and filmed it." Other favorite acts include classic rock groups like The Beatles and Frank Zappa and newer artists like Yo La Tengo and Fleet Foxes.
Barry, 59: Likes Dylan's early stuff, "not his whiny later stuff." Other favorite acts include Billy Joel and Elton John.
Steven, 60: "Bob Dylan was one of my legendary heros. Over the years I've lost interest with Dylan because I think he just mails it in. I'm very much afraid to listen to this because he has as much right doing Frank Sinatra as I do." Other favorite acts include Neil Young.
Jordan, 56: Always liked Dylan "but never was a fan per se." Other favorites include Billy Joel, Bruce Springsteen and Dave Matthews.
Andy, 60: A big Dylan fan, but "probably the last record of his I liked was [2001's] Love and Theft and I didn't love it." Other favorite acts include Jackson Browne, Van Morrison and The Beatles.
Mitch, 57: Not much of a music fan at all, "although I do like The Beatles, The Monkees, Billy Joel… Never listened to Dylan, but, interestingly, when I got out of school I really liked Sinatra."
And here is what they thought of Shadows in the Night, track-by-track.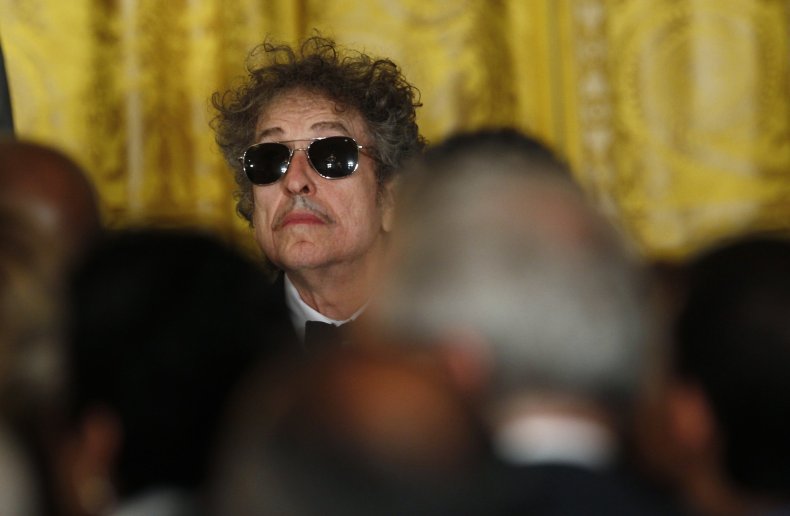 1. "I'm a Fool to Want You."
Andy: I hate it [snorts]. Really?
Mitch: This is painful.
Barry: How old is he now?
Andy: 73.
Barry: Any 73-year-old can't hit the notes. But he never could hit the notes.
Jordan: Sounds like he's channeling Willie Nelson a little.
Steven: He's rich and he's in the industry, so he can do these songs. We can sing at a karaoke on Friday night and do just as good.
Barry: Even when Sinatra got old and kinda lost his voice, it was all about the phrasing and the pacing. Dylan was never a singer.
Steven: He never was a singer, but he's trying to be a singer. Think of the words of "The Times They Are a-Changin'"—that was our generation. Not this.
Gary: Interesting that this may be his generation. He's older than we are.
Steven: My comment is that Bob Dylan should write a book of poetry. He wants to leave us with his legacy? He would be better stated to write than to sing.
Mitch: I thought the accompanying music was nice.
2. "The Night We Called It a Day"
Barry: Why would anyone download this? I don't know.
Gary: He needs to clear his throat.
Andy: You know what's also interesting about this? He's not playing an instrument, is he? He's just singing?
Jordan: Voice quality is definitely better than I would have expected.
Andy: He toured with Wilco. And he mumbled throughout every song. If you didn't know the song, you couldn't understand one word. At least here you can understand the words.
Barry: I wonder if this is the right pacing of the song the way Sinatra sung it. It's really slow.
Gary: What would be really interesting would be if he put them together with the original song.
[For comparison, dads listen to 30 seconds of Sinatra's rendition of the song.
Barry: It's so much better!
Gary: What a voice!
Mitch: I think Sinatra's very promising.
Andy: My mother's 88, and she writes a column for a local paper in New Jersey, and she says to me, "What's this Bob Dylan doing Frank Sinatra?" She knows who he is, but she's certainly not familiar with his music.
3. "Stay With Me"
Barry: This is much better than the other two.
Andy: Much is a relative term.
Barry: I'm not saying it's good. I'm saying it's better.
Steven: You know he's trying. Because in concert he doesn't give a shit.
Andy: If you heard this not in the context of what you previously heard, it sounds awful, I bet.
Gary: The only reason we're sitting here is because it's Bob Dylan. If you called us together and this was a new album, we'd be like, "What the hell are we doing here?" I just wonder what the process was for him when he says, "I'm going to do an album of Sinatra covers," and the whole process of him putting it together.
Steven: I think he's saying, "This is the music I liked as a kid, and I'm gonna do it."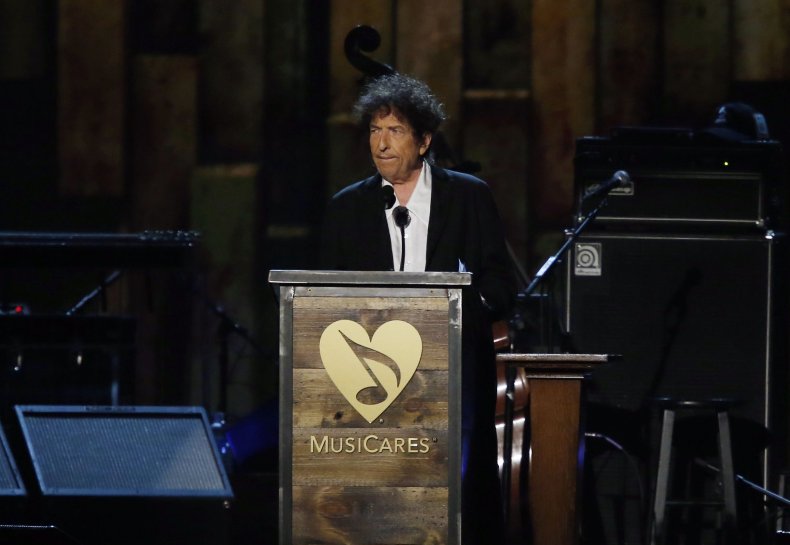 4. "Autumn Leaves"
Mitch: Is that a synthesizer?
Andy: I think it may be a steel pedal guitar.
Barry: I may actually like this one a little bit.
Mitch: Perhaps this should have been best sung in the privacy of his shower.
Barry: You wonder about that—how many takes? Usually if he has a take where it's very off-key, you're like, "OK, let's do it again." It sounds like he's not doing that.
Mitch: Maybe this is the best take.
Barry: I think compared to the first two songs, this is better.
[The dog quietly walks out of the room.]
Andy: Even the dog can't stand it.
5. "Why Try to Change Me Now"
Andy: Definitely has a country feel to it.
Jordan: It's interesting that they all do. The same pedal steel going through all of it.
Gary: Sinatra didn't do slow music! He did jazzy music. Where is that? I didn't expect it all to be so slow.
Andy: It's a big snore. At the end of the day, you put this on and you fall asleep in your most comfortable chair.
Mitch: Would you buy this song?
Andy: I wouldn't even steal it.
Barry: I wouldn't download a single song.
Andy: I'd love to hear what people 10 years older than us who are big Sinatra fans will think of this.
Steven: That's the most appropriate song for Dylan: "Why try to change me now?"
6. "Some Enchanted Evening"
Gary: Oh… This is a little tough to listen to.
Mitch: Holy cow. A little tough? This is too famous a Sinatra song to do.
Barry: It's from South Pacific!
Gary: Everyone hears this [and] you have an image instantly in your head. In a weird way I feel badly, because he's really trying.
Steven: Doesn't mean he has the right to impose it on us.
Andy: There are gonna be people who say it's brilliant because it's Dylan. Let's face it. It stinks.
Barry: It's not even interesting. That's the problem.
Mitch: This one he shouldn't even sing in the shower.
Gary: This part is such an amazing part in the original. And he just butchers it. Can you play the original version? It's sort of like when you eat something you don't like, you need to eat something immediately after to get the taste out.
7. "Full Moon and Empty Arms"
Gary: Has there been a drum in any song? Even with brushes?
Barry: He really wants people to focus on his vocals.
Andy: The reality is that when you listen to a record—we didn't buy songs, we bought records. And you'd listen to it from start-to-finish. This one wouldn't have gotten past the second song. Even if these songs are better than what preceded them...
Barry: Well, the last two have been very painful.
Mitch: I listen to this stuff and I say to myself, "Gee, I could have been a singer."
|Barry: I was thinking if he actually had done this on one of these audition shows like American Idol or The Voice, they would have made fun of him.
Andy: He wouldn't have made it to Hollywood.
Gary: I wonder what the musicians thought while this was going on.
Andy: It's a paycheck.
Barry: That was song No. 7 out of 10, right? I'm counting how many are left.
8. "Where Are You?"
Gary: They all start the same!
Gary: [after vocals start] Oh, God.
Barry: [laughs hysterically]
Andy: Is the bathroom close to here?
Mitch: Can we all go?
Jordan: I still think the quality of voice is very good compared to what you would expect to hear.
Gary: I think this is his way of saying, "See, I can sing if I have to." Because when he's in concert, he doesn't sound like this.
Barry: It's so slow. There's no energy in the tempo at all.
Steven: This song puts weeds on Sinatra's grave.
Barry: Well, they're all very slow. And in fact they sound alike.
Steven: They were a pronounced different generation. Would Sinatra appreciate Dylan?
9. "What'll I Do"
Gary: That same opening! It's making me nuts.
Barry: It sounds Hawaiian to me.
Gary: It's very island-like.
Mitch: This one is easier to just mumble through the whole thing.
Steven: It's terrible.
Barry: I was thinking if this was the first song I'd heard, I wouldn't have been as negative about it in light of what preceded it.
Andy: There's actually a record that came out recently that's even worse than this. When Neil Young recorded in the [1940s] recording booth, that absolutely was not listenable.
Steven: He's very much like Dylan. He's like, I'll do what I want. I took a friend to a [Neil Young] show, and it was horrible. He did two songs you ever heard of.
Gary: It was either '73 or '74. Bob Dylan and The Band. I probably have the set list upstairs somewhere.
10. "That Lucky Old Sun"
Me: Ready for the last song?
Mitch: I've been ready for the last song this whole time.
Andy: The best thing is this is only 35 minutes long. So he spared us.
Mitch: Different intro!
Gary: You have timpani, you have horns…
Andy: He sounds like he was at a college football game and he was screaming the day before and lost his voice.
Barry: It's a very different sound than all the other songs.
Mitch: It's the first song that has some feeling to it!
Barry: It should have been the first song.
Mitch: Maybe the only song!
Barry: This is not bad. This one is almost melodic
Mitch: He should have done 10 songs like this one!
Andy: No one is saying it's good. It's good comparatively.
Mitch: This song deserves better than being on the album with the other ones.
Barry: His voice is stronger in this one.
Gary: I wonder if this was the first thing they did or the last thing they did.
Final verdict?
Steven: I'm going to go home and listen to Highway 61.
Andy: My prediction is it's not going to sell well. And the critics will either hate it or love it.
Barry: I don't know what the intended audience for this is. It's not going to sell to people who are Sinatra fans, and it's not going to sell to people who are Dylan fans.
Gary: Again, it's Dylan. He doesn't give a shit. It's a vanity project. The record company will never ever say no or speak up.
Mitch: This album shows why it's important to be able to download individual songs.
Barry: Or that for singers there's a time to retire.
Gary: In his mind, he's paying respects to Frank Sinatra.
Mitch: So you think he did this as a tribute?
Gary: Absolutely.
Andy: Which makes this even more horrifying.
Gary: Frank is also saying [in heaven], "Hey, wow, here's Bob Dylan doing these songs I know!"