Bob Dylan Unveils 'Murder Most Foul,' a 17-Minute Song About the Kennedy Assassination
In a surprise Friday, Bob Dylan released a sprawling 17-minute song called "Murder Most Foul."
In a tweet, the legendary musician wrote: "Greetings to my fans and followers with gratitude for all your support and loyalty across the years. This is an unreleased song we recorded a while back that you might find interesting. Stay safe, stay observant and may God be with you."
The almost spoken word track is a sprawling and poetic recollection of the day President John F. Kennedy was killed. However, it's also a song about how America was impacted by Kennedy's assassination, with Dylan dropping a number of references to things that came after the event.
Dylan croons over a mood setting instrumental that mostly uses string instruments and piano to set the scene. Despite the instruments swelling and adding character to Dylan's remembrances, they never distract from the folk icon's words.
Flashing back to November 22, 1963 in Dallas, Dylan wastes no time in narrating the assassination. "President Kennedy was a-ridin' high/Good day to be livin' and a good day/Being led to the slaughter like a sacrificial lamb," he sings. "Then they blew off his head while he was still in the car/Shot down like a dog in broad daylight."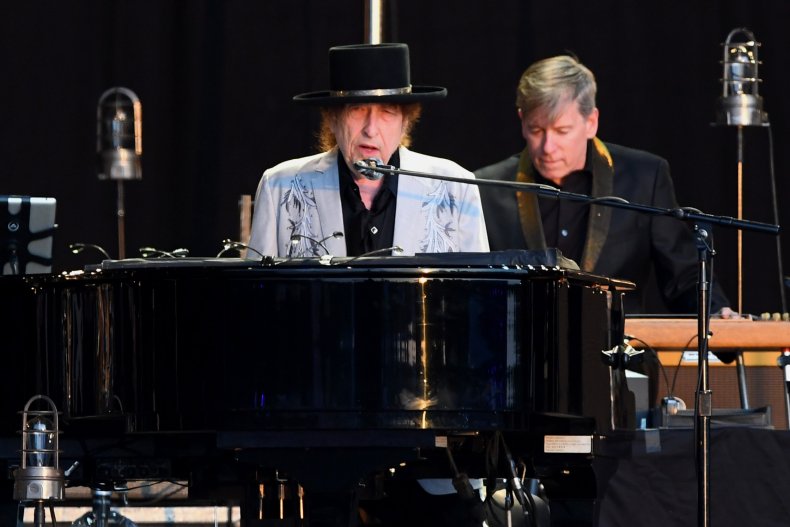 He then shows how so many Americans were affected by Kennedy's death, often dubbed the day that America lost its innocence. "The day they blew out the brains of the king/Thousands were watching; no one saw a thing," he reflects. "It happened so quickly, so quick by surprise/Right there in front of everyone's eyes."
Dylan also sings about other impacts of Kennedy's death with references to the assassin, Lee Harvey Oswald, and narrations about the EMT's rushing Kennedy to Parkland Hospital where he was pronounced dead. The singer also muses upon some of his own interactions the day Kennedy died, including someone warning him that the worst was yet to come. "The day that they killed him, someone said to me,/'Son, the age of the Antichrist has only begun,'" he sings.
By the third verse, Dylan gets into the song's main message: that in times of crisis, people take solace in music and process tragedy through songs. "The Beatles are comin'; they're gonna hold your hand," he sings before referencing the iconic Woodstock and Altamont festivals of the late 60's. Dylan continues dropping references to '60s pop music including the opening lines from Larry Williams' song "Dizzy, Miss Lizzy" (which was later covered by the Beatles) and lyrics from the Who's Tommy album: "Tommy can you hear me? I'm the acid queen."
The song concludes with Dylan asking to hear music that came after Kennedy's death, including the Eagles, Queen, Fleetwood Mac and so many more.
"Murder Most Foul" is the first original track released by Dylan since his 2012 record Tempest. His last three studio albums, including 2017's Triplicate, consisted of cover songs.