Bob Dylan Sells Entire Music Catalog—Here's How Much the Deal is Estimated to Be Worth
"Blowin' in the Wind," "The Times They Are A-Changin'" and "Like a Rolling Stone"—Bob Dylan has sold his entire body of work in a landmark deal.
Universal Music Publishing Group has acquired Dylan's entire catalog of songs in what is possibly the biggest acquisition of a single artists' work ever.
The blockbuster agreement covers more than 600 copyrights that span the music legend's 60-year career. UMPG is set to control 100 percent of Dylan's publishing and collect on the income he would have received as the songwriter and controller of each copyright.
The 79-year-old, who has always controlled the majority of his own songwriting copyrights and intellectual property, struck the deal himself. The deal won't affect any future music that Dylan releases.
The cost of the deal was not officially disclosed, but it is estimated to be more than a staggering $300 million, per The New York Times.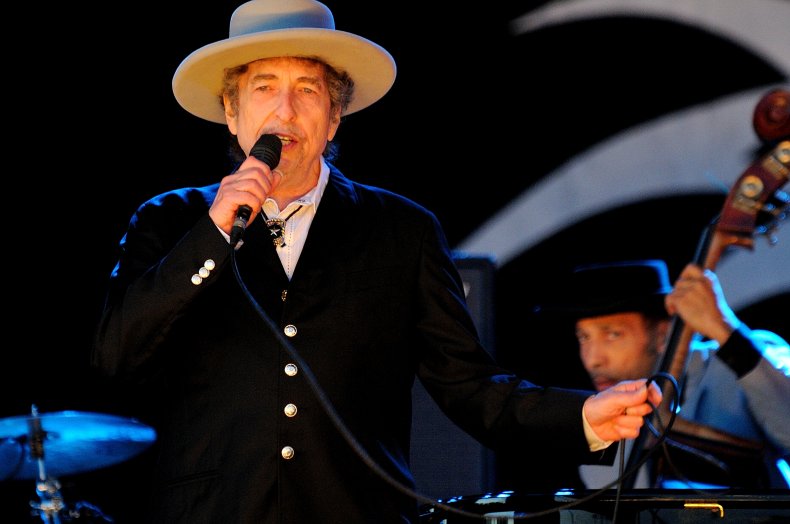 "It's no secret that the art of songwriting is the fundamental key to all great music, nor is it a secret that Bob is one of the very greatest practitioners of that art," Lucian Grainge, the chief executive of the Universal Music Group, said in a statement announcing the deal per Variety.
"Brilliant and moving, inspiring and beautiful, insightful and provocative, his songs are timeless—whether they were written more than half a century ago or yesterday. It is no exaggeration to say that his vast body of work has captured the love and admiration of billions of people all around the world. I have no doubt that decades, even centuries from now, the words and music of Bob Dylan will continue to be sung and played—and cherished—everywhere."
Jody Gerson, the chief executive of Universal's publishing division added: "To represent the body of work of one of the greatest songwriters of all time—whose cultural importance can't be overstated—is both a privilege and a responsibility."
A Universal internal memo to staff (via Variety) further reads: "Great songwriters recognize authenticity and gravitate to those companies whose people honor their creativity and, in turn, create true value for their work. And that is exactly what's happened here because of our incredible publishing company led by [chairman/CEO] Jody Gerson. I want to thank Jody, [COO] Marc Cimino and the entire family at UMPG for being, without a doubt, the best at what they do. They have turned a once-in-a-lifetime opportunity into a reality."
Dylan's work is an extremely valuable commodity—in 2016, he was the first songwriter to be awarded a Nobel Prize for Literature. His songs have been recorded more than 6,000 times by dozens of artists and remain a mainstay in the zeitgeist.