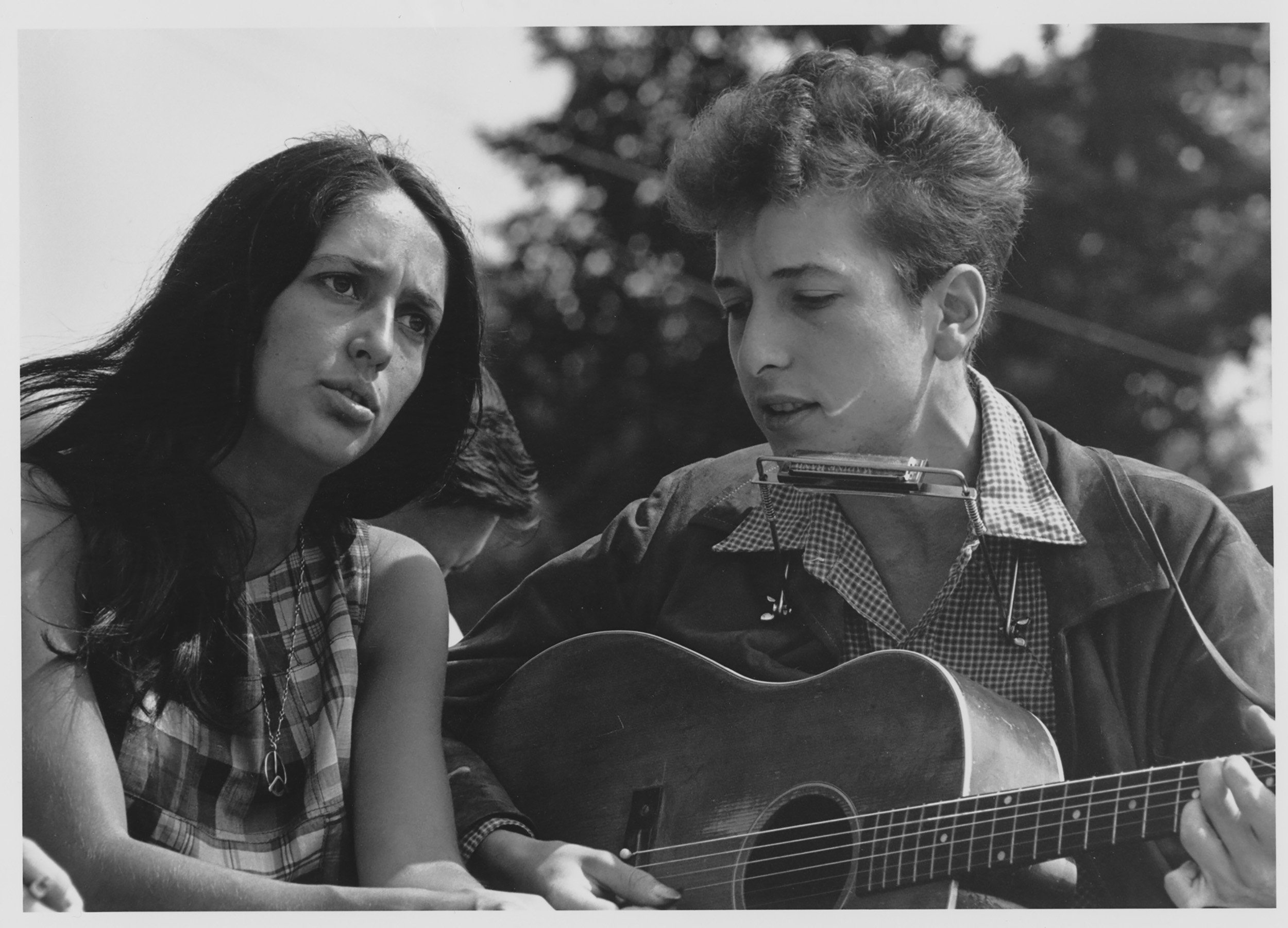 Bob Dylan has has been awarded the Nobel Literature Prize 2016.
When we first met the legendary songwriter, he was a 22-year-old folk singer with "bewildered brown-blonde hair [trailing[ off into uneven sideburns." This profile appeared in the November 4, 1963, issue of Newsweek and soon infuriated the young Dylan: The piece catches him in various bluffs (including Dylan's claim that he had lost contact with his parents), reveals the artist's middle-class Minnesota upbringing and repeats (long-discredited) allegations that he had taken "Blowin' in the Wind" from another songwriter. Dylan's attempts to erase his past had been foiled.
According to Robert Shelton's biography No Direction Home, Dylan "exploded with anger" and went "underground" for weeks after reading the piece. Read the historic profile online here.
He popped up out of nowhere, another unknown, unscrubbed face in Greenwich Village, and now, only two years later, he sits in the pantheon of the folk-music movement. His name is Bob Dylan, he is 22 years old, and his bewildered brown-blonde hair trails off into uneven sideburns. He sticks his skinny frame into blue jeans and wrinkled shirts, and he talks hip talk, punctuated with obscenities. His singing voice scratches and shouts so jarringly that his success, at first, seems incredible. Yet his knack for stirring audiences is unmistakable, and it stems, mainly, from the words of the some 200 songs he has written, simple words that pounce upon the obvious—the inequalities, dangers and deceits of the 1960s—and hammer them home.
How many years can some people exist
Before they're allowed to be free?...
The answer, my friend, is blowin' in the wind
The answer is blowin' in the wind...
His "Blowin' in the Wind" is a huge hit, and his concerts—last week at Town Hall in Philadelphia and at Carnegie Hall—draw sellout crowds, mostly high school and college students to whom Dylan is practically a religion. He has suffered; he has been hung up, man, without bread, without a chick, with twisted wires growing inside him. His audiences share his pain, and seem jealous because they grew up in conventional homes and conventional schools.
The ironic thing is that Bob Dylan, too, grew up in a conventional home, and went to conventional schools. He shrouds his past in contradictions, but he is the elder son of a Hibbing, Minnesota, appliance dealer named Abe Zimmerman, and, as Bobby Zimmerman, he attended Hibbing High School, then briefly the University of Minnesota.
'Dig It, Man'
Dylan admits he was born in Duluth and raised in Hibbing, but as he sat in a New York restaurant one day last week, after a recording session with Columbia Records, he denied that Bob Dylan was ever Bobby Zimmerman. "Dig my draft card, man," he said. "Bob Dylan." (He changed his name legally on August 9, 1962.)
His parents? "I don't know my parents," he said. "They don't know me. I've lost contact with them for years."
A few blocks away, in one of New York's motor inns, Mr. and Mrs. Abe Zimmerman of Hibbing, Minnesota, were looking forward to seeing their son sing at Carnegie Hall. Bobby had paid their way east and had sent them tickets, they had told friends in Minnesota. "He was home a few days in August," said David Zimmerman, Bobby's 17-year-old brother. "We were kind of close. We're both kind of ambitious. When we set out to do something, we usually get it done. He set out to become what he is."
"My past is so complicated you wouldn't believe it, man," said Dylan.
"Bobby is hard to understand," said David Zimmerman.
The Image
Why Dylan—he picked the name in admiration for Dylan Thomas—should bother to deny his past is a mystery. Perhaps he feels it would spoil the image he works so hard to cultivate—with his dress, with his talk, with the deliberately atrocious grammar and pronunciation in his songs. He says he hates the commercial side of folk music, but he has two agents who hover about him, guarding his words and fattening his contracts. He scorns the press's interest in him, but he wants to know how long a story about him will run and if there will be a photograph. He is a complicated young man, surrounded now by complicated rumors.
There is even a rumor circulating that Dylan did not write "Blowin' in the Wind," that it was written by a Millburn (N.J.) High student named Lorre Wyatt, who sold it to the singer. Dylan says he did write the song and Wyatt denies authorship, but several Millburn students claim they heard the song from Wyatt before Dylan ever sang it.
Dylan says he is writing a book that will explain everything. But, he insists, the explanations are irrelevant. "I am my words," he says. Maybe this is enough. "There's a lot about Bobby I don't understand," says Joan Baez, who plays princess to his prince among young folk fans. "But I don't care. I understand his words. That's all that matters."