Bob Dylan's Surprising Hollywood Contributions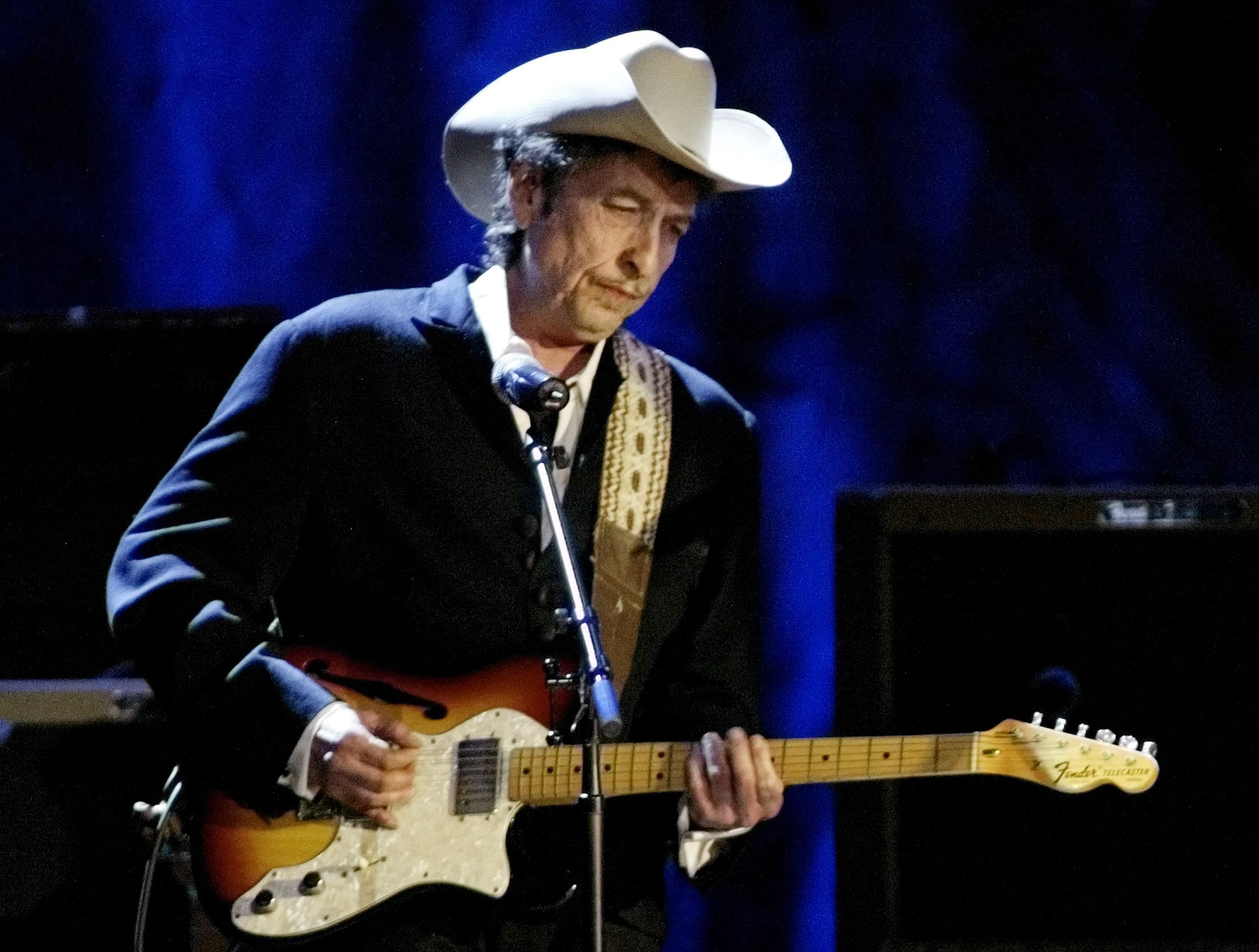 Summer 2015 marks several milestones for Bob Dylan. It's been exactly half a century since he went electric at the Newport Folk Festival, stunning audiences and his mainstream fans across the country. Plus, "Like a Rolling Stone," frequently cited as one of the most influential songs in American music, was released July 20, 1965. Pivotal moments in Americana both, and made more notable for having occurred in the same summer.
To commemorate the 50th anniversary of both of these cultural watermarks, it's worth checking another barometer of Dylan's enduring impact. While the former Robert Zimmerman has cast a long shadow in the world of music, his contributions to film are far less regarded.
His personal efforts—Masked and Anonymous, Renaldo and Clara and Pat Garrett and Billy the Kid—vary in quality, proving that artistic genius isn't always transferable between mediums.
Still, his other, less-remembered cinematic contributions—films that have taken their titles from his songs—illustrate just how ingrained his songs are in American pop culture. As he's one of the most enduring artists of his era, and certainly one of the most covered, it's not surprising that Dylan's work gets a slew of shoutouts in Hollywood. He's not alone. To cite one example, remember that period when studios couldn't stop themselves from naming movies after '60s tracks, whether it was the Temptations (My Girl) or Percy Sledge (When a Man Loves a Woman) or Simon and Garfunkel (Homeward Bound)? As always, Dylan leads the pack.
A look back at a few Dylan-indebted films are a way to really gauge the extent of his legacy. Collectively, they say something about Dylan the artist, illuminating the depth of his influence.
Exhibit A: Corrina, Corrina (1994)
Plot: When Molly Singer's (Tina Majorino) mother dies, she begins to withdraw, leaving her father (Ray Liotta) at a loss. Luckily, their fortunes are reversed with the entrance of Corrina (Whoopi Goldberg) into their lives.
Dylan connection: At first glance, a post-Sister Act Whoopi Goldberg vehicle seems like an unlikely place to find Dylan. In fact, the film is set in 1959, three years before his first album. The title itself comes from "Corrine, Corrina," a country-blues standard that Dylan retitled "Corrina, Corrina" and popularized after covering it on The Freewheelin' Bob Dylan. While the more traditional "Corrine, Corrina" is featured on the film's soundtrack, Dylan's cut (borrowing its melody and lyrics from a Robert Johnson tune) is the definitive version, having been covered by Pete Townsend and Rod Stewart. Furthermore, superficial elements of Corrina, Corrina—including the film's decision to portray Goldberg as a Jim Crow-era maid, and its flirtations with the issue of racism—evoke Dylan's early socially conscious work, making the film a Disney-fied, corrected version of "The Lonesome Death of Hattie Carroll."
Exhibit B: The Mighty Quinn (1989)
Plot: In one of Denzel Washington's first starring roles (and released 10 months before his Oscar-winning turn in Glory), he plays Quinn, a Jamaican police chief trying to protect a friend who's been accused of murder.
Dylan connection: The film, based on A.H.Z. Carr's 1982 novel, Finding Maubee, had its title changed to highlight Washington front and center. A cover of "Quinn the Eskimo (The Mighty Quinn)" off Self Portrait is included in the film, with altered lyrics. Dylan, who considered the song a nursery rhyme, discussed the film in his 2004 autobiography, Chronicles: Volume One: "On the way back to the house I passed the local movie theater on Prytania Street, where The Mighty Quinn was showing. Years earlier, I had written a song called 'The Mighty Quinn' which was a hit in England, and I wondered what the movie was about. Eventually, I'd sneak off and go there to see it. It was a mystery, suspense, Jamaican thriller with Denzel Washington as the Mighty Xavier Quinn, a detective who solves crimes. Funny, that's just the way I imagined him when I wrote the song 'The Mighty Quinn'—Denzel Washington."
Exhibit C: Forever Young (1992)
Plot: When a smitten Army test pilot's girlfriend slips into a coma in the 1930s, he undergoes a risky experiment that sends him forward to 1992. Like the film's main character, Forever Young is a time capsule—to a time when Mel Gibson was seen as a viable romantic lead. It was also a sign of things to come, as it was written by J.J. Abrams and stars a very young Elijah Wood.
Dylan connection: When it was released, Forever Young benefited from the popularity of a then-recent version of Dylan's Planet Waves song, courtesy of (again) Rod Stewart. Dylan's best work is defined by its timelessness. By contrast, Forever Young the movie reeks of early-'90s Spielberg-esque sentimentality, reflecting the tendency of nostalgic baby boomer filmmakers to re-create the films they grew up watching. The inclusion of a Dylan-inspired title is consistent with that: Their generation's poet-songwriter is lending a pivotal creative component to their own output. As legendary as it is, "Forever Young" is Dylan at his most mawkish, which also describes the film. To quote a review The Buffalo News's Jeff Simon wrote at the time: "Don't tell me about Dylan and Rod Stewart, for heaven's sake. Part of the definition of someone who's young is that they don't want to be reminded of it."
Exhibit D: A Simple Twist of Fate (1994)
Plot: An often overlooked film starring and written by Steve Martin, A Simple Twist of Fate feels like his attempt to follow up the classic Roxanne. Martin plays a small-town miser who is redeemed after adopting a young child.
Dylan connection: Like many of the films on this list, A Simple Twist of Fate came out in the '90s, when films named after rock songs were in vogue. Less popular were adaptations of novels by George Eliot—the movie is based on 1861's Silas Marner—so the inclusion of Dylan can be seen as another effort to update the 19th-century tale. Few popular entertainers transcend their work with as much acclaim as Dylan, a 2008 Pulitzer Prize winner, but Martin—a recipient of the 2005 Mark Twain Prize for American Humor and the 2008 Kennedy Center Honors—comes close. Given that, a film adapted by Martin and at least indirectly inspired by Dylan should be more noteworthy than A Simple Twist of Fate turned out to be.
Exhibit E: The Hurricane (1999)
Plot: Denzel Washington (again!) portrays the real-life Rubin "Hurricane" Carter, a middleweight boxer wrongfully convicted of murder. In a decade since his work on The Mighty Quinn, Washington went from portraying a man attempting to save an accused murderer to an accused man himself. For his efforts, he narrowly lost the Best Actor Oscar to Kevin Spacey, for American Beauty.
Dylan connection: Dylan famously brought the real Carter's case to national prominence with his 1975 protest song of the same name, plus benefit concerts. It all contributed to the effort to get Carter released from prison, which eventually happened in 1985. Whether or not "The Hurricane" is a Thin Blue Line moment where art directly leads to an innocent man's release (the book Bob Dylan in America claims Dylan "had long since abandoned" Carter before his release), the song unmistakably influenced the film. After meeting with Carter and a group of his supporters, Dylan co-wrote "The Hurricane" with Jacques Levy, who said the song was "like stage directions, like what you would read in a script: 'Pistol shots ring out in a barroom night.... Here comes the story of the Hurricane.' Boom! Titles…Bob loves movies, and he can write these movies that take place in eight to 10 minutes, yet seem as full or fuller than regular movies." When Carter died in 2014, Dylan was widely acknowledged for his part in immortalizing the boxer-activist's story in song. (Note: The song and film take certain historical liberties. "The Hurricane" has not been performed by Dylan since his mid-'70s Rolling Thunder Revue tour.)
Exhibit F: Hard Rain (1998)
Plot: Another weather-themed Dylan film, with far less weighty real-life implications. During the worst rainstorm in the Midwest's history, Morgan Freeman and Randy Quaid terrorize Christian Slater, who has hidden $3 million in cash from them. Essentially Speed, but more inclement.
Dylan connection: In 1998, reviewers salivated over the irony of a bad heist film starring Christian Slater sharing its name with Dylan's metaphor for social upheaval and a call for justice. Despite its homage to Dylan in the title, Hard Rain chose to quote Bruce Springsteen's "The River." In fact, Hard Rain was originally titled The Flood, meaning its association with Dylan was purely a marketing decision, which seems odd...until you consider this came from the same team that thought Christian Slater would be an effective action star. Turns out Broken Arrow was a fluke.
Exhibit G: I'm Not There (2007)
Plot: An avant-garde biography of Bob Dylan, using multiple characters to tell his life story.
Dylan connection: I'm Not There comes from a song recorded during the Basement Tapes sessions. Regardless of the title's claim, Dylan is all over this.
Exhibit H: License to Kill (1989)
Plot: Timothy Dalton's final appearance as James Bond. This woebegone 007 entry has the ignominious distinction of nearly ending the British spy-thriller series.
Dylan connection: None…seemingly. The soundtrack to License to Kill features a song with the same name performed by Gladys Knight. Furthermore, the film intended to have Eric Clapton, not Dylan, perform the theme song. I wish I could say the good folks at United Artists were inspired by Dylan's Infidels track, but it just doesn't seem plausible.
Bob Dylan's Surprising Hollywood Contributions | Culture