Bob Marley Birthday: Quotes from the Late Reggae King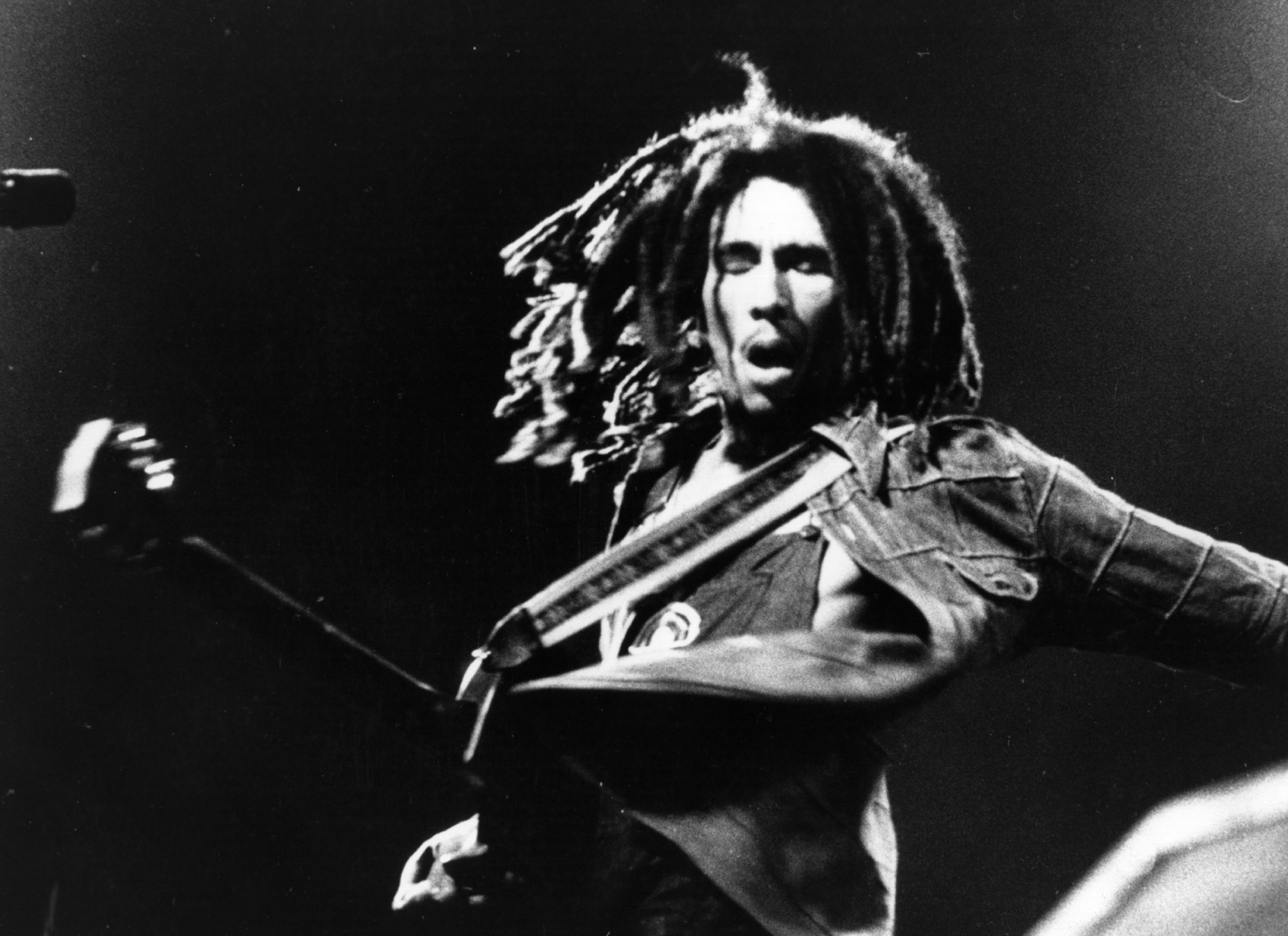 In honor of a reggae legend's birthday, several online social media accounts have posted joyous homage to the late Bob Marley, who would have been 74 years old today.
But Marley's own words ring truer than ever now, as contentious times across the racial, demographic and income landscape heighten tensions in the United States and world.
But first, a little bit of love from dedicated fans and a bit of Marley history.
The official Bob Marley Twitter account from the #BobMarley estate, posted an iconic photo of Marley smoking a dubie: " Happy birthday Bob! #CatchAFire #Marley74."
The MOBO Awards tweeted: "Sending praise to Bob Marley on what would've been his 74th birthday. His message travelled across the world and united people. One Love still stands."
Born Robert Nesta "Bob" Marley in 1945 in St. Ann Parish, Jamaica, he began his career with a band called the Wailers in 1963.
In the late 1960s, Marley became a Rastafarian, which heavily influenced his music. By the 1970s, Marley formed his own band, Bob Marley and the Wailers. The group produced several successful albums that reached the masses and introduced the world to reggae music.
Marley died of cancer in 1982 when he was only 36 years old. The Undefeated website posted in its "Today in Black History" homage that Marley has sold more than 75 million albums within the last two decades – long after his death.
Earlier this week, MyNation remembered Marley:
"Marley is still today considered as one of the most popular singers in the 1970s," MyNation wrote. "The Jamaican singer-songwriter became a cultural icon with his remarkable songs of protests, social justice and peace, which not only won hearts then, but, till today, are very popular, especially among the youth."
In a joyous collection of Marley's most iconic songs, MyNation posted videos of six of his most iconic, "evergreen" songs. They are Buffalo Soldier, I Shot the Sheriff, Don't Worry/Be Happy, Wait in Vain, Is This Love and Concrete Jungle.
In his music, lyrics and human encounters, Marley is well known for espousing themes of life, love and happiness. Here are some of his most famous quotes from the Keep Inspiring Me compilation:
Bob Marley Quotes
"Everything is political. I will never be a politician or even think political. Me just deal with life and nature. That is the greatest thing to me."
"Better to die fighting for freedom than be a prisoner all the days of your life."
"Don't trust people whose feelings change with time. Trust people whose feelings remain the same, even when the time changes."
"If you're white and you're wrong, then you're wrong; if you're black and you're wrong, you're wrong. People are people. Black, blue, pink, green – God make no rules about color; only society make rules where my people suffer, and that why we must have redemption and redemption now."
"If you get down and quarrel every day, you're saying prayers to the devil, I say."
"Rastafari not a culture, it's a reality."
"Road of life is rocky and you may stumble too, so while you talk about me, someone else is judging you."
"The people who were trying to make this world worse are not taking the day off. Why should I?"
"They say: only the fittest of the fittest shall survive, stay alive!" - Could You Be Loved, from the album Uprising, 1979.
"Truth is the light, so you never give up the fight."- Final jamming of Live at the Roxy, recorded 1976.
"You entertain people who are satisfied. Hungry people can't be entertained – or people who are afraid. You can't entertain a man who has no food."
"I know that I'm not perfect and that I don't claim to be, so before you point your fingers make sure your hands are clean." - Could You Be Loved, from the album Uprising, 1980.
"One love, one heart, Let's get together and feel alright."- One Love (cowritten with Curtis Mayfield), from the album Exodus, originally recorded on The Wailing Wailers, 1965.