Bob Woodward Responds to Eric Trump's 'Shekels' Comment: It Sets Us Back
Journalist Bob Woodward has hit back at president Donald Trump's son Eric over comments he made about Woodward writing about the Trump White House to earn a few "shekels."
Woodward, who notably reported on Watergate and has written numerous biographies about U.S. presidents, spoke with Anderson Cooper on Wednesday night and suggested Eric Trump's use of the word was not helpful—although he did not suggest as some of Trump's detractors that the comment was intended as an anti-Semitic dog whistle.
"I just hope no one would talk like that, frankly," Woodward said in the CNN interview on Wednesday night.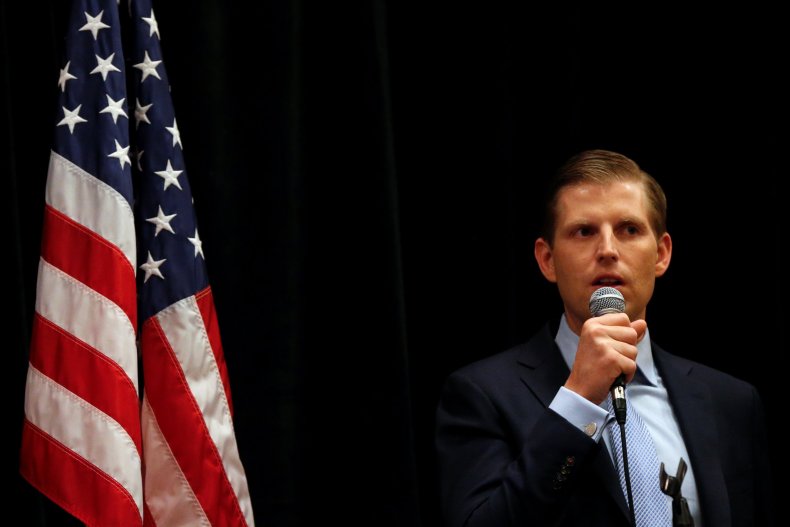 "I think that just doesn't fit. I'm sorry. Anyone talks like that, whether it's a dog whistle or whatever the intent is, it's not—part of the point of this book is that we need to have a serious debate about serious issues. And to use invective and this attack rhetoric, whatever it might be, it sets us back," he added.
Eric Trump stepped into the row over Woodward's new book Fear: Trump in the White House, which has been slammed by his father and dismissed by the White House as being "fabricated stories," this week, commenting that he believed the author's sensational book was being given air time because networks like CNN like to trash the president.
"Don't you think people look through the fact that you can write a sensational, nonsense book, CNN will definitely have you on there because they love to trash the president," Eric Trump told Fox News.
He then added: "It will mean you sell three extra books, you make three extra shekels. Is that really where we are? I think people see through this." Shekels is the national currency of Israel, and the term has been used by white nationalists to describe money apparently tainted by Jewish people.
Eric's comments on the book came following a tweet from his father once again hitting out at the tome.
"The Woodward book is a Joke—just another assault against me, in a barrage of assaults, using now disproven unnamed and anonymous sources. Many have already come forward to say the quotes by them, like the book, are fiction. Dems can't stand losing. I'll write the real book! " the president wrote.