Bobbi Brown Foundation Review Drama Takes Over Beauty Influencer TikTok
Beauty and skincare TikTok is in the midst of social media drama this week thanks to a prominent influencer and a legendary makeup artist.
Bobbi Brown, the founder of Bobbi Brown Cosmetics, has waded into some influencer drama and caused a huge stir in the world of online beauty discourse.
On Monday, Bobbi Brown herself took to TikTok to share a "new technique" she had supposedly learned online.
"I always love learning new makeup techniques," the 65-year-old beauty icon said as she scooped two huge globs of her foundation with her hands and smeared them on her face.
"Didn't really work," she laughed after.
The product in question is a new foundation tinted moisturizer from her brand, Jones Road.
So why did Brown make such a bizarre video wasting makeup product to highlight a "technique" that clearly doesn't work?
Well, it was shade directed at beauty influencer Meredith Duxbury.
Duxbury, a well-known makeup influencer also known as the "Full Coverage Queen," posted a review of Brown's product that didn't show it in the best light.
This is because she applied two massive scoops of the foundation directly to her face when only a small amount is needed. This is something that is very obvious to anyone watching, not just makeup users.
"I'm gonna have to pass...." Duxbury captioned her review, while in the video she said: "I'm not sure what to make of this consistency," while applying what looked like almost the whole container in one go.
"It's going to be a no from me," she said. "I really wanted to like this though."
This prompted legions of commentators to criticize her for using too much product.
"Maybe don't apply the entire jar," said one follower, while another added: "Do influencers not do research on how they're supposed to use products."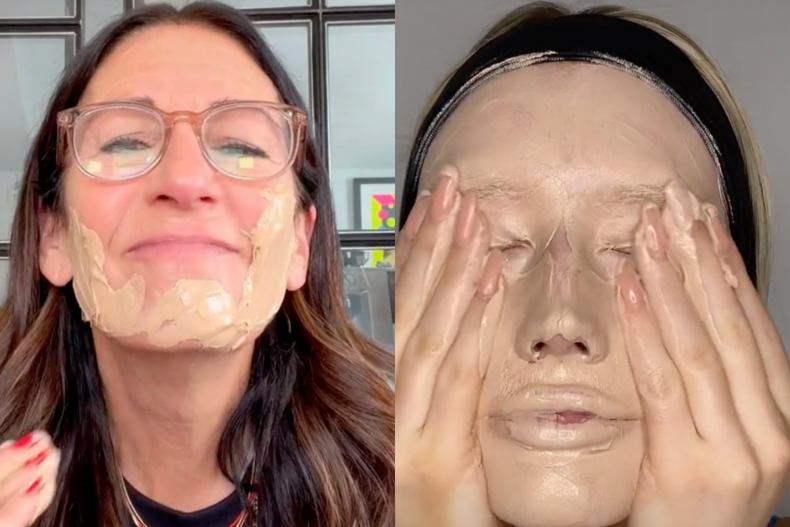 Over on Twitter Brown's response to Duxbury's bizarre review is also causing a stir.
"If I woke up and BOBBI BROWN was shading me," reads one tweet.
While another added: "no imagine logging on for the day and BOBBI BROWN is shading you??? i'd have to quit like y'all would never hear from me again."
Another criticizing Duxbury wrote: "Bobbi Brown shading that one beauty influencer on TikTok kind of has me ki'ing b/c I never understood why she applies such a ridiculous amount of foundation like that."
Another post reads: "if THE Bobbi Brown dragged me i would actually just disappear forever."
The drama even prompted a number of beauty lovers to explain the niche makeup industry drama to their other halves with author Ali Sharai's explanation to her enthralled fiancé wracking up more than 400,000 views.