'Whitney' Biopic Hints Bobbi Kristina Brown Attempted Suicide Before Her Mother Died
The highly anticipated Whitney documentary didn't just reveal secrets about late singer Whitney Houston but her daughter Bobbi Kristina Brown's life too. The film includes a number of interviews with Houston's relatives and those who were close to her, as well as unseen footage of The Bodyguard singer.
According to Los Angeles Times reporter Amy Kaufman, who attended the world premiere screening on Wednesday night at the Cannes Film Festival, the movie hints at Brown's attempts to take her life long before her mother's death in 2012 and her own in 2015. "The doc reveals that Bobbi Kristina once attempted suicide while Houston was alive, cutting her arms," Kaufman wrote. "She apparently said she wished she could find a way to kill her mother without anyone finding out."
Twenty-two-year-old Brown was found unconscious in a bathtub at her home near Atlanta on January 31, 2015. She died six months later on July 26, 2015. Although a medical examiner could not confirm if her death was "due to intentional or accidental causes," an autopsy report revealed Brown had a number of substances, including "marijuana, alcohol, benzoylecgonine (a cocaine-related substance), benzodiazepines (medications used for sedation or to treat anxiety), and morphine" in her system.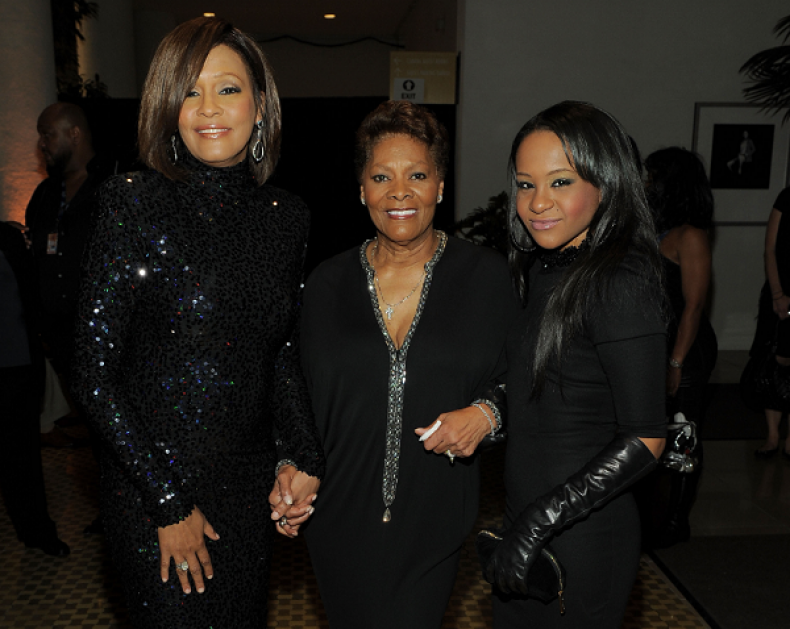 Newsweek subscription offers >
Multi-award-winning singer and actress Houston died similarly when she was 48. She was discovered face-down in a bathtub at the Beverly Hills Hotel on February 11, 2012. Although a toxicology report found traces of cocaine, marijuana, Xanax, and the muscle relaxer Flexeril in her system, a coroner listed her main cause of death was an accidental drowning.
The documentary also revealed chilling details of alleged sexual abuse Houston suffered as a child. In an interview with Deadline, released Wednesday, Whitney director Kevin MacDonald said Houston's brother Gary Houston confirmed he had also been sexually abused as a child by their cousin Dee Dee Warwick, the daughter of their aunt and singer Dion Warwick, and that Dee Dee Warwick was the one who abused Whitney Houston.
"He told me that he was abused by a woman in the family, and [Whitney Houston's sister-in-law] Pat Houston told me that, yes, Whitney had said to her, 'This is what happened,'" MacDonald explained. "Then I [interviewed] Mary Jones, who was Whitney's longtime assistant [throughout] the last 10 years of her life, and who knew her better probably better in that period than anybody else. And she told me Whitney's point of view on this, and what Whitney had told her in detail, and how important she felt it was for understanding Whitney, but how scared everyone was to talk about it."
Newsweek's request for comment from MacDonald was unanswered.
'Whitney' Biopic Hints Bobbi Kristina Brown Attempted Suicide Before Her Mother Died | Culture