Bobby Flay's Tips for New Restaurant Owners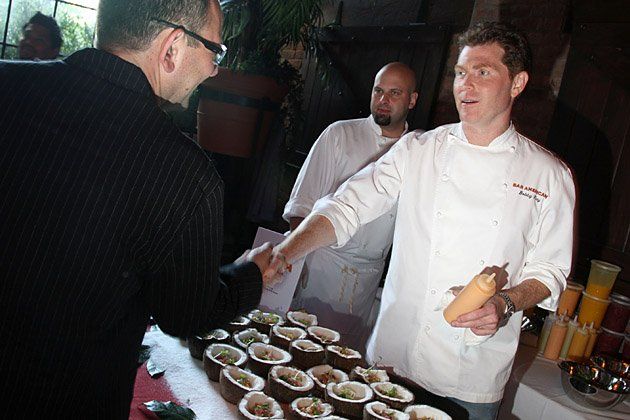 There are a few things American chef Bobby Flay knows how to do better than most people. They include a cornmeal-crusted chile relleno, anything that requires a grill, and running a restaurant. The master of Southwestern cuisine has more than seven restaurant openings under his belt. Among the most critically acclaimed eateries is New York City's Mesa Grill, which has been around for 20 years. Flay, whose latest food show, Brunch @ Bobby's, will air starting next month on the Cooking Channel, spoke to NEWSWEEK's Jessica Ramirez about what new owners should avoid if they want to succeed in the restaurant business. His advice:
DON'T JUMP IN UNDERCAPITALIZED
It seems that it always takes twice as long and twice as much money to build a restaurant, based on your initial projections. If it comes in under [the projection], that's fantastic. But I think if you think it's going to cost $1 million to build your place, it will probably end up closer to $2 million. There are just so many things that you won't expect. You have to be prepared for that on the finance end. Nothing goes perfectly, especially when you're opening a restaurant.
DON'T TRY TO FEED EVERYONE
You need to have a singular focus. If you can describe your cuisine in one word, like French, then you're on the right track. This way you know what you're trying to accomplish. It brings the menu into focus, what kind of staff you need to hire, and what kind of design you need to create. When someone asks you what kind of restaurant you have, and you start off with "I got inspiration from this place and that place, and I want to be able to do this for these people, but I don't want to leave those people out," that's not good. I tell people that if you try to feed everyone you feed no one.
DON'T LEAVE EVERYTHING TO YOUR STAFF
The one mistake people make is, they think they can get the financing, hire a designer, hire a staff, open the restaurant, and from that point forward the staff will take care of it. If you don't want to be in this business for the entire creation and life of the restaurant, then you shouldn't open it. I've been doing this for 28 years now. Mesa Grill has been open for 20 years. I get there every moment I can. I'm always in the kitchen and I'm always working with people, because you, as the owner, will care the most and are responsible for driving the direction of the restaurant for the entire time it's open.
DON'T LEAVE DESIGN ENTIRELY UP TO THE DESIGNER
You have to have a clear idea about what kind of design you want. Otherwise the designer will pick the direction. I think a lot of times people design restaurants with flash in mind. I think you should design restaurants with function in mind. Make sure it's functional and works with what you're trying to accomplish. Design can come later. [Although] there are some exceptions. In a trendy neighborhood, where it's an event to come to your restaurant, then it makes more sense to spend on design.
DON'T DO WHAT OTHERS CAN DO BETTER
I'm a chef. I bring a chef's perspective to this work. There have been a lot of chef ownerships over the last 20 years. What's important to note is, even if the chef has a good business head, his focus should be behind kitchen doors. A business partner should take care of everything in front of the kitchen doors, because this business is too hard to do it on your own. My partner is Laurence Kretchmer. He's been my partner since we opened Mesa Grill. We've been doing this for 20 years, and we need each other to make this work.