Bobcat That Stranded Itself Atop Utility Pole Rescued in Dramatic Video
If one Texas bobcat didn't have a fear of heights before, it definitely does now.
Earlier this week, the big cat somehow managed to strand itself atop of a utility pole in the Topaz Road neighborhood of El Paso, where it remained for two days, according to KFOX14. Neighborhood residents eventually noticed the animal and notified local authorities as well as the electric company responsible for the pole about its bizarre situation.
By that afternoon, county officials, New Mexico wildlife officers, and electricians alike had arrived at the site in the hopes of saving the animal from its precarious perch.
"This level of coordination and support from all entities involved to safely rescue this bobcat really exemplifies our partnership and passion we each share for our community and the customers we serve," El Paso Electric CEO Kelly Tomblin said, according to a Doña Ana County press release.
However, the bobcat, which the county deemed a threat to public safety, "did not seem interested in leaving its perch or was too scared to do so," said County Manager Fernando R. Macias, forcing the team to think outside the box.
Because the cat, which was surrounded by live wires, was in danger of being electrocuted, they eventually decided to temporarily cut off the neighborhood's electricity, according to the release.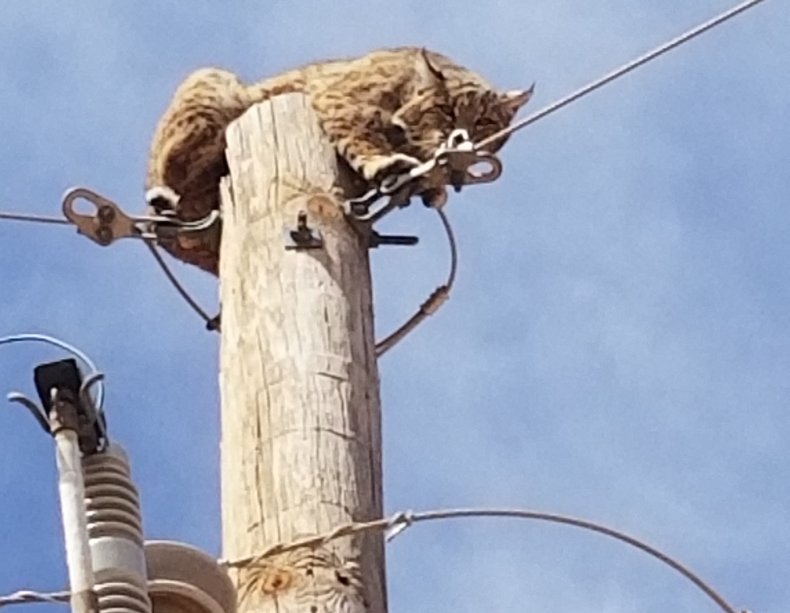 At 4:30 p.m. on Tuesday, the electricians notified the county of the plan. About half an hour later, they de-electrified the power lines and sent up animal control officers in a cherry picker to retrieve the cat.
Footage of the rescue shows how close the overly adventurous animal came to injury or death. As the officers near, the cat becomes noticeably agitated and begins to move around. Just as it hurls itself into thin air, one of the officers snags it around the neck with a catchpole. On the way down, it struggles and meows piteously.
In total, the power outage only lasted some 45 minutes and affected 42 customers.
"The operation went well, especially considering how quickly it came together," said Sergeant Chris Ortega, an employee of the New Mexico Department of Game and Fish in the press statement.
"I'm humbled by the number of people that were willing to assist our department in our efforts to safely remove the animal. The level of interest from the public was outstanding and demonstrates the combined passion individuals have in the protection of wildlife in our state."
On Wednesday, Ortega set the lucky bobcat free in a remote area of Gila National Forest. There, it has "abundant food sources and vast rugged terrain to relish," according to the press release. If it can manage to resist the allure of human settlements and their electrical currents, that is.