Man Fired From Job After TikTok Slammed as 'Racist' Goes Viral
The internet has a new main character this week, Griffin Green, a New York transplant fresh from the Midwest, who managed to tick off city natives when he shared his disdain for bodega culture in a TikTok that went viral and ultimately led to him being fired from his new job.
New York City is known for its bodegas—convenience stores on pretty much every street corner that sell staples and necessities, but newcomer Green was confused to find a lack of larger grocery stores and supermarkets in the Bronx where he was staying.
"OK, so I just moved to New York and I'm going to go grocery shopping, and so I type in like, 'grocery stores', on my Apple Maps, and like, every f***ing one I go to—like, I'm walking to—they're like this s***," he said in the TikTok, pointing to a bodega.
The original TikTok and Green's account is on private but clips of the original video are circulating on Twitter.
"Or like, f***ing, like this," he added, turning to show another bodega. "Like bro, that's not a grocery store. Like I'm trying to get, like eggs, yogurt, like cheese, like s*** like that. Like, look at this place."
He added: "Like I've literally been to like five of those now, and like, I don't know what the f*** I'm about to do for dinner. Like where are the Krogers and like, the Whole Foods at? Like I'm about to eat f***ing like cereal and ramen for dinner, like what the f***?"
After encountering some initial backlash, Green, who has been given the nickname "Bodega Bro," uploaded another video to say it was "funny" his maps kept directing him to bodegas instead of supermarkets.
He went on to say that he was staying in a "​​s***hole" apartment in the Bronx while waiting for his Upper East Side lease to begin.
"And yes it's a s***hole, you can't even argue with me on that," he said. "There's like trash everywhere on the sidewalks and streets and there's people sleeping on the sidewalk."
These comments led to more backlash, with the situation catching the attention of popular TikToker Dutch de Carvalho, a native New Yorker, who gave some insight into why there is a lack of grocery stores in areas like the Bronx.
"This video is for all the people who always say, 'Dutch, why do you get mad about people moving to New York?,'" de Carvalho said in a TikTok.
"And it's because they often have attitudes like that. They come to the city, in this case the Bronx, and instead of integrating themselves into their community, they just make a mockery of it."
He continued: "I mean, what, he's been here like two days? And he's found a way to make fun of the stores that many people in the community rely on—stores that people have to rely on because the supermarket he's so desperately looking for doesn't exist because he's moved to a city which has historically and still today systematically deprived certain neighborhoods that are predominantly black and brown and or working class of basic resources."
Others felt that Green's commentary on the bodegas was "racist," with blogger Perez Hilton tweeting: "I'm sure this 'bro' thought he was being funny, but... did anyone else view this as racist? Or just me?"
The backlash against Green led to internet users finding earlier TikToks where he spoke about moving to New York City for a job and showed an employment letter from software firm Outreach.
A Twitter user tagged the company in Green's bodega video and wrote: "I don't think it's very flattering to have this type of person representing your company. I would revalue [sic] his employment if I were you."
This prompted the company to later respond and confirm that Green was no longer employed at Outreach.
The response read: "Thank you for bringing this to our attention. Upon investigation, we took swift internal action in accordance with our company policies and in alignment with our core values. He is no longer an employee of Outreach."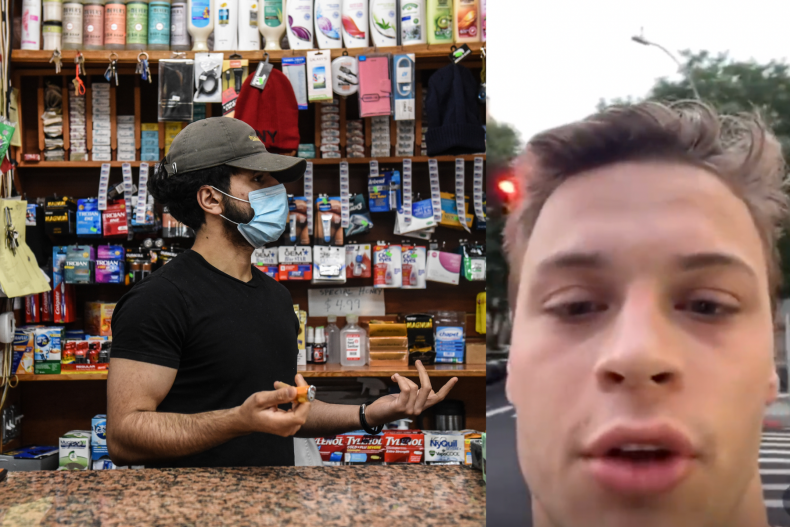 According to Reason, Outreach fired Green for showing his employment letter on social media.
"It is against company policy for employees to leak private and confidential information, and grounds for termination," Outreach vice president of communications Andrew Schmitt said in a statement.
"We remain committed to building our culture that finds strength in our diversity, equity and inclusion—and a company where all can succeed."
Speaking to the outlet, Green insisted that he meant no harm.
"People can be painted as these mean awful people when really they're just trying to explore new things," he said.. "I was exploring New York for the first time...I didn't know that people do grocery shopping at these corner stores."
"It was more of an intent to almost like make fun of myself for being a new person in the city."
A fundraiser on GiveSendGo has now been set up to assist Green's New York living costs since being fired.
"Help Bodega Bro Buy Yogurt, Eggs and Cheese" has so far raised just over $3,000.
"Bodega Bro, Griffin Green, was wrongly fired by his job Outreach for having the audacity to prefer Kroger to bodegas," organizer Lucas Kowalski wrote in the description.
"After moving to New York and signing a lease, the woke mob relentlessly harassed his employer until they caved in and terminated him over some TikTok jokes."