As Bodies Pile Up in Storage Facilities, Hong Kong Eases COVID Restrictions
As bodies pile up amid a coffin shortage in Hong during a devastating COVID wave, the city announced that it would begin significant rollbacks of pandemic restrictions over the next month.
During a Monday press conference, Chief Executive Carrie Lam announced that flight bans on nine countries would be lifted and the hotel quarantine duration for fully vaccinated residents flying from those countries would be cut in half to seven days beginning April 1.
The easing of restrictions comes as Hong Kong's funeral industry has scrambled to find caskets for the troubling death rate in the city. As of Saturday, there were 3,200 bodies being kept in Hong Kong's storage facilities, according to the Department of Health.
The announcement is also a departure from the course of action the rest of China has taken.
As tens of millions of residents in mainland China remain in lockdown and the rest of the country sticks with a "zero COVID" policy, Lam announced that social-distancing measures would be eased in three phases beginning April 21.
The first phase would reopen gyms, beauty salons, religious venues and sporting facilities, as well as extend dine-in hours for restaurants. The second phase would reopen businesses like bars and pubs and the third would see the return of in-person classes for students.
In the last three months, Hong Kong has reported more than 4,600 COVID deaths, which have overwhelmed the city's morgues and depleted its coffin supply.
Funeral industry representatives have told local media that the city needs roughly 300 coffins every day in order to respond to the daily fatalities.
"If the government can't ensure a steady and consistent supply of coffins to Hong Kong every day, it will lead to dead bodies piling up in public mortuaries, resulting in grave hygienic problems and an increased risk of another pandemic," Hong Kong Funeral Business Association Chairman Ng Yiu-tong told The South China Morning Post last week.
The soaring death toll has largely been driven by its unvaccinated elderly population.
As of Monday, only 56 percent of those aged 70 and above have received at least two doses of a COVID vaccine. Those figures are even lower among residents 80 and older, with only 39 percent having received their second dose.
Despite the gruesome numbers, Hong Kong is trying to "relaunch" its economy in an effort to keep workers from leaving the city.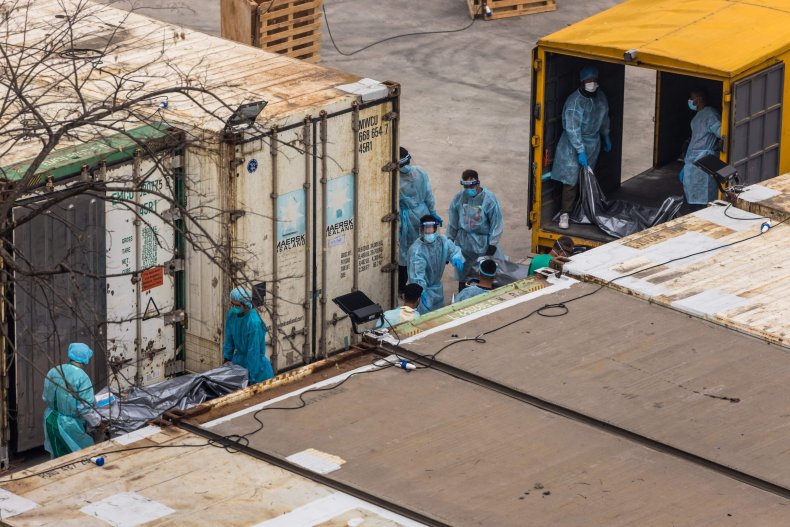 Last month, more than 94,000 people left Hong Kong, while roughly 23,000 returned, resulting in a loss of more than 70,000 people.
"I have a very strong feeling that people's tolerance are fading. I have a very good [feeling] that some of our financial institutions are losing patience about this sort of isolated status of Hong Kong, as Hong Kong is an international financial center," Lam said last week.