Mexican Gangsters Dissolved Bodies of Three Missing Students in Acid: Police
Three missing students are dead after criminals in Mexico beat them to death and dissolved their bodies in acid, according to police.
Mexican authorities in Jalisco state announced that the mystery around the three students' fate had finally been solved weeks after their disappearance triggered massive protests. The film students went missing in the municipality of Tonala after they were forced into a car by between six and eight gang members.
"Subsequently their bodies were dissolved in acid so that no trace of them remained," the state prosecutors office said, according to Reuters.
Drug cartels have used the violent tactic to erase evidence in the past and police believe gang members falsely assumed the three victims were from a rival gang.
Read More: Mexico's cowboy candidate for president says he will cut off the hands of thieves to stop corruption
According to witnesses, heavily armed men posing as police officers accosted the students after their car broke down. They were never seen again, the Los Angeles Times reported.
The victims—Salomon Aceves Gastelum, Daniel Diaz and Marco Avalos—journeyed outside the city of Guadalajara to shoot a project for the University of Audiovisual Media, AFP reported. Police have stressed that the students had no known link to organized crime.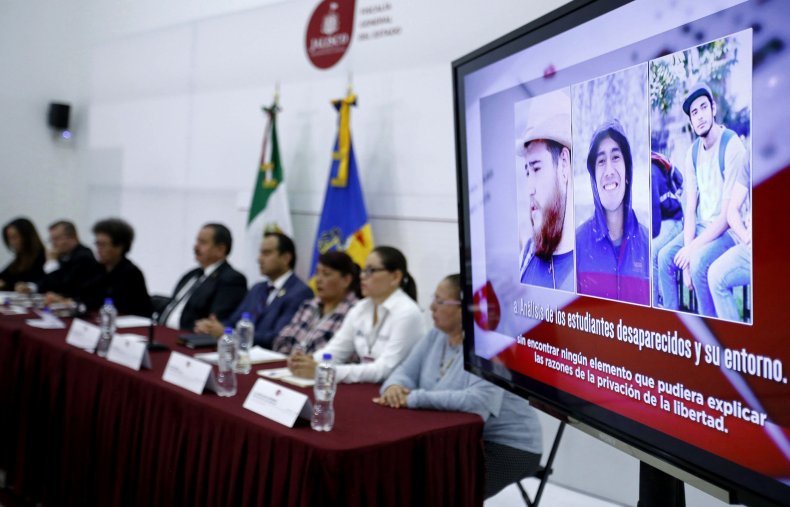 Police believe that Gastelum, Diaz and Avalos were taken to a property outside Guadalajara for interrogation, during which at least one of them was being beaten to death. The fact that the other two had witnessed a homicide could have convinced the kidnappers to execute them.
Authorities have arrested two suspects in connection with the crime. The investigation is continuing as more potential culprits may be at large, the Jalisco state attorney general, Raul Sanchez said in a news conference.
More than 33,000 people are currently missing in Mexico and organized crime is expected to be a major issue in the current presidential campaign.