Bodycam Shows Florida Woman Drop Baby in Traffic
The body camera from a sheriff's deputy in Florida shows a 23-year-old woman flee from authority and drop an infant in highway traffic. Kayla Morgan has since been charged with aggravated child abuse and resisting arrest. Officials say the woman appeared to be on drugs and was "barking at cars."
The video (shown below) shows a nervous Morgan zig-zagging on foot through traffic as law enforcement tried to stop and calm her. When the law confronted Morgan, she began walking in front of vehicles in a panic.
In her dash toward the side of the highway in Marion County, the body cam video shows Morgan running as a baby drops from her arms, falling head first onto the side of the road.
The video shows someone not in law enforcement bringing a crying baby to the deputies, who said the infant had a skull fracture. The baby was taken to a local hospital for further observation.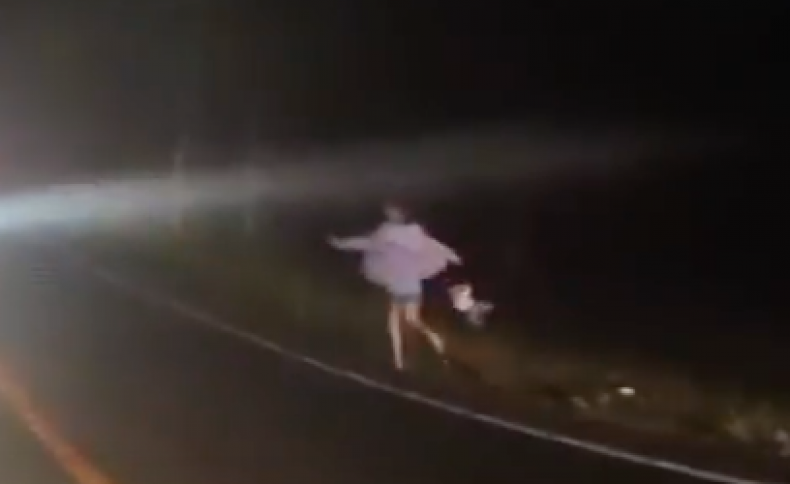 "You're not in trouble. Come here," the deputy said as Morgan is seen running away and back into another lane of oncoming cars. "Do not run in traffic."
According to a report by ABC Action News in Tampa, law enforcement officials received a call that a woman who appeared to be on drugs was in the middle of East Highway 40 in Marion County holding a baby.
"She was acting very erratically, darting in-and-out of cars, barking at cars as some witnesses referred to. And she had a very young child in her hands," said Lauren Lettelier of the Marion County Sheriff's Office.
The police reported that Morgan draped the baby over her right arm to make it look like she was carrying a jacket.
"She was running away from the deputy. And you can see her running off the road and running into the grass. You can see the baby falling to the ground and it is quite disturbing to see," said Lettelier.
Morgan was apprehended and told authorities she took the psychoactive drug "Molly" and methamphetamine the last three days leading up to the incident on the Florida highway, per this report on WESH-TV.
Morgan told the TV station she thought "a monster was trying to suck her blood."Once she arrested, deputies said Morgan told them she had taken meth and other drugs.
Morgan's mother said Kayla was going through post-partum depression and an abusive relationship. The mother continued to say her daughter actually loves her son more than "life itself."
Marion County is centrally-located in Florida with fairly-close proximities to Orlando, Daytona Beach and Tampa.