Milwaukee Fire Chief Aaron Lipski apologized Tuesday, saying a dead woman's body was missed by firefighters at the scene of a Sunday morning crash and eventually found by the attendant at the tow yard to which the car was taken.
About 5:30 a.m. Sunday, a car rolled from a parking lot into an electrical box outside a vacant Milwaukee building, according to WTMJ-TV in Milwaukee.
Firefighters arrived on the scene and put out the fire caused by the crash that was consuming the car, and had the car towed to a city lot.
About three hours later, an attendant at the lot reported seeing a body in the back seat of the car, which the Milwaukee County Medical Examiner's Office later identified as 21-year-old Jenna Reichartz, WTMJ reported.
Milwaukee police told WTMJ that surveillance video from a nearby gas station showed Reichartz's car moving slowly through an intersection, jumping a curb and rolling to a stop in the parking lot. The car reportedly stayed in place for "a long time" before it rolled forward into the electrical box that started the fire.
Lipski said Tuesday that it's important that the right people are held responsible for missing the body, and he didn't want blame to be placed on police who were not at the scene when the body should have been discovered by firefighters.
"I want it to ring very clear. A search of a recently extinguished vehicle is our responsibility and we failed to uphold that standard in this situation," Lipski said.
The medical examiner's office has not yet revealed a cause of death for Reichartz, or publicly stated whether she may have been dead or incapacitated before rolling into the electrical box.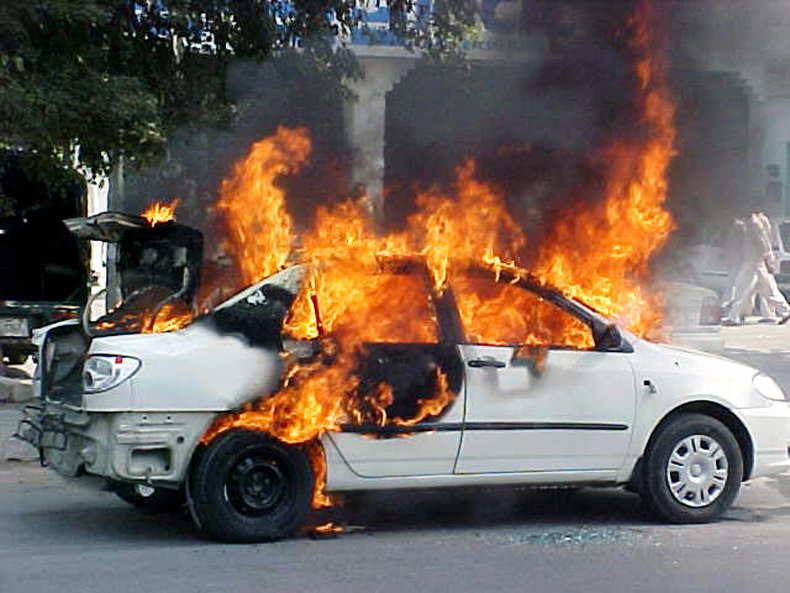 "We know the family is grieving and we acknowledge that the recognition of, and the affording to, human dignity extends beyond life," Lipski said. "We have a great deal of experience in and take pride in handling deceased individuals with great dignity," the chief said. "Our failure to locate this person and thus properly manage their remains deprived them of this most basic dignity and I am sorry for that."
A report says it was possible Reichartz's body was pushed into the back seat by water pressure from the firehoses. Police were unable to determine from surveillance video if anyone exited the vehicle and fled the scene, the report said.
The Associated Press contributed to this report.