Body Of Missing Boy Found: Everything We Know About Maddox Ritch's Disappearance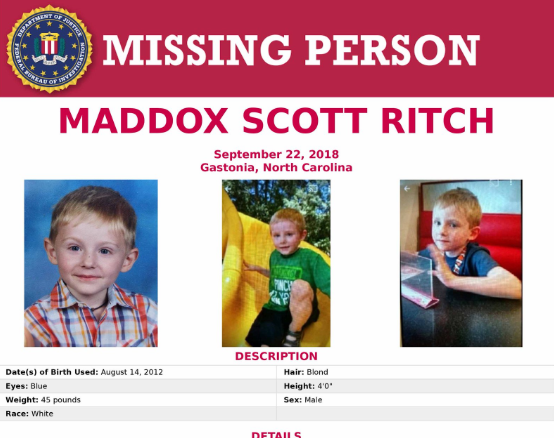 The FBI in Charlotte, North Carolina, confirmed on Thursday it had found a body believed to be that of missing 6-year-old boy Maddox Ritch. Maddox's body was found around 1 p.m. off Marietta Street/Old Dallas Highway in Gastonia.
The little boy had been missing since Saturday, when his father said they got separated at Rankin Lake Park in Gastonia. The FBI said the investigation was ongoing.
Here's all the information known so far about the case.
Disappearance
Maddox, who was described as nonverbal and having autism, went missing on Saturday at Rankin Lake Park. He was last seen wearing an orange T-shirt and black shorts with a white stripe.
His father, Ian Ritch, said he and a friend were walking in the park when the boy ran ahead of them. Ritch said he "couldn't catch up" with his son and lost sight of him. "I feel guilt for letting him get so far ahead of me before I started running after him."
Search
Maddox's disappearance prompted a massive search in and around Gastonia. Helicopters, drones, search dogs and other equipment and technology were deployed to aid in the search. An 80-acre lake was partially drained, and dumpsters in the area were thoroughly searched, authorities said.
FBI agents used a prerecorded message of Maddox's parents' voices in an attempt to locate him. Agents hoped hearing his parents' voices would bring him out of the woods if he was there, ABC News reported.
Leads
Authorities sifted through more than 150 leads in Maddox's disappearance, according to CNN. It was unclear whether one of those leads led to the discovery of a body.
Body Found
The FBI confirmed on Thursday that a body was found off Marietta Street/Old Dallas Highway in Gastonia and that it was believed to be Maddox's. Authorities did not immediately release the cause of death or any other details.
Park Employee's Account
A park employee who called 911 to help report Maddox missing said he does not remember seeing the child at the park the day he went missing.
"It didn't look as though they were that concerned," Rick Foxx said, according to CBS News. "I've worked there almost three years, and we see everybody come in and out of that park pretty much. I didn't see that kid one time."
FBI spokesperson Shelly Lynch, however, told People magazine authorities believed Maddox was in the park.
"We believe he was in the park, but we aren't ruling anything out," said Lynch. "We've said that from the very beginning. We need to find this child. We need people to come forward who were at the park to help us."