Bodycam footage has shown the moment a Seattle officer referred to a woman who was fatally struck by a police cruiser as a person of low value.
The video, originally taken on January 24, was shared by the Seattle Police Department (SPD) earlier this week and showed an officer casually talking about Jaahnavi Kandula, 23, who was killed by a police cruiser. In the clip, the officer, who was not involved in the collision, made several comments about the dead woman following the crash.
The Washington State Traffic Safety Commission says that there were 709 fatal crashes in 2022.
The Seattle officer who struck Kandula was reportedly traveling at about 63 mph and had been going at 74 mph, according to a report obtained by NBC affiliate KING-TV.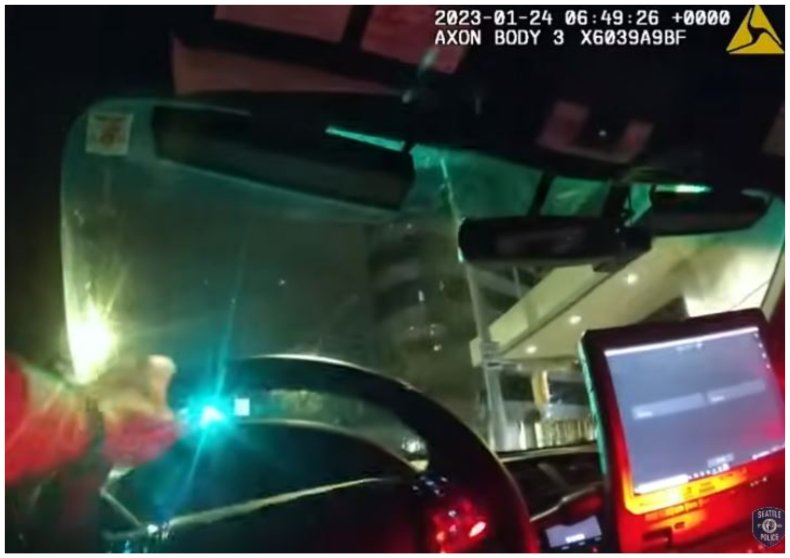 Speaking to someone over the police radio, who could not be heard, the officer at the center of the allegations said: "Initially he (the officer) said she was in a crosswalk. There's a witness who says, 'No, she wasn't.'
"But that witness could be different because I don't think she was thrown 40 feet either. I think she went up on the hood, hit the windshield and, when he hit the brakes, flew off the car. But she is dead."
At this point in the video, the officer could be heard laughing while continuing to speak to the other person over the police radio.
The clip continued: "No, it's a regular person. Yeah. Yeah, just write a check. Yeah just [audible laughter] $11,000, she was 26 anyway. She had limited value."
The content of the video was raised as an issue by an SPD employee, and then the matter escalated further.
An SPD spokesperson said in a September 11 news release: "The following video was identified in the routine course of business by a department employee, who, concerned about the nature of statements heard on that video, appropriately escalated their concerns through their chain of command to the Chief's Office which, following a review of the video, referred the matter to OPA [Office of Police Accountability] for investigation into the context in which those statements were made and any policy and the City's Accountability Ordinance require."
An SPD spokesperson added: "SPD has been in touch with the family of the victim pedestrian and continues to honor their expressed request for privacy.
"As others in the accountability system proceed with their work, we again extend our deepest sympathy for this tragic collision," the spokesperson said.
Newsweek has contacted the SPD for comment via email.